If your employer offered you $5,000 to quit your job, would you take it? Last week Amazon.com (NASDAQ:AMZN) announced it will be doing exactly that in a new program called Pay to Quit. Amazon will be extending the offer to workers in its fulfillment centers once per year starting at $2,000 and the offer will increase by $1,000 per year until it reaches $5,000.
According to 10 salary submissions on Glassdoor.com, the average Fulfillment Associate at Amazon.com makes $11.77 per hour. Using a simplified calculation of 40 hours per week for 52 weeks this comes out to an annual salary of roughly $24,500. Why on Earth would Amazon pay workers up to 20% of their annual salary to quit? Let's take a quick look at a few of the historical reasons and economic motivations behind Pay to Quit.
Pay to Quit may sound like a familiar scheme, and if it does, that's because it has been around for years. The program was first made famous by Zappos, an online shoe retailer known for both its Pay to Quit like program and for having extraordinary customer service. Zappos began the program while going through a period of rapid sales and employment expansion. As the team grew, it became more and more difficult for Zappos to recruit the highest qualified and most committed employees to the Zappos mission. The program at Zappos was called The Offer and it became both an important tool to identify employees motivated for right reasons but also served as a low-cost escape hatch for employees who did not find themselves enjoying their new job or fitting into Zappos' culture. The Offer was made available incrementally throughout the training process to let new recruits out if they didn't think they would be a good fit. After all working the phones in a sales and customer service position may not be the most glamorous job out there, but Zappos had an enthusiastic, high energy, positive culture and wanted to make sure that new recruits would perpetuate the company's values.
In 2009, Amazon.com acquired Zappos to expand its online shoe sales. But Amazon won't be implementing Pay to Quit in exactly the same way that Zappos made it famous. While Zappos used The Offer to ensure quality recruits, Amazon will be using Pay to Quit to ensure its long-term productivity and give burned out employees an extra excuse to leave. Working on the front lines at an Amazon fulfillment center requires energy and Pay to Quit will help rotate out employees who have lost their interest so the company can bring on fresh recruits who are eager to work. With the national unemployment rate hovering at 6.7%, there is good reason to believe there are plenty out there who would love the opportunity to work and would hit the ground running.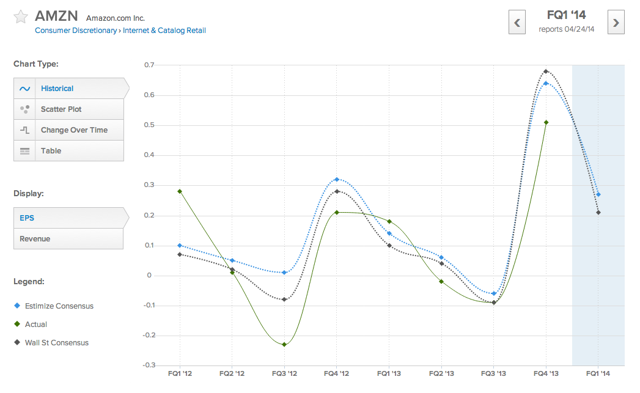 Amazon is set to report earnings next Thursday alongside other high profile names such as Microsoft (NASDAQ:MSFT), Visa (NYSE:V), Starbucks (NASDAQ:SBUX) and Baidu (NASDAQ:BIDU). In case you missed it, 94 companies listed on our platform are reporting earnings this week.
Disclosure: None.