By Carla Fried
After falling more than 5% early in the year, the SPDR S&P 500 ETF (NYSEARCA:SPY) clawed its way back to end the first quarter up more than 1.5%.
While the large caps by definition get the bulk of investor attention, their smaller siblings showed them up in the first quarter. The 5% total return for the WisdomTree MidCap Dividend ETF (NYSEARCA:DON) was two percentage points ahead of the SPDR S&P 500's performance, which also lagged the rise in two other mid-cap portfolios: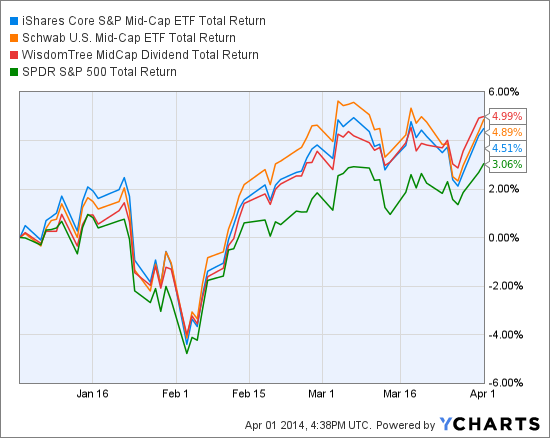 IJH Total Return Price data by YCharts
The WisdomTree Dividend ETF offers an interesting way to invest in mid-cap stocks. Given that most mid caps are not (yet) behemoths with defensible wide moats you have to expect they are going to be more volatile. Nothing wrong with that. But focusing on mid-cap stocks that are mature and flush enough to pay a dividend gives you a dollop of risk dampening. And since the 2009 market bottom that hasn't translated into having to concede upside potential: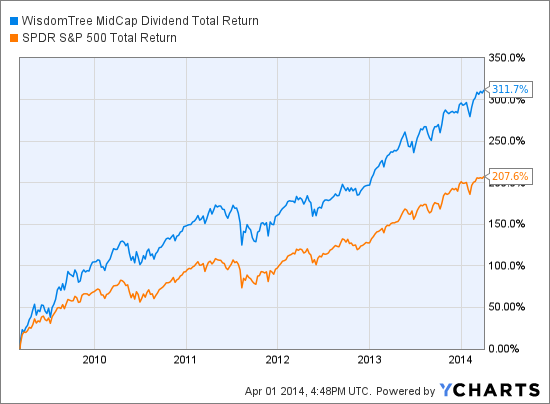 DON Total Return Price data by YCharts
The new, (and tiny) $22 million PowerShares S&P MidCap Low Volatility ETF (NYSEARCA:XMLV) offers another way to dampen risk within mid-caps - its first quarter performance was double the S&P 500.
To be clear, even with a dividend regimen, mid-caps are not to be confused with deep value. The trailing 12-month P/E ratio for the WisdomTree Dividend ETF is near 21 and the forward P/E ratio is 19. Still, the WisdomTree's 2.3% trailing 12-month yield is nearly a half a percentage point ahead of the S&P 500.
WisdomTree's dividend focused mid-cap ETF draws from its mid-cap index. The 300 companies with the largest market capitalization are kicked out of the index. The remaining stocks are weighted annually based on their share of the expected total dividend payout for all the stocks in the index. The higher your share of total cash dividends paid, the more weight you'll get.
That said, with nearly 400 issues, the WisdomTree MidCap Dividend portfolio isn't making any single big bets. Moreover, while it's focused on strong dividend payers, that doesn't guarantee dividend growth.
Windstream Holdings (NASDAQ:WIN) at 1.6% of assets and Frontier Communications (NYSE:FTR) at 1.3% of assets are the two largest positions. Each is indeed an income seeker's delight with dividend yields north of 7%.
But at those levels, there's got to be a troubling story to tell. YCharts senior contributor Dee Gill pegged both stocks as dead man walking-ish more than a year ago.
Indeed, while Windstream has maintained its dividend for the past five years, it hasn't raised it once. Meanwhile, the stock's share price is just 2% higher over that stretch. Even with the nice tailwind of a dividend yield above 11%, Windstream Holdings' total return is less than half that of the SPDR S&P 500 over the past five years: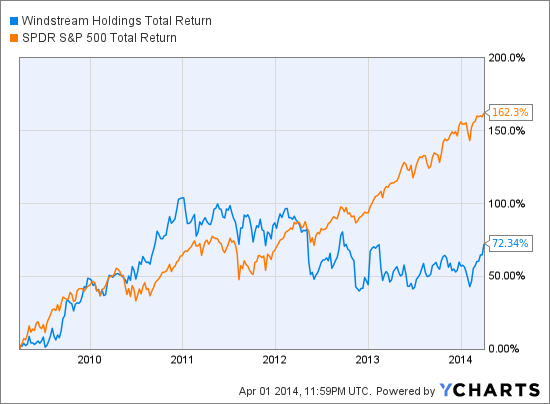 WIN Total Return Price data by YCharts
And with a payout ratio more than triple recent earnings, you'd have to expect the next dividend move would be down, rather than up.
At Frontier Communications, two dividend cuts over the past five years have reduced the payout by 60%. But even a 10 cent quarterly dividend looks good next to a stock price that only recently worked its way up past $5 a share. While the payout ratio is more than triple earnings, Frontier at least has a better cash flow story that keeps its cash dividend payout ratio at a respectable sub-50% level. That holds out hope that more cuts are not imminent.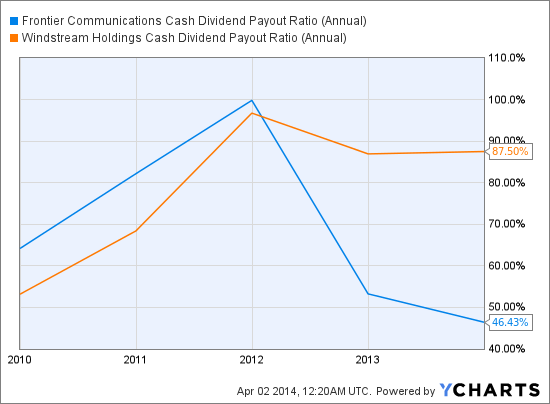 FTR Cash Dividend Payout Ratio (Annual) data by YCharts
While there's no arguing with the performance to date of the WisdomTree MidCap Dividend ETF, both Windstream and Frontier are definitely special situations.
For some "healthier" mid caps, it's interesting to note that two holdings, CH Robinson Worldwide (NASDAQ:CHRW) and Expeditors International of Washington (NASDAQ:EXPD), are rare mid caps that have managed to earn a wide moat rating from Morningstar. The two dominant players in shipping logistics are also part of the current portfolio for the Market Vectors Wide Moat ETF (NYSEARCA:MOAT). The ETF is made up of companies deemed to have highly protected business franchises that also trade at a discount to fair value.
Granted, both made it into the Wide Moat portfolio because of year to date share price drops of 10%. From Morningstar's perspective, those setbacks are seen in the context of long-term (five-year) prospects. And right now Morningstar pegs both stocks as trading at around 20% discounts to Morningstar's estimate of their fair value. That's in the midst of a market that is trading right at fair value. (Full disclosure: Morningstar is an investor in YCharts.)
Though their dividend yields are below 2%, both have managed to grow their dividend consistently for the past five years. The 35% cash dividend payout ratio for Expeditor's International is about half that of CH Robinson Worldwide.
Disclosure: None.