As I have stated previously on Market Eyewitness, Twitter's (NYSE:TWTR) user-base was a major point of contention for Wall Street observers at the time of their IPO. Several months later, Twitter received a brutal wake-up call to the tune of a 24% decline. This was primarily due to Wall Street's displeasure with Twitter's anemic 3.8% user-base growth in their fourth quarter results.
In my last Seeking Alpha piece, I unleashed a series of charts that chronicled Twitter's decline in user-base growth percentage in the U.S as well as the world. Additionally, I showed how Twitter's growth rate in terms of timeline views had declined year-over-year as well as quarter-over-quarter. I mentioned a study by E-Marketer that painted a cloudy forecast of Twitter's user-growth rate over the next five years.
However, it appears that Twitter's user-base problems go far beyond user-base growth.
Like an NFL offensive line opening up a huge hole for a running back, Twitter's user-engagement problem was placed into clear focus based on a report from Twopcharts that concludes that 44% of all Twitter accounts have never sent a tweet before.
In order to ensure that all factors are considered, I must bring attention to the significant number of fake Twitter accounts that have been created. This well-documented topic has served to inflate the aforementioned statistic.
Consequently, it must be determined that fake Twitter accounts have also served to deflate Twitter's user-engagement problem. It would be interesting to see what the percentage would be if there was a method to weed out the number of fake accounts that were included in the statistic above.
In a released report last year, a duo of Italian security researchers stated that they found 20 million fake Twitter accounts for sale. Many unbiased researchers of this topic believe that Twitter has significantly understated the number of fake accounts on its own site.
In order to examine Twitter's user-engagement problem, an enhanced analysis of the Twopcharts report is needed.
I think a real disturbing statistic for investors to ponder is that over 77% of all Twitter accounts have no more than 10 followers on their account. While fake accounts must be considered, this statistic is representative of the significant difficulty that the average Twitter user has in terms of generating a following. With the immense amount of social media options at one's disposal (Facebook (NASDAQ:FB), Linked-In (NYSE:LNKD), one cannot be surprised that users would ditch Twitter to engage in another social media platform with an advantage in user-friendliness.
The following statistics also demonstrate this fact. For Twitter accounts with at least 1 Follower, 1 following and 1 Tweet, 10% of those Twitter accounts have not tweeted in the past 1-3 months. 24% have not tweeted in the past 4-12 months. 37% have not tweeted in more than a year.
Even among Twitter's monthly active users (those who have sent a Tweet in the last 30 days), there seems to be a sizable amount of occasional users. Currently, 1/3rd of Twitter's monthly active users have sent a tweet in the past 8-30 days.
There is plenty of evidence to support the fact that Twitter has a major user-engagement deficit due to the reasons stated above, especially in comparison to Facebook.
A recent report by Business Insider Intelligence shows that Facebook users spent a combined 114 billion minutes a month in the U.S. On the other hand, Twitter users spent a total of 5.3 billion minutes a month.
As the next chart shows, Facebook has 7x the amount of user-engagement of Twitter based on smartphone and PC usage per user.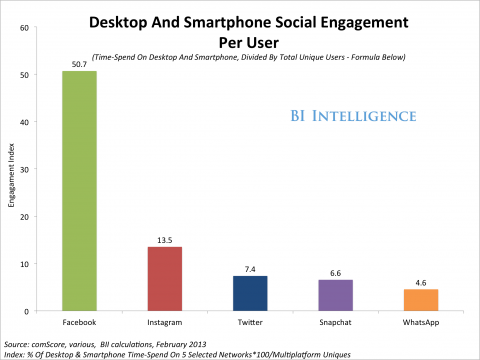 On the next chart, particular attention should be directed toward the "Average Time On Site" module. Facebook users spent 10 more minutes on their platform than Twitter users spent on Twitter.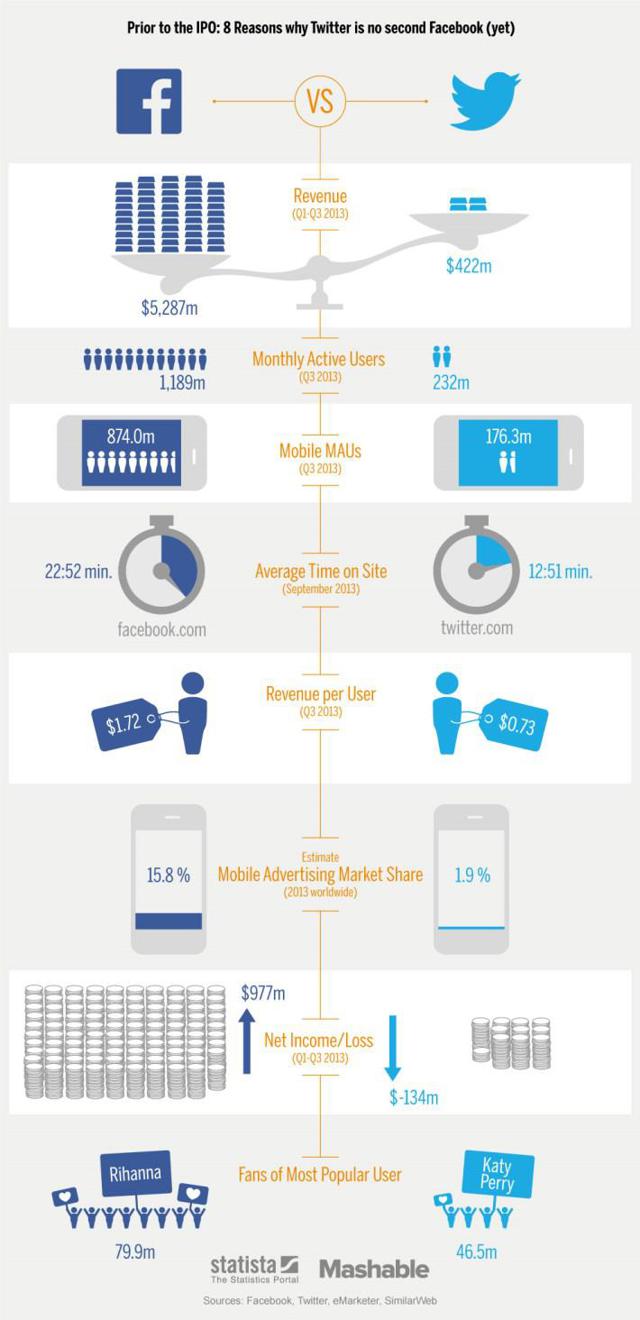 To their credit, Twitter has taken a sufficient step towards addressing their user growth and user-engagement issues by redesigning their user profile. Currently, the design is only available to new users. The firm is in the process of a gradual rollout of the design to its seasoned users. Some new features include three different options in which one can view tweets. Similar to Facebook, the redesign allows for an individual to place a horizontal picture on the top of the page.
BOTTOM LINE
I love Twitter and find the platform to be a very useful tool. Nevertheless, its user-base prospects remain quite a concern. It will be interesting to see if Twitter's recent re-design is a game-changer that will aid Twitter in expanding their user-base and increasing their user-engagement on the platform. Until such a change occurs, I would suggest that investors initiate a short position on Twitter. Their long-term viability should be quite a concern for investors especially in light of this new-found data by Twopcharts.
Due to the fact that I do not anticipate any improvement in Twitter's user-base growth by their next earnings report on April 30th, I feel that investors will be turned off again and that a sell-off will ensue.
I believe Twitter will head down to around the $35 mark. This will be near the low end of the 12 month price-target range of $32.50-$51.50 as provided by CNNMoney.
The big elephant is still in the room.
Disclosure: I have no positions in any stocks mentioned, and no plans to initiate any positions within the next 72 hours. I wrote this article myself, and it expresses my own opinions. I am not receiving compensation for it (other than from Seeking Alpha). I have no business relationship with any company whose stock is mentioned in this article.