Neutral Tandem (NYSE: TNDM) may be the greatest investment you've never heard of.

What do they do? From Yahoo Finance:
Neutral Tandem, Inc., through its subsidiaries, provides tandem interconnection services principally to competitive carriers, including wireless, wireline, cable, and broadband telephony companies in the United States.

What does that mean? In layman's terms, Nuetral Tandem acts as an outsourcing firm for Telcom companies. Instead of multiple companies laying lines or cables on top of each other going to the same location, TNDM creates a neutral interconnection system that acts as the carrier and services station for multiple companies.
Not only do their clients save money by not burying their own wires, but they are also able to do it more efficiently with Tandem's state-of-the-art technology.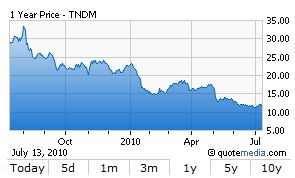 The option is simple for Telcom companies. Save time and money by using Tandem's neutral locations. Their scorching growth has shown what an easy choice it is for other carriers to make. TNDM's 3 year Revenue CAGR stands at 44%. Their overall market is expected to double over the next 3 years as well.
Wall Street's lack of understanding on how they operate has clearly punished this high-growth stock. With a P/E of around 10x and a reasonable PEG around .6, it is are trading in a deep value range, especially when you take into consideration their cash. At $11, your buying $5.50 in cash, and a business that should do $1.10 in earnings this year, and grow at 15%+ per year after. All this for around than 10 times earnings (less than 5 if you subtract cash).
Once you do your due diligence on TNDM, you won't be able to resist making an investment.
Disclosure: Author is long TNDM