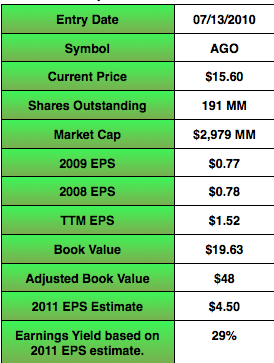 Assured Guaranty (NYSE:AGO) is a Bermuda-based holding company that provides, through its operating subsidiaries, credit protection to the public finance, infrastructure and structured finance markets in the United States as well as internationally. This means that if a city requires a new incinerator for instance, and uses bonds to finance it, then AGO can insure the bonds. And then, due to the insurer's superior credit rating, the interest rate on the bonds will be lower than as a standalone issue guaranteed by the city. AGO also insures structured finance transactions on mortgages and other asset backed securities.
Now there are few if any more cloudy or disliked industries than the financial guarantee business, and the stigma of that has certainly affected AGO's share price. AGO's primary competitors over the year, MBIA (NYSE:MBI), Ambac (ABK), FGIC, PMI (PMI), are at different levels of runoff in the industry due to their more lax underwriting standards.
AGO avoided the worst of the CDO's such as the synthetic versions. Therefore the primary sources of losses for the company has been in its HELOC and CES RMBS portfolios. Anyone following the bond industry must be aware of the significant legal battle currently waged by the insurers, including Freddie Mac (FRE) and Fannie Mae (FNM), and the mortgage originating banks. Basically the insurers are alleging that the originators didn't properly verify the validity of mortgage applications, which is a contractual obligation for obtaining insurance.
I certainly don't profess to be an attorney but in studying the financial results of both the banks and the insurers, it does seem that payments are coming in slowly and surely to cover the losses on the fraudulently conveyed mortgages. Eventually it seems likely that a settlement will be needed but this represents a substantial and non- dilutive capital injection to the insurers that to my estimation is not factored into the market properly.
In July of 2009 AGO acquired FSA, a subsidiary of Dexia (OTC:DXBGF) from the French and Belgian government at a huge discount to book value. AGO did have to issue shares below intrinsic value to pay for the acquisition in addition to some cash, but the rewards seem to far exceed the risks. Just as with the Wells Fargo (NYSE:WFC) acquisition of Wachovia, there is no doubt that there are some questionable assets in the FSA book. But if you get in at the right price from a distressed sale it can be difficult to lose money even in these trying economic times. The acquisition is already enormously profitable due to the accretion from the discount to book value and the lack of significant impairments within the portfolio.
AGO certainly has some hair on it as there are ongoing issues with the city of Harrisburg and Jefferson County. But the municipalities do have the ability and the obligation to raise taxes or sell assets to meet their debt obligations. I think municipal defaults will occur as they have for years. But just like with mortgages, you must create assumptions for both the default rate and severity to establish an idea of what the consequences of these defaults would be. Over the last 40 years net paid losses on U.S. public finance has been extremely low averaging about 4 basis points per annum of net par outstanding over the last 40 years. It goes without saying that most defaults have been in the non- rated and investment grade categories. Some 96% of AGO's net par outstanding is rated above investment grade, according to the company's internal rating scale. The scale, in my opinion has proven to be far more prescient than either Moody's (NYSE:MCO) or S&P (MHP).

I think we'll see most municipalities execute reasonable expense reductions, including both layoffs, and decreases in CAPEX plans. Another important thing to account for is that the vast majority of debt in this country does not get paid off at maturity but instead is refinanced prior to maturity. Nowhere is this more evident in then in Europe, where AGO has virtually no sovereign debt exposure, where Spain, Greece, etc. have been able to refinance debt at reasonably attractive levels. Rates will be higher for municipalities until their budgets are more balanced and revenues are bolstered by higher economic output. However, a few defaults would actually be pretty good for business at AGO. Bond investors that are made good on their defaulted investments as a result of AGO's insurance are likely to be recurring customers in the future, and without any defaults there wouldn't be any legitimacy to the industry.
Due to the lack of any competition AGO has been the only game in town for municipal bond insurance but demand is really low. Future demand will likely depend on confidence in AGO's ratings. Moody's, S&P, and Fitch have all been quite capricious in terms of issuing ratings, and have shown little prognostication ability. When the insurers are downgraded, usually the insured bonds are as well which somewhat reduces the value of the insurance. The positive part of the equation is that AGO is pretty much only writing public finance business which is actually capital accretive to the company. A recent deal with Americredit (ACF) on some auto finance loans has excellent collateral protection, and is likely a preface to an emerging, but more rational structured finance environment.
Now moving forward to a valuation analysis on AGO, the merits of the investment become considerably more clear. AGO's book value as of March 31, 2010 is $19.63. Its adjusted book value, which negates non-credit impairment unrealized gains (losses) on credit derivatives, plus the net present value of estimated premium revenues and reserves, minus losses and after taxes is $48.00. Historically, municipal bond insurers have traded at a slight premium to adjusted book and it is very possible that AGO could earn between $4.50-$6.00 in 2011 and 2012. I expect them to be able to generate an ROE of about 10% on adjusted book. This would imply normalized earnings power of $4.80 at the present. There is a great deal of uncertainty on this investment but getting in at these prices provides you with an adequate margin of safety to the extent that it is difficult to picture a scenario where you would lose money over the long term.
Investment Strategy


Disclosure: Long AGO, Short Options on AGO