At the start of reporting season for Q2 earnings, S&P500 EPS are expected to come to $19.29, a gain of 24% versus 2Q09[1]. Significantly however, that number would be basically flat sequentially, and earnings are forecast to increase only $1.10-1.20 or so in each of Q3 and Q4 (Figure 1).
Financials (NYSEARCA:XLF) are likely to be the largest contributor to earnings growth in Q2 (on easy comparisons), followed by the Technology (NYSEARCA:XLK) and Energy (NYSEARCA:XLE) sectors. Only Utilities (NYSEARCA:XLU) are expected to record a decline in earnings, of about 5%.
To be sure, Q2 will almost certainly come in above expectations as companies are rather adept at steering guidance toward a level they can beat. But the real question is whether managements will then lower expectations for future quarters. In last month's newsletter we noted how the momentum to estimate revisions had slowed dramatically; now in fact estimates are falling, down 0.3% in June for S&P500 firms. That weakness has spread to other developed markets too, with forecasts falling by the same about for firms in the iShares MSCI EAFE fund (NYSEARCA:EFA).
The good news is that the recent correction in stock markets has returned the price-to-earnings ratio on the S&P500 to 12.5x forward earnings, below the post-WWII average of 14.6x trend-line earnings (Figure 2). Unfortunately such a lengthy history does not exist for the MSCI EAFE or Emerging Markets (NYSEARCA:EEM) indices, but the comparable P/E ratios on next four-quarters' earnings estimates also appear reasonable, at 11.5x and 8.9x, respectively.
images
Figure 1: S&P500 EPS

Quarterly operating EPS, 2007-10E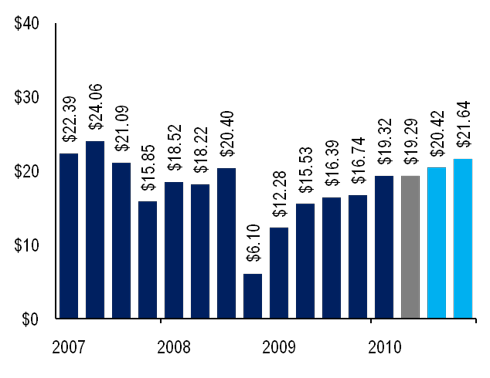 Source: AltaVista
Figure 2: S&P500 Forward P/E ratio

On trend-line EPS, 1950-2010E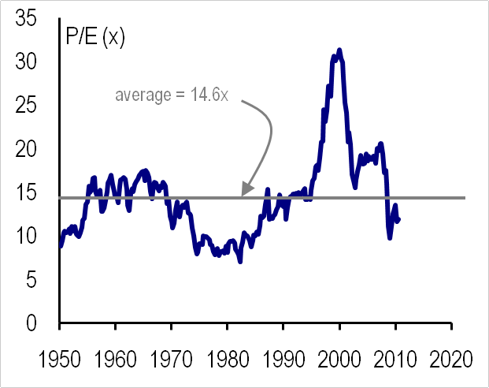 Source: AltaVista
[1] The S&P 500 SPDR (NYSEARCA:SPY) trades at approx. 1/10th the value of the S&P 500 index; its EPS is also 1/10th.
Disclosure: No positions