the latest developments in the oil and gas market have been fascinating and still bode well for further upside for selected Canadian mid-cap energy stocks.
The American Petroleum Institute crude oil stock numbers yesterday afternoon showed a build of 7.6 million barrels for the April 11 week versus an expectation of 2.4 (not sure whose those are - I certainly was looking for a big number). Gasoline stocks were down 1.1 million and distillates down 500K.
The crude market barely flinched. May WTI futures are trading up 87 cents at $104.62/barrel, quite a feat in the face of that stock build.
The reason is the market knows many US refineries are still off-line for maintenance or conversion over to summer gasoline. What's going on in the Ukraine - prospective civil war or war with Russia - is more important.
The international oil price Europe pays is trading at $109.79, up 43 cents on the new front month June Brent contract. Libyan oil has been hamstrung by rebels and traders fear sanctions against Russia will put a hammerlock on European supplies.
WTI has been pulled up to only a $5 discount to Brent due to the pipeline expansions connecting Cushing, OK hub to the Gulf Coast. The Flanagan North expansion from Indiana to Cushing may widen that discount by mid year though.
I'm more bullish on crude oil than natural gas although both are supportive of Canadian energy producer equity prices, which have been depressed for much of last year due to the problems with high commodity discounts and pipeline apportionments.
Natural gas seems to have leveled off to around $4.50 USD/mmBTU at NYMEX for the summer (barring some big hurricanes closing down production in the Gulf of Mexico) as we enter the "shoulder" season for demand between heating and A/C use. Injections were slightly bullish last week at 4 bcf versus 15 bcf expected. Canadian AECO prices are $4.78 CAD/mmcf for twelve months dropping to $4.37 for all of 2015.
It's snowing here in Barrie, Ontario and -10 C is expected tonight - when will it end? - but North American gas heating demand will soon decline and we'll be seeing natural gas storage injections slowly replenish the big yawning hole in stocks in the US and Canada.
I'd like to highlight the stock of Canadian oil-weighted producer DeeThree Exploration (DTHRF) which made an important move yesterday, closing at $10.77 CAD up 57 cents or 5.6% on over 2 million shares traded on the TSX. All dollars CAD.
I think DTX is going higher. My estimate for Funds Flow Netback, basically cash flow before working capital changes for 2014 was $2.26-$2.32 per share in my March 14 article, resulting in an $11.30-$11.60 target price.
Given the progress the company has made over the ensuing month and the prices for oil we are seeing, I am now increasing that estimate to $2.46 per basic share, or slightly over $200 million.
A more appropriate growth multiple of 6 times gets you to $14.76 on the stock, up 37% from here.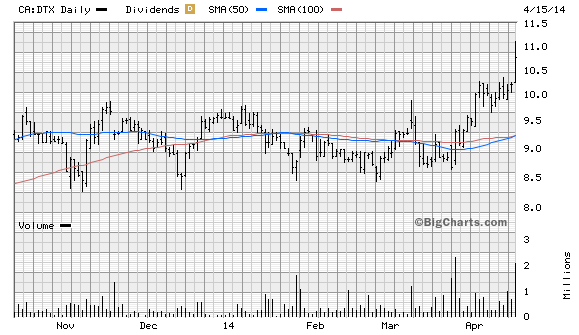 If you look at the longer term price chart, you see the latest up move is not an overbought signal but rather a breakout from almost six months of consolidation in the $9 area.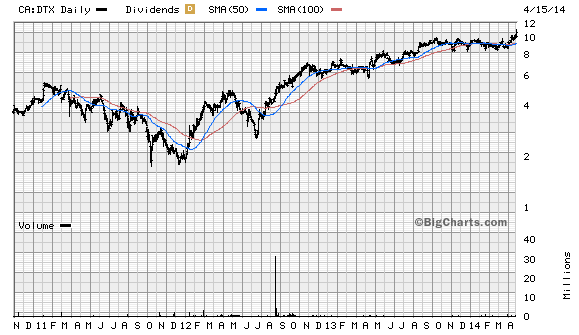 My only problem with DeeThree has been the high royalties they must pay to the owners of the land they drill on. For example, DeeThree pays Encana (NYSE:ECA) 30% on the first barrels from their Alberta Bakken wells. This amount comes down as the well production declines. The company says the royalty rate is net net going to come down and be less of a drag going forward.
Note: Coincidentally, Encana is spinning off its Alberta royalty portfolio in an IPO called PrairieSky, announced yesterday.
Here are ten reasons to own DeeThree for growth-oriented investors. The corporate presentation updated as of April 11, can be reviewed here.
1) DeeThree has just begun a month long road show to market itself to institutional investors in the USA and Europe. Today's move I believe is institutional investors piling in when they saw a stock trading at 4.4 times estimated cash flow with a great growth profile.
2) DeeThree hired the Coremark Securities analyst that was covering them, to help market the company to his contacts. The analyst bought 25,000 shares of DeeThree at $10.11 and received 200,000 options at $9.50. Coremark's new analyst raised its target on the stock to $14.00 from $13.50. Other brokerages estimates for DeeThree averaged $12.69 CAD but I expect they are raising too.
3) DeeThree is sitting on 2.2 billion barrels of original oil in place with a market cap of $880 million and debt of $120 million for an Enterprise Value of $1 billion. Although only 40 million boe in gross 2P reserves have been booked making the stock look expensive, the amount of drilling they are doing means reserve growth is inevitable. I believe they'll double reserves this year, reported in early 2015.
4) The company has low debt of $120 million or about half the cash flow they can generate this year at current prices. So DeeThree is probably not going to the market with an equity deal as some of the more leveraged players are inclined when the stock spikes.
5) The company is very active drilling the Alberta Bakken where there is virtually no "spring breakup" that forces operators to the north to suspend well completion and tie in activities due to the muddy conditions as that Canadian "moose pasture" unfreezes.
6) The company's Alberta Bakken oil is discounted by about $20/barrel from Edmonton Par due to lack of marketing alternatives.
7) The company thinks its oil is sold to two refineries in Montana but really has no say in the matter. Plains All-American Pipeline, LP (NYSE:PAA) does the marketing.
8) DeeThree is going to take out Plains and other middlemen. It has built its own 8,000 barrel oil battery and is building a "facility" so that by Q3 it will be railing its Ferguson, Alberta area crude oil to customers of its choosing, thereby narrowing that big discount.
9) The $20 discount to Edmonton Par could shrink by $10 in my view. That would add about $18 million in pre-royalty cash flow per year.
10) Hedging is limited and at good prices leaving upside with some downside protection. Only 3,000 bbls/day of WTI collars with ceilings of $97 USD to $107.85 CAD and floors of $85 USD to $92.50 CAD, plus 1,000 bbls/day swapped at $105.20-$106.00 CAD. Only 5,500 GJ/day of natural gas (2,500 in the Summer only) at plus $3.97-$4.31/GJ. An mcf or MMBTU of natural gas is equal to approximately 1.055 GJ.
Here are my netback metrics for DeeThree's last two quarters and my rough 2014 projection given I believe crude will continue to be high in price. The Edmonton Par discount to WTI was only $4 USD recently, about $100 USD.
Even with the $20 locational and quality discount from its 30 API Bakken oil at Lethbridge, the low Canadian dollar means DeeThree is receiving decent prices for its oil, soon to be better. Very light 42 API oil from the Brazeau River area, its second major exploitation area, gets a quality premium and only a $6 locational discount, or close to $100 CAD/barrel.
The May 1 expansion of the Enbridge (NYSE:ENB) Line 6B between Griffith, Indiana to refineries in Sarnia, Ontario and the reversal of the Line 9 to Montreal, Quebec, should help keep the Canadian oil discount narrowing and is bullish for Canadian light oil-weighted producers.
| | | | |
| --- | --- | --- | --- |
| | DTX Q3 | DTX Q4 | DTX 14 |
| Sales Price boe | $80.03 | $65.37 | $85.00 |
| Hedging | ($2.80) | ($0.69) | ($3.00) |
| Operating | ($10.46) | ($10.03) | ($10.00) |
| Royalties | ($19.28) | ($16.21) | ($20.00) |
| Transportation | ($2.18) | ($1.75) | ($2.00) |
| Operating Netback | $45.31 | $36.69 | $50.00 |
| | | | |
| Gen&Admin | ($2.18) | ($2.81) | ($3.00) |
| Interest | ($1.02) | ($1.19) | ($1.20) |
| Other | $0.00 | ($0.24) | $0.00 |
| FFO Netback | $42.11 | $32.45 | $45.80 |
| | | | |
| Percent Liquids | 82% | 82% | 82% |
| Percent Gas | 18% | 18% | 18% |
| | | | |
| Average boe/day produced | 7,573 | 8,625 | 12,000 |
| Annualized boes (000s) | 2,764 | 3,148 | 4,380 |
| Annualized FFN | $116,398 | $102,157 | $200,604 |
| Share price | $9.30 | $9.30 | $10.77 |
| FFN/Share | $1.43 | $1.25 | $2.46 |
| Shares outstanding | 81,560 | 81,560 | 81,560 |
| Diluted Shares | 88,400 | 88,400 | 89,100 |
| Market Cap ($000's) | $758,508 | $758,508 | $878,401 |
| | | | |
| MC/FFO Netback | 6.5 | 7.4 | 4.4 |
Source: Company filings and BCMI Research Inc.
This company should not be trading at 4.4 times estimated CFPS when it is growing production to exit 2014 at a guided 13,000-13,500 boe/day versus 10,200 in December 2013. My estimate is for 2014 average production is 12,000 boe/day given the company continues to actively tie in wells in Q2.
Disclosure: I am long DTHRF. I wrote this article myself, and it expresses my own opinions. I am not receiving compensation for it (other than from Seeking Alpha). I have no business relationship with any company whose stock is mentioned in this article.