For US Treasury yields, it's two auctions down, one to go. Gold needs a close above my semiannual pivot at $1218.7 to begin a trend to challenge the June all time high or $1266.5. Crude oil has returned to my annual pivot at $77.05, as the trading range remains $67 per barrel to $87 per barrel in round numbers. The euro is trading just above my monthly pivot at 1.2670. On Tuesday the Dow returned to my annual pivot at 10,379 as expected. The Congressional Oversight Panel agrees with my assessment with regard to TARP and community banks. What to do with Intel this morning?
10-Year Note
(3.114) – The 10-Year note auction came in at 3.119. The bid to cover ratio was 3.09 times the auction size and Indirect Bids were at 42% of the auction size. Indirect Bids includes demand from foreign investors, and in my opinion 30% to 40% of this type of demand is the neutral range. Today, the US Treasury auctions $13 billion in 30-Year bonds. The decline in yields into the range of my annual risky levels at 2.999 and 2.813 was a selling opportunity as I projected. Now there is risk that the yield on the 10-Year note could trend higher into my zone of semiannual and quarterly value levels at 3.479 and 3.486.
Courtesy of Thomson / Reuters
Comex Gold
($1211.2)
–
The all time high of $1266.5 set on June 21
st
was a test of June's monthly resistance, as a significant top for gold.To re-challenge this high gold needs to close above my semiannual pivot at $1218.7. Today's value level is $1165.1 with weekly and semiannual pivots at $1210.3 and $1218.7, and semiannual and monthly risky levels at $1260.8 and $1279.3. Without that move above $1218.7 the downside risk is to quarterly and annual value levels at $1140.9 and $1115.2.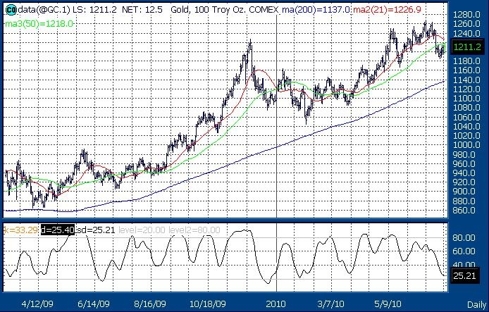 Courtesy of Thomson / Reuters
Nymex Crude Oil
($77.19)
– Today's value level is $74.21 with weekly and annual pivots at $76.93 and $77.05, and monthly and semiannual risky levels at $79.36 and $83.94. The 200-day simple moving average provides a resistance at $77.36. There is significant downside risk below the trading range shown as my quarterly value level lags at $56.63.
Courtesy of Thomson / Reuters
The Euro
(1.2714)
–
My weekly value level is 1.2422 with my monthly pivot at 1.2670 and daily risky level at 1.3027. Note that the euro is overbought with MOJO above 80 on a scale of zero to 100. MOJO is what I call the 12x3x3 daily slow stochastic reading.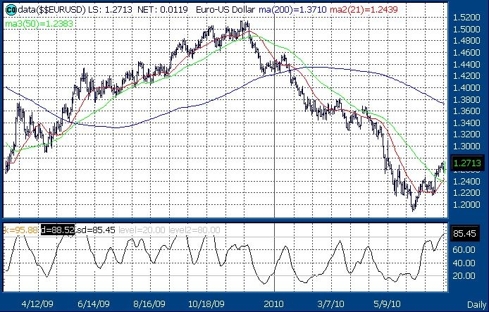 Courtesy of Thomson / Reuters
Daily Dow
(10,363) -
If the Dow can hold my annual and daily pivots at 10,379 and 10,328 the upside is to my semiannual and monthly risky levels at 10,558 and 10,891. My annual risky level at 11,235 was tested at the April 26th high at 11,258, which marked the end of the bear market rally that began in March 2009. We are in the second leg of the multi-year bear market that began in October 2007 targeting 8,500 before 11,500.
Courtesy of Thomson / Reuters
The COP Reports On the TARP Warp - The Congressional Oversight Panel reports what I have been writing about over recent quarters: That TARP has been a drag on community banks, as the 690 small banks that begged for tax payer money now wish they did not. Each quarter more and more community bank TARP recipients are not making TARP dividend payments. The number is up to 91 banks.
Most of these community banks should not have been qualified to receive TARP because of their overexposures to C&D and CRE loans. The FDIC knew about these exposures and have been collecting data on these exposures, but rubber-stamped the bailout money because community banks had and still have capital shortages. Now the FDIC has broader powers even after they ignored the powers that they had since December 2006. Go figure!
More that 50% of small banks just can't lend because of souring loans for commercial real estate and high unemployment. On Tuesday the Labor Department reported that job openings dropped in May as layoffs edged higher. This provides further evidence that companies are reluctant to hire. The COP reports that hundreds of small banks are expected to fail by the end of next year.
According to COP small banks can't afford to make TARP dividend payments and that these payments will nearly double in 2013, as "The Great Credit Crunch" gets pushed out yet another year.
As I have been saying, community banks play a critical role in lending to small businesses, which is the life blood of economies on Main Street, USA. Without new C&D and CRE loans construction jobs cannot grow. Meanwhile, the "too big to fail" banks are bigger and new financial regulations do not end "too big to fail"!
My "Buy and Trade" Strategy says its time to book profits on Intel (NASDAQ:INTC)
Intel Inc (INTC)
reported a strong earnings report after the close on Tuesday, and was trading at $22.30 in the after hours. Intel has been an excellent example of my "Buy and Trade" strategy and today's open appears likely to be well above my semiannual pivot at $21.59.
Disclosure: No Positions