The Gold Miners have rallied more than 20% since February 1st as Gold prices rallied from $1,050/oz to highs of $1,266.5/oz, recently pulling back to around $1,200/oz. While Gold prices are only 4.5% off highs, the miners, represented by the Gold Miner ETF (NYSEARCA:GDX), is 9% off highs. The long term trend support in Gold prices comes in at $1,175/oz, and it appears that Gold could be ready to take out that support level in the coming month.

The simple fact is that Gold is a crowded trade that has a lot of unwinding and money outflows ahead, after investors rushed into the Gold (NYSEARCA:GLD) ETF as a safety trade when there was major uncertainty regarding the European economy, and the potential collapse of the euro. A lot of that risk has been taken off the table for the near future, and although I feel that Gold will have its glory days again, I feel it is an asset class that will under-perform in the coming months. One of the fundamental rationales behind investing in Gold is as an inflation hedge, and there is no inflation right now, nor will there be for quite some time.

Bonds are rallying as a sign of deflationary times ahead, and the Hedge Funds that have loaded the boat in Gold may be apt to take profits, and continue to pressure Gold back to $1,000/oz until risk returns to the market. Many will argue that the continued US Spending and Deficit will push prices higher, but this has been a staple of our Government for as long as I can remember, and measures are finally being taken to get the deficit under control, another negative for the Gold trade.

Options action in the market today confirmed that the "smart money" is starting to bet against the gold miners, betting on lower prices in the commodity:

Newmont Mining (NYSE:NEM) and Agnico Eagle (NYSE:AEM) both saw large bearish bets as traders position for a further pullback in Gold.

In Newmont a trader sold 6,300 August $70 calls at $0.60 and bought the same number of August $60/$50 put spreads at $1.50 for a net $0.90 debit.

In Agnico-Eagle a trader sold 5,370 August $65 calls and bought the same number of August $55/$45 put spreads, a net $0.50 debit.

The Gold Miner ETF (GDX) is in a large ascending triangle and would lose support on another move below $50, while Gold (GLD) could pull back to the $114 level where long term support would be after failing to climb back above the 50 day EMA today.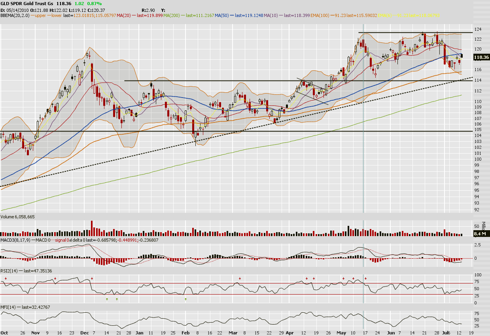 Newmont has outperformed peers and was trading at 52 week highs yesterday, while Agnico is already 10% off recent highs. Both stocks are trading near 3X book value, and Agnico is 23X earnings while Newmont is 15.3X earnings, so both are a bit rich based on historic valuations.

I expect there will be a ton of comments from people defending Gold, and that is why it is a short as a TRADE, not an Investment; because everyone thinks Gold is the greatest thing on Earth right now, while in reality, there is not a fundamental reason to continue higher in the current environment.


Disclosure: Long Newmont (NEM) Aug. 60 Puts at $1.75