Diversified industrial companies have been holding strong over the past two years, with growth in the economic environment. The business of these companies is dependent on the economic environment, as was witnessed during the Great Recession. Diversified industrial companies were among multiple industries affected by the economic downturn then and recently. The entire industry lost its value and generated a negative return of 44% in 2008. Nevertheless, these companies took the downturn as an opportunity to restructure their business by focusing on their core products. As a result, they are now making acquisitions and dispositions, working on cost-cutting and producing innovative products.
Over the past two and a half years, since the global economy started showing signs of recovery, these companies have had strong momentum and have been generating massive profits. These companies have strong business models and global exposure, which allow them to achieve strong top and bottom line growth. In this article, I pick one of the best companies, United Technologies (NYSE:UTX), to see where it stands in these circumstances, compared to Honeywell International Inc. (NYSE:HON). I will look at their business strategies, future prospects and financial situations to gauge which is a perfect stock for defensive investors, with low risk and high rewards.
Where Does United Technologies Stand?
United Technologies is a technology company operating in five business segments, including Otis, UTC Aerospace Systems, Pratt & Whitney, UTC Climate, Controls & Security and Sikorsky. Its five segments have been generating strong growth for the company. Further, cost-cutting measures and enhanced operational efficiencies allow it to convert higher revenue growth into superior profits.
In the past year, on 9% revenue growth, the company has generated 16% growth in earnings compared to the past year. Its business segments are on momentum. United Technologies ended last year with a higher order backlog. Orders at Otis increased 8%, UTC Climate and Controls & Security equipment orders rose 5%. At Pratt & Whitney, large commercial engine spares orders increased 20%, and orders at UTC Aerospace Systems went up nearly 19%.
With a higher order backlog this year, it is again expecting to generate a similar growth in both revenues and earnings. United Technologies is looking to produce consolidated sales of around $64 billion and earnings per share around $6.55 to $6.85, compared to the past-year sales of $62.6 billion and earnings per share $6.21. Further, it has a strong potential to turn higher earnings into higher cash flows. Every year, over the past five years, it has been able to increase operating cash flows. Its free cash flows conversion rate is also exceptionally high, at nearly 100% of income.
Where Does Honeywell Stand?
Honeywell is a technology and manufacturing company. The company operates in four business segments: Performance Materials and Technologies, Aerospace, Transportation Systems and Automation and Control Solutions. All its business segments are generating solid growth, and are gearing up for future growth. In the past year, its aerospace segment has generated flat growth. The Automation and Control Solutions segment has produced 4% growth. The Performance Materials and Technologies segment has generated 9% growth, and the Transportation segment has provided the company with 5% growth in sales.
Overall, its revenue growth was at 4%. However, with solid margin expansion, it has posted 33% growth in earnings per share. Its continued investment in growth opportunities, global expansion and ability to introduce innovative products led it to generate excellent results. Looking forward, it is looking to generate mid-single digit growth in the top line and double-digit growth in the bottom line each year over the next five years. Moreover, it is also looking to double its cash flows by the end of 2018. Its products like Honeywell's Wi-Fi Smart Thermostat, cloud-based voice control solutions, commercial aftermarket ESS, ASS solutions, Turbo and Advanced Materials are set to generate growth for the company.
To support its top line growth, Honeywell will continue to invest in growth opportunities, and continues to look for strategic acquisitions. The company's cash generating potential is strong enough to support future investments, along with returning significant cash to investors. It is consistently generating higher cash flows that are sufficient to cover its capital requirements and cash for investors.
Which Is A Better One?
Honeywell and United Technologies both are returning considerable cash to investors over the years in the form of price appreciation, dividends and buybacks. The below chart demonstrates these trends.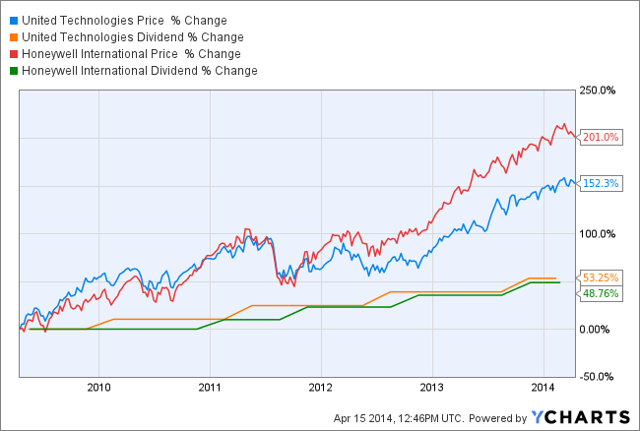 With their smart investment strategies and solid financial performance, both have been able to enhance investor confidence over the years. Honeywell's stock price surged nearly 201%, and dividend growth is at 48.76% in the past five years. On the other hand, United Technologies has generated 53.25% growth in dividends and 152% growth in stock price.
Further, their dividends are absolutely safe, as their cash flows are twice than their dividend payments. Going forward, as both companies are looking to generate double-digit growth in earnings and nearly doubling their cash flows, I expect dividends to double in the coming five years. With all these positives, I expect the share price to keep up its upward trend. They are also constantly working on buybacks, which further enhances their dividend and earnings per share.
Honeywell's strong product portfolio and solid footprint in global markets will keep allowing it to entice investors. The company's continued investment in growth opportunities, including strategic acquisitions will lead it to produce double-digit growth. On the other hand, all of United Technologies' business segments are on momentum. Thus, it is looking to generate higher single-digit growth in revenues and higher double-digit growth in earnings. Further, it has incredible potential to generate free cash flows equivalent to net income. I believe both companies are solid picks for defensive investors, as both are trading at similar multiples, and both are set to generate substantial profits for investors in the coming days. Amid all this, I marginally prefer United Technologies over Honeywell only due to its better growth in the top line and ability to generate free cash flow equivalent to or above its net income.
Disclosure: I have no positions in any stocks mentioned, and no plans to initiate any positions within the next 72 hours. I wrote this article myself, and it expresses my own opinions. I am not receiving compensation for it (other than from Seeking Alpha). I have no business relationship with any company whose stock is mentioned in this article.