Author's Note: The following is a transcript of an interview I did for Zacks Small-Cap Research on April 15, 2014. I have posted the interview here for investors to read on my Seeking Alpha page.
Cynapsus Therapeutics (CYNAF) shares have nearly round-tripped since Zacks Small-Cap Research ("ZSCR") biotech analyst Jason Napodano, CFA ("JN") first initiated coverage on the stock last year. Back in June 2013, Jason called Cynapsus, "An undiscovered gem" and recommended investors buy the shares at $0.30 per share. In February 2014, writing for Zacks, Jason called the company, "One of our best ideas," reiterating his bullish stance at $0.78. Last week, Cynapsus announced they were raising cash to the tune of $15 to $25 million, and that hit the shares hard. The deal was priced at CAD$0.65 ($0.595 per share). With the deal now completed, and $23.2 million of new cash in the bank, we thought it was a good time to circle back with Jason and get his take on Cynapsus for investors today.
ZSCR: Let's start with the financing, Jason - thoughts?
JN: Certainly, I'm disappointed with the price. The stock was $1.30 a few months ago, so to raise cash down 50% off the highs is frustrating to watch. I think management saw the stock price going up in January and February and perhaps was hoping to call many of the outstanding warrants instead of doing a new financing. As of the December 31, 2013 SEDAR filing, there are 15.24 million warrants outstanding at $0.575 per share. These warrants are callable by the company if the stock trades above $1.38 for 20 consecutive trading days. This would have provided Cynapsus with $8.8 million in cash without new dilution to shareholders, so I appreciated the plan, but it just did not work. The stock was there for only four days in February, and then started selling off. Once it became obvious that the warrants would not be called, the shares went into a free fall ahead of the new financing. Such is life in small-cap biotech.
As for the terms of the deal, it was pretty standard. The stock was priced at a 20% discount to market with 100% warrant coverage. All in, Cynapsus will take home $23.2 million, and has the potential to pull in another $31 million with the warrants. Privately held Dexcel Pharma, Israel's second-largest drug company, was a lead investor in the deal and now owns approximately 20% of Cynapsus.
So although it was clearly a painful transaction, at least now the company has enough cash to fund development of APL-130277 through the NDA filing. That's very important for investors to understand. They also have access to future cash through warrant exercises, so we see no new dilution here prior to the NDA filing. Now we can all get on to focusing on the drug and the upcoming clinical catalysts over the next year.
ZSCR: Speaking of clinical catalysts, Cynapsus reported some data late last month. Can you walk us through those results?
JN: Sure, on March 28, 2014, Cynapsus reported interim results from the CTH-104 study, a single dose, placebo-controlled, healthy volunteer pharmacokinetic study, designed to examine the pharmacokinetic profile of the 25 mg dose of APL-130277 without an active comparator. The CTH-104 study was follow-on analysis from the recently completed CTH-103 study that the company reported results on in early January 2014.
ZSCR: So maybe it makes sense to review the CTH-103 data from January first? Because that is the data that made you call the stock, "One of your best ideas"…
JN: Fair enough! The CTH-103 study was a three-dose active comparator, placebo-controlled, randomized cross-over trial to examine the pharmacokinetic profile of sublingual administered apomorphine (APL-130277) compared to an approved subcutaneous injection of apomorphine (Apo-Go®), and placebo, in healthy volunteers. The primary focus on the study was to see how APL-130277 compared to Apo-Go® on pharmacokinetic parameters. Results show that APL-130277 achieved an apomorphine mean TMAX of 31 and 40 minutes for the 10 mg and 15 mg formulations, respectively. This is time to peak plasma concentration. The subcutaneous injection (Apo-Go®) achieved apomorphine TMAX of 27 and 24 minutes for the 2 mg and 3 mg formulations, respectively. So it looks like the injection works faster than the sublingual film - not surprising, but the data also shows that the mean time to reaching a plasma concentration of apomorphine associated with therapeutic benefit of "time to on" was 10-13 minutes for the two doses of APL-130277 versus 4-5 minutes for the subcutaneous injection. So although the injection is faster, we are talking about only 6-8 minutes. We do not consider that to be significant.
Below we present the pk curves for the two doses.

Source: Cynapsus Therapeutics, Inc.
On first glance, it looks like APL-130277 achieves far less peak plasma concentration than the injectable formulation. Although this statement is technically correct, assuming this means APL-130277 is inferior to the injectable Apo-Go® or Apokyn® is a broad misinterpretation of the clinical utility of the drug.
ZSCR: So let's discuss the curves you presented above, because there's more going on here than just peak and through pharmacokinetics, right?
JN: Absolutely! Interpreting the data from the CTH-103 study takes understanding of something called the therapeutic window. The therapeutic window is the range of drug dosages that can treat disease effectively whilst staying within the safety range. In other words, it is the dosages of a medication between the amount that gives an effect (effective dose) and the amount that gives more adverse effects than desired effects (maximum tolerated dose).
To give a better understanding of the therapeutic window for a drug like levodopa or apomorphine, I'll cite a paper published Schapira et al in the European Journal of Neurology entitled, "Levodopa in the treatment of Parkinson's disease" (2009,16:982-989). In the paper, the authors note: "Early Parkinson's disease is associated with a prolonged response to Levodopa. Disease progression and levodopa characteristics, e.g. short half-life lead to changes that result in a shorter duration of action with wearing off of motor benefit prior to the next dose. Peak dose dyskinesias also begin to appear. As neurodegeneration advances and the adverse effects of levodopa accrue, clinical response becomes ever shorter and unpredictable with more pronounced dyskinesias."
The figure below depicts the changing response to levodopa therapy with disease progression as described by Schapira el al in 2009. Patients with advanced PD exhibit poor disease control, greater risk of "off" periods and "on time with dyskinesias."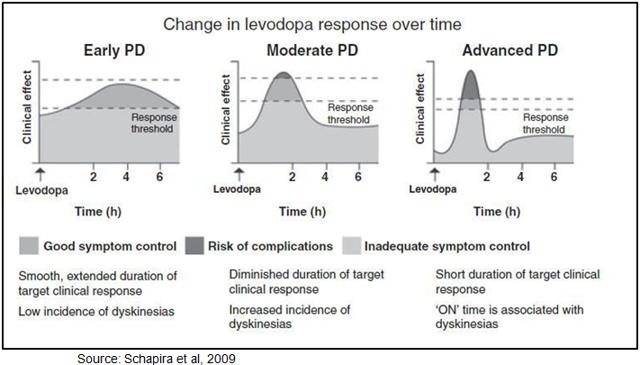 The picture above is representative of the narrowing of the therapeutic window and the diminishing response to levodopa therapy for advanced Parkinson's patients. Below is another schematic representation of the therapeutic window for aging response to levodopa published by Olanow CW et al in Nature Clinical Practice - Neurology, in a paper entitled, "Continuous Dopaminergic Stimulation in the Treatment of Parkinson's Disease" (2006,2:382-392). It will also help investors understand what is going on here, not only as it relates to Cynapsus drug, but for all Parkinson's patients in general.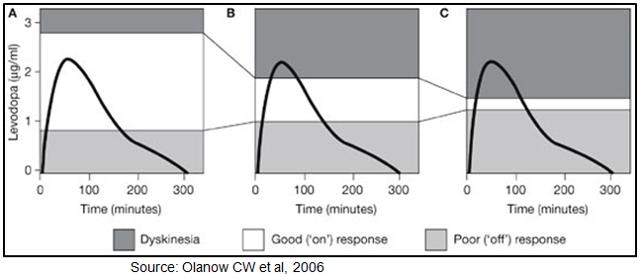 At the beginning of treatment (A), the therapeutic window is wide and patients exhibit good response to levodopa therapy. As the window narrows (B), patients begin to exhibit dyskinesia at peak levodopa plasma concentrations. Poor response, or "off time" increases as response to levodopa wanes. Patients may attempt to compensate for the waning levodopa response and increased "off time" by increasing the levodopa dose or frequency. This only leads to acceleration of the narrowing of the therapeutic window and increase levodopa-induced dyskinesia. Patients with advanced Parkinson's disease (C) experience both severe dyskinesia following levodopa dose and rapid return to "off time." Neurologists and movement disorder doctors note it becomes increasingly difficult to deliver an effective dose of levodopa to patients with advanced disease.
According to the U.S. FDA's Apokyn® summary basis for approval (SBA) and corroborating scientific literature we found separately, the minimum efficacious concentration (MEC) for Apokyn® is 3.5 ng/ml. We cite data by Durif F., et al published in Clinical Neuropharmacology (Vol.16;Issue2) in April 1993 concluding that "on" effect of apomorphine occurred at 3.2-3.6 ng/ml, where "on" was defined as a 25% improvement in UPDRS score.
This work was validated by studies conducted by VanLaar T., et al published in Clinical Neuropharmacology (Vol.21;Issue3) in May 1998 where the authors looked at stepwise increases of intravenous apomorphine and measured both MEC and the maximum tolerated concentration (MTC). VanLaar T, et al concluded that the MEC was around 3.9 ng/ml. Therefore, all plasma concentrations below the MEC do not reduce (or return the patient to) "off" time. VanLaar T, et al concluded that the MTC is 8.5 ng/ml. Therefore, all plasma concentrations above the MTC confer adverse side effects and tolerability issues, namely nausea, vomiting, and dyskinesia that make the drug undesirable to physicians and patients.
ZSCR: So again, it's not just peak plasma concentration and time-to-effect investors should be focused on. There's a window here, and the key is finding the right balance, correct?
JN: Yes, for example, if we insert the MEC and MTC into the pk curve graphs above for Cohort 2, it paints a dramatically different picture of APL-130277 vs. Apo-Go®. Investors can see, not only does the 15 mg sublingual formulation of APL-130277 have a far rounder and smoother peak plasma concentration below the MTC, it also has a longer duration of action within the therapeutic window. APL-130277 never spiked blood plasma concentrations above the MTC (shaded in red), suggesting limited adverse events like nausea, vomiting, and dyskinesia. The duration of action above the MEC (shaded in blue) was also longer, at roughly 120 minutes vs. Apo-Go® 3 mg at roughly 85 minutes. So our conclusion from the CTH-103 study is that APL-130277 offers superior pharmacokinetics to the injectable formulation.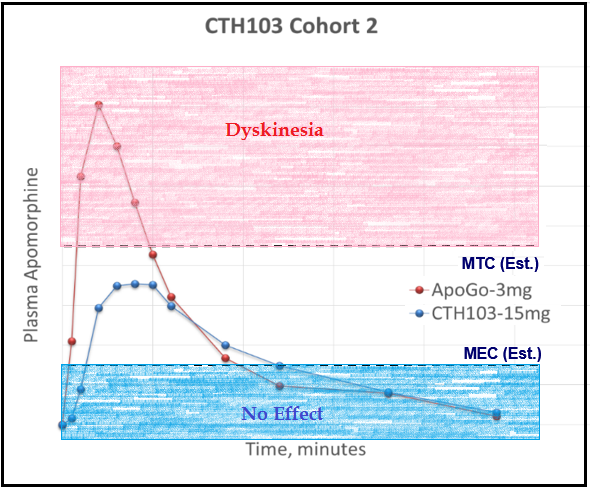 Source: Zacks SCR / Cynapsus Therapeutics, Inc.
ZSCR: What about safety? Did Cynapsus see improved safety with its drug vs. the injectable?
JN: Yes, the safety and tolerability data from CTH-103 seems to back-up the above claim that APL-130277 is a superior drug. Below we present the adverse event profile for the first two cohorts of the CTH-103 study. We note that the original design of the CTH-103 study called for three cohorts, with a 25 mg APL-130277 dose to be compared to a 4 mg injectable dose. However, study investigators halted the study after the second cohort because patients had such severe and limiting side effects to the 3 mg injectable dose. One patient receiving 3 mg Apo-Go® even had a seizure. The 3 mg injectable formulation blew past MTC within minutes of administration. This resulted in roughly 2x the adverse event profile of Cynapsus' APL-130277 at 15 mg. Thus, the 25 mg APL-130277 strip was never tested in CTH-103.

ZSCR: Ok, so let's talk about CTH-104, because that included a higher dose of APL-130277.
JN: Right! On March 28, 2014, Cynapsus reported interim results from the CTH-104 study, a single dose of 25 mg APL-130277 in healthy volunteers. We note data released on March 28, 2014 is only an interim analysis of the first nine patients (7 on drug / 2 on placebo). CTH-104 enrolled a total of sixteen patients (14 on drug / 2 on placebo). Full data will be released in the next few days. However, the company felt as though this interim analysis was worth sharing with investors. Key findings from the initial look at CTH-104 were:
Comparing the increased dose of the 25 mg APL-130277 strip used in CTH-104 to that of the 15 mg strip previously used in CTH-103, the results indicates that a higher blood concentration of apomorphine was achieved. This is important because not only does it show potential for dose titration and proportion, but it puts to bed the question on the strips not being able to hold "enough drug" to achieve clinical efficacy.
In this first group of subjects, the pharmacokinetic profile of the 25 mg APL-130277 dose strip indicates that exposure increased as compared to 15 mg strip and achieved a concentration associated with an expected minimum efficacious concentration (MEC) of approximately 3 ng/ml for over 2 hours. This is very impressive duration of action. Results from the 15 mg strip show duration of MEC at around 90-100 minutes, so clearly the 25 mg strip offers superior duration of efficacy.
The press release does note, however, that in this first group of subjects, sublingual delivery of the higher 25 mg strip dose resulted in more adverse events with a greater severity than seen with the 15 mg dose. We pressed management on this issue, specifically asking if the peak plasma concentration exceed the maximum tolerated concentration (MTC), and if so, for how long?
ZSCR: That seems pretty important. How did they respond to that question?
JN: Well, what they told us is that the side effects noted with the 25 mg strip were still only mild to moderate, and were not defined to be dose limiting. We suspect that the 25 mg dose is bouncing right up at the top of the MTC level. Remember our cartoon picture above the 15 mg dose still had significant head room. Ideally, the full results from CTH-104 in a few days will include a nice graph similar to the ones posted above showing the PK curves of the 25 mg strip inside the therapeutic window. We think that will be the case. And boy, does that make it a big drug if true.
ZSCR: How big? Give us a sense of the market opportunity here.
JN: Well, the conclusion from Cynapsus' CTH-103 study is that Apo-Go® (and the nearly identical Apokyn®) have rather poor exposure inside the therapeutic window. Besides the impracticality of a dyskinetic or akinetic Parkinson's patient self-administering a subcutaneous injection, poor coverage within the therapeutic window greatly limits sales of these two drugs. A product like APL-130277, with far more convenient and simple dosing, less adverse events, and far longer duration of action has enormous market share grabbing - and expanding - opportunity.
For example, there are an estimated 1 million Parkinson's patients in the U.S. There's another 4 million outside the U.S. The Parkinson's Disease Foundation estimates that 40% of these patients have significant "off" issues. Despite this enormous market, injectable apomorphine sells only $70 million on a worldwide basis. We've personally spoken with a handful of movement disorder doctors and neurologists about this issue. All agree, it is a major problem and apomorphine is a highly effective drug. Apokyn® and Apo-Go® are simply the wrong delivery.
Cynapsus Therapeutics employed Medacorp to conduct a market research survey of 500 Neurologists on this specific issue. Results of the survey (shown below) show a dramatic increase in use of the proposed profile for APL-130277 vs. the known profile for Apokyn®.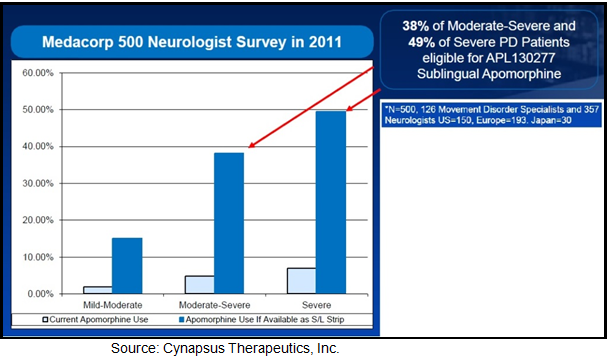 Despite being considered a major problem by physicians, use of injectable apomorphine tracks as low as 2% for mild patients, 5% for moderate patients, and 7% for severe patients. However, when presented with the profile for APL-130277, expected use skyrockets by 7-fold. That's 15% expected use for mild patients, 38% for moderate patients, and nearly 50% for severe patients. Our market research concludes that around 35% of patients are classified as mild, and might require one sublingual film per day. Another 50% of patients are classified as moderate, and might require two sublingual films per day. The remaining 15% are severe, and might require three or more sublingual films per day.
Apokyn® is currently being sold at around $3.25 per mg, with the 3 mg injection being the most common, resulting in a per injection price of around $9.75. To be conservative, we assume Cynapsus will price at parity, or around $10 per strip. We assume the U.S. NDA will be filed in 2016, and the drug will be approved in 2017. We assume five years to peak market penetration (peak sales). Below is a breakdown of how we calculate peak sales of APL-130277.

So this is how we calculate peak U.S. sales of APL-130277 at nearly $400 million. And we note, we are assuming less than 3-fold increase in use vs. the injectable formulation, whereas the company's own market research conducted by Medacorp predicts 7.5 fold increase in use. The Ex-U.S. market is around 4X the size of the U.S. market, at least in terms of patient population. However, many of these patients are un-diagnosed, inaccessible, and live in countries that will never be targeted by the pharmaceutical company that promotes APL-130277. Others simply cannot afford the drug. For the purpose of our model, we assume the addressable Ex-U.S., primarily Europe and Japan, is similar to the U.S. market. So in total, APL-130277 has peak sales around $750 million.
ZSCR: That is certainly a meaningful opportunity. So the final question is, what's the stock worth?
JN: Before we get into valuation, I think investors need to understand the exit strategy for the company. They want to sell. I do not think Cynapsus has delusions of bringing this drug to market alone - at least not after they just got taken to the woodshed on this latest financing. The strategy is to develop APL-130277 through the NDA filing, then sell the company. We believe the NDA is scheduled for 2016.
There's two ways we value the company. The first is a discounted multiple of peak sales. We take $750 million in 2024 and say, "What would a big-cap pharma pay for those revenues in 2016 or 2017?" At an industry average 4x peak sales, with a 25% discount rate and 50% probability of success, the fair-value of the shares is around $310 million. The second way is to model out the cash flow for 10 years. We've built this model in excel and calculate a similar $305 million in fair value. So the two most common valuation methods for pharma-biotech deals are telling us this company should be worth at least $300 million.
Based on the $25 million raised on April 15, 2014, we calculate the basic share count is around 78 million. There are another 64 million stock warrants and options outstanding as of today. So the fully-diluted share count is around 142 million. That math is pretty simple - Cynapsus is worth $2.15 per share.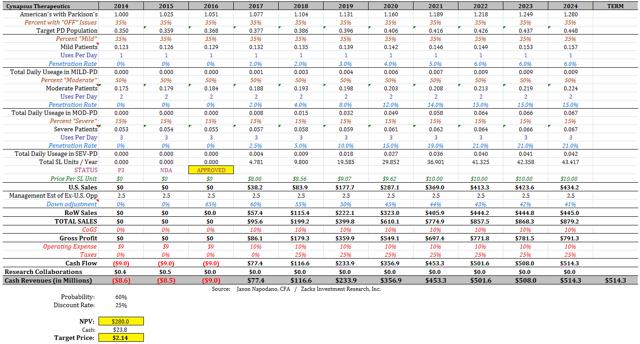 ZSCR: So that's roughly 250% upside.
JN: Yes. Cynapsus has huge upside, a clear exit strategy, a drug that works, a quick path to market, low risk to develop, a raise that is finally out-of-the-way, and data from CTH-104 is coming in a few days. That's why I like it here, right now. Over the next twelve to eighteen months, we should have data from CTH-105, CTH-200, CTH-300A, CTH-300B, and CTH-301. Then we'll see a filing of the NDA, and then hopefully a potential take-out by big pharma. Cynapsus has enough cash to make all the aforementioned come true. That gives me confidence in my $2.15 target.
Disclosure: I have no positions in any stocks mentioned, and no plans to initiate any positions within the next 72 hours. I wrote this article myself, and it expresses my own opinions. I am not receiving compensation for it (other than from Seeking Alpha). I have no business relationship with any company whose stock is mentioned in this article.
Editor's Note: This article covers one or more stocks trading at less than $1 per share and/or with less than a $100 million market cap. Please be aware of the risks associated with these stocks.