"Don't make me angry. You wouldn't like me when I'm angry." -Bruce Banner, The Incredible Hulk
What I call "The Hulk" stocks are also known as "anti-fragile." I like "The Hulk" description more, because the image of "The Hulk" getting stronger under adverse conditions is extremely vivid and illustrates the concept very clearly. Bruce Banner also holds up fairly well when under friendly conditions, which is another feature of "The Hulk" stocks.
Without further ado, the first Hulk stock is...
Oaktree Capital Group LLC (OAK). Lead by Howard Marks, who dares to be great, the company is a global investment management firm focused on alternative markets. Oaktree manages funds in investment strategies that fall into the six asset classes, which include distressed debt, corporate debt, control investing, convertible securities, real estate and listed equities.
The clients are other institutional investors, including 75 of the 100 United States pension plans, 37 states in the United States, over 350 corporations, over 340 university and charitable endowments and foundations, and over 150 non-United States institutional investors, including six of the top 11 sovereign wealth fund nations. These are blue-chip clients most of whom are not going to run off at the first sign of adversity. This means that when something unsavory hits the fan, Oaktree will have no problem raising capital and taking full advantage of any resulting opportunity.
Oaktree has been expanding into new lines of business, including emerging market equity, European private debt and real estate debt. The company also has opportunistically bought back shares in the past.
A nice bonus is a 22% stake in DoubleLine Capital, a fixed income investment management firm lead by Jeffrey Gundlach. DoubleLine had $47 Billion of AUM at 2013 year-end. These figures are not insignificant to the $84 Billion of AUM that Oaktree itself currently has. Both DoubleLine and Oaktree are set to grow, especially after the departure of Mohamed El-Erian from PIMCO and perhaps some at least perceived resulting instability at that firm.
The company trades at about 8 times trailing 2013 distributable earnings. OAK is a limited partnership, with corresponding tax considerations.
W.P. Carey (WPC) is another Hulk-like company. Brad Thomas just profiled the company here, so I will focus on the company's "strength from adversity" attributes.
The company specializes in sale and leaseback financing for other businesses. This means W.P. Carey purchases real estate assets from other companies and leases it back to them. Should there be a liquidity crunch or business slowdown, companies may be unable to secure equity or debt capital, either on attractive terms or at all. Selling a property to W.P. Carey and leasing it back from them may be the most attractive or even the only capital-raising option available to some companies.
The other Hulk-like attribute of W.P. Carey comes from managing non-traded REITs. The company generates management fees and acquisition fees on assets it does not itself own. Occasionally, the company acquires some of these REITs. When the going gets tough, W.P. Carey stands as the prime candidate to acquire these entities at good prices. The company can also raise capital to take advantage of the opportunities that tough business conditions may provide.
W.P. Carey is very picky with the assets it acquires: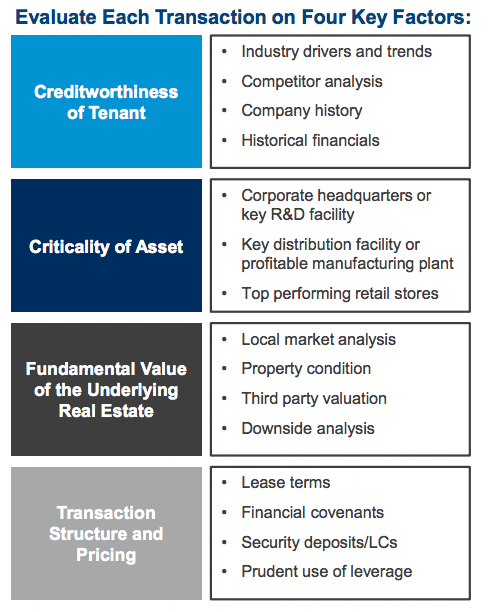 The holdings are well-diversified by tenant, industry and geography.
The company's 40 year track record of excellence, close relationship with tenants and financial strength (please see Brad's article for details) position it as not only a survivor, but a beneficiary of adversity.
Disclosure: I am long WPC, OAK. I wrote this article myself, and it expresses my own opinions. I am not receiving compensation for it (other than from Seeking Alpha). I have no business relationship with any company whose stock is mentioned in this article.