Facebook (NASDAQ:FB) is about to receive regulatory approval from Ireland's central bank for a service that would allow its users to store money on Facebook, and use it to exchange and pay money with other members. The approval would allow Facebook to become an e-money institution that can issue units of stored monetary value that represent a claim against the company. These units would be valid throughout Europe through "passporting". The company is in partnership talks with TransferWise, Moni Technologies, and Azimo, which provide international money transfer services online and via smartphones.
About TransferWise
Founded in 2011, TransferWise enables customers to transfer money among 20 currencies at a low cost. The company is regulated by the U.K. Financial Conduct Authority (or FCA). TransferWise has 60 employees, and handled transfers worth $417.5 million (£250 million) till October 2013. Trustpilot ranks TransferWise as one of the most trusted financial service providers in Europe with a 9.7 star ranking out of 10.
About Moni
Moni is a person-to-person money transfer app that allows users to send money to a mobile number anywhere across the globe. A user with a U.K. bank account, and U.K mobile phone can download the free app.
About Azimo
Founded in 2012, Azimo enables customers to send money to bank accounts or cash pick up points in 195 countries from their smartphone, tablet or desktop. The service is available in 12 languages across the U.K, Ireland, Germany, and Austria. In March 2014, Azimo made its online international money transfer service available in 15 European countries including France, Italy, the Netherlands, Spain and Portugal, adding the total to 19. The low cost service is now available to 185 million customers across Europe.
Opportunities
Facebook has about 1 billion active mobile users across the globe. The company can make use of its user base for developing its e-money business. Two notable areas in this direction include mobile wallet, and remittances.
Mobile Wallet
The global mobile wallet market is expected to reach $5,250 billion till 2020 with a compounded annual growth rate (or CAGR) of 127.5% (base year 2013). Asia Pacific is expected to be the fastest growing region in this market. The growth will be driven by rising smart phone penetration, and increasing security.
Remittances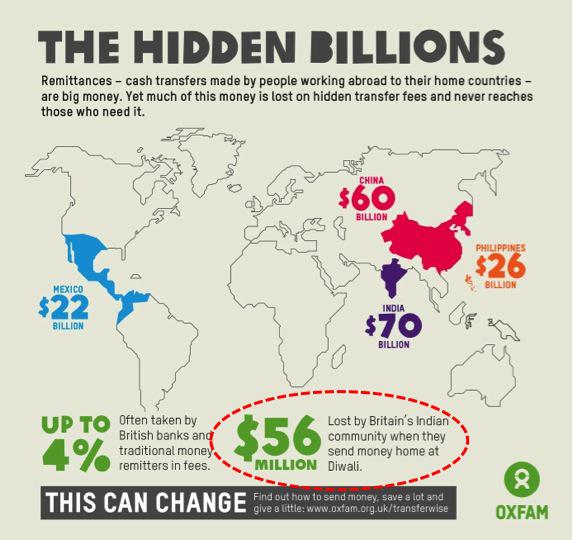 Source: Yourstory.com
Remittances remain a major part of the global money transfers. In 2013, India topped the list with $70 billion in remittances followed by China, the Philippines, and Mexico. The World Bank forecasted that remittance flow to developing countries will rise from $404 billion in 2013 to $516 billion in 2016. Traditional money remitters charge a high transaction cost for remittances, due to which users may shift to low cost services.
Facebook has over 100 million active users in India. The social network got access to China through the WhatsApp acquisition. In Mexico, 90% of all instant messaging is through WhatsApp. The messaging app has about 465 million users globally. A Techcrunch report mentions that Facebook could use WhatsApp for remittances, and money transfers between users in different countries.
Challenges
Non-core business
Facebook has Money Services Business (or MSB) license in several states across the U.S. The company charges 30% transaction fee from developers, when users purchase virtual goods using its payment infrastructure. In 2013, Facebook facilitated $2.1 billion worth of transactions through its payment infrastructure. Facebook is primarily a mobile ad company, and is planning to enter into money transfer business through which it will compete with Western Union (NYSE:WU), and PayPal owned by eBay (NASDAQ:EBAY). Facebook has to address privacy concerns, and security risks to build trust among its users, as this business is built upon trust.
Privacy concerns
Mobile wallet increases the risk of identity theft, and invasive data collection. The Federal Trade Commission (or FTC) has warned that mobile technologies come with hidden risks. Advertisers, operating system manufacturers, retailers, and app developers can use the data collected from mobile devices to build consumer profiles, details of their purchases, shoppers' personal contact information, and their physical locations.
Security risks
Facebook can use WhatsApp for money transfer only if it becomes a secured and encrypted medium. The Heartbleed bug has been a new addition to the list of bugs that has increased internet security risks. According to a study by Chadwick Martin Bailey, 73% of consumers who don't plan to adopt mobile wallets, cited security risk as a major reason.
John Breyault, Vice President of Public Policy, Telecommunications and Fraud, National Consumers League commented the following about consumer protection: - "If you are linking a credit card or a debit card to your mobile-wallet account, then you're still pretty well-protected by federal rules that require things like allowing you to charge back fraudulent purchases. However, a mobile wallet that is linked to a prepaid debit card may not enjoy the same legal protections. If a fraudulent mobile-wallet purchase drains your prepaid debit card, your bank may not be legally obligated to restore the funds as they would with a conventional debit card."
Conclusion
I would conclude by saying that every big opportunity comes with great challenges. Facebook has a good user base which it can use to enhance its revenue by harnessing this opportunity.
Disclosure: I have no positions in any stocks mentioned, and no plans to initiate any positions within the next 72 hours. I wrote this article myself, and it expresses my own opinions. I am not receiving compensation for it (other than from Seeking Alpha). I have no business relationship with any company whose stock is mentioned in this article.