Weibo Corp (NASDAQ:WB), a popular social media and microblogging platform in China, plans to raise $360.0 million in its upcoming IPO.
The Beijing, China-based firm will offer 20.0 million shares at an expected price range of $17-$19 per share. If the IPO can find the midpoint of that range at $18 per share, WB will command a market value of $4.0 billion.
WB filed on March 14, 2014.
Lead Underwriters: Goldman Sachs
Underwriters: China Renaissance Securities, Credit Suisse Securities (NYSE:USA) LLC, Morgan Stanley & Co International plc, Piper Jaffray & Co
A Snapshot of WB
WB is the largest microblogging platform in China, and is popular in Chinese communities around the world. As of December 2013, the firm had 129.1 million monthly active users and 61.4 average daily active users.
WB's platform operates similarly to that of Twitter Inc (NYSE:TWTR), allowing users to post feeds of up to 140 Chinese characters that can be reposted and commented on by other users, and allowing any user to follow any other user. The site currently appears more accessible for Chinese language-speakers; however, does offer an English option.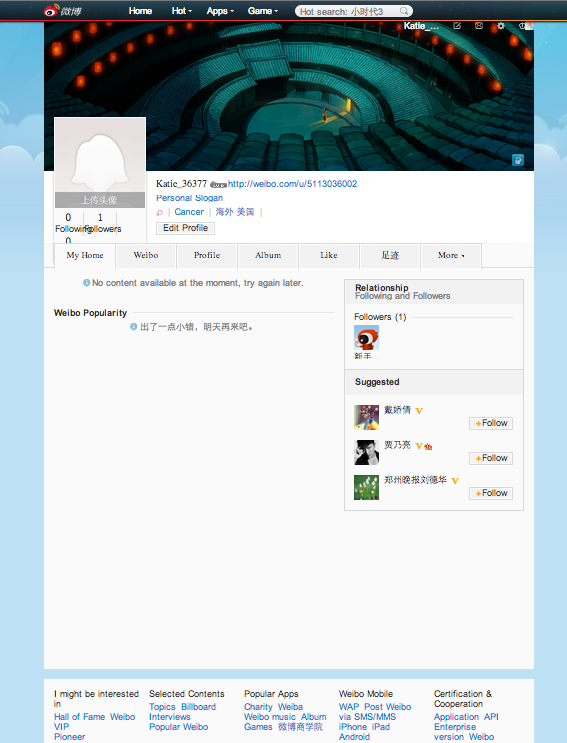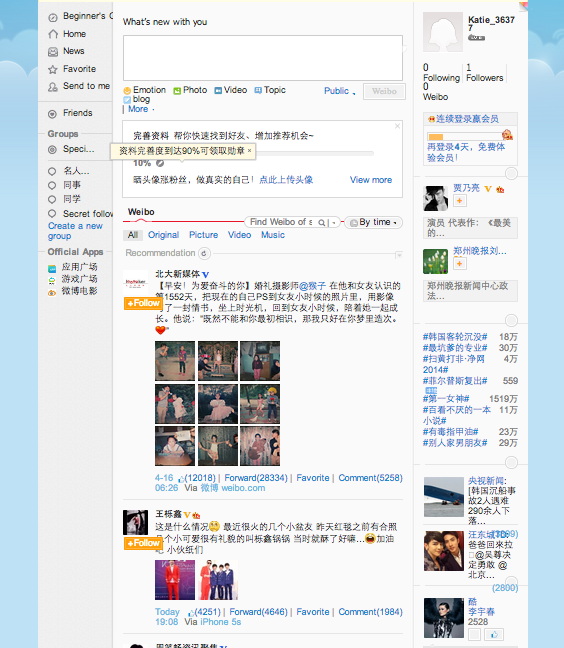 (Images from: weibo.com)
The short-form feeds, along with a simple information format, make Weibo ideal for use on mobile devices.
Users shared over 2.8 billion feeds in December 2013. Companies, public figures, and government agencies use Weibo as an official form of communication. The firm is a majority-owned subsidiary of SINA.
Valuation
WB offers the following figures in its F-1 balance sheet for the year ended December 31, 2013:
Revenue: $188,313,000.00
Net Loss: ($38,115,000.00)
Total Assets: $606,934,000.00
Total Liabilities: $370,263,000.00
Stockholders' Equity: ($242,941,000.00)
WB has seen rapidly growing revenues and declining losses over the past two years; the firm posted revenues of $65.9 million in 2012 and $188.3 million in 2013, and net losses of $102.5 million in 2012 and $38.1 million in 2013.
Largely Chinese Competitors
WB competes for user traffic with other major Chinese internet firms, some of which have significantly greater financial resources than WB. These competitors include NetEase Inc (NASDAQ:NTES), Sohu.com Inc (NASDAQ:SOHU), Phoenix New Media Limited (NYSE:FENG), and Tencent Holdings Limited. The firm also competes with providers of similar online social services, including WhatsApp, Yixin, Douban, and renren.com (NYSE:RENN).
Management With Strong Journalism Background
Chairman of the Board Charles Chao has served as Chairman of the Board since WB's inception, and has served as the Chairman of the Board of SINA since August 2012. He has also served in numerous other executive roles with SINA, including CEO, President, CFO, Co-COO, and Executive Vice President. He previously served as an audit manager with PricewaterhouseCoopers, LLP and worked as a news correspondent at Shanghai Media Group.
Mr. Chao received a Master of Professional Accounting degree from the University of Texas at Austin, an M.A. in Journalism from the University of Oklahoma, and a B.A. in Journalism from Fudan University.
Positive Conclusion For Investors
We are optimistic on this IPO and believe it should be considered by aggressive investors in the proposed range.
Weibo is an extremely popular form of communication in China, and the firm is plowing steadily towards profitability with massive revenue gains.
While the platform currently offers more options for Chinese language speakers, the English version is still accessible and could likely become increasingly so. The adoption of the platform by corporations and government officials and agencies indicates that the firm has begun to take on the cultural importance that Westerners associate with sites like Facebook and Twitter.
WB's connection with SINA should also serve it well.
We suspect that many investors will be eager to get a piece of WB at this stage in its development.
Disclosure: I have no positions in any stocks mentioned, but may initiate a long position in WB over the next 72 hours. I wrote this article myself, and it expresses my own opinions. I am not receiving compensation for it (other than from Seeking Alpha). I have no business relationship with any company whose stock is mentioned in this article.