Infosys (NASDAQ:INFY) is the most prominent among Indian offshoring and IT consulting companies. The company announced its FY14 earnings on 4/15, reporting an 11.5% increase in annual revenue, but only a 1.5% increase in net profit for the year. Cost of sales grew 14%, resulting in gross margin compression of 1.5 percentage points. Over the past 2 years, the gross margin decline has been significant - FY12 gross margin was at 41.1%. The company's previously announced strategy of focusing on profitability led it to be undercut by its competitors, and consequently impacted its utilization; ironically leading to lower gross profit. In FY14, utilization improved significantly by more than 5 points, from 67% to 72.3%, but the gross margin decline suggests that it came under significant pricing pressure. The following chart shows the utilization and gross margin trend for the past three years: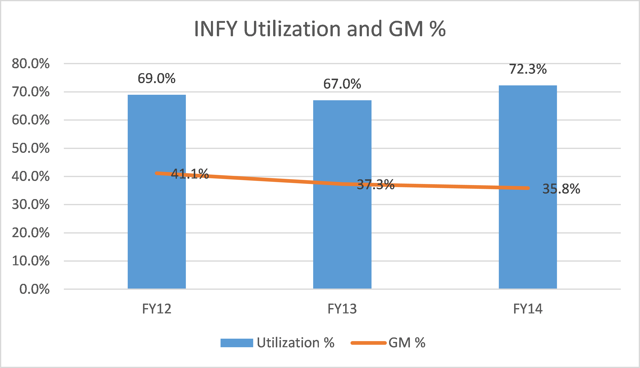 Source: INFY earnings calls
Operating margins have also been compressed over the past couple of years, declining from 28.8% in FY12 to 24.0% in FY14. FY14 did include a $35M charge for settlement costs related to visa issues with its consultants, which the company says have been resolved.
INFY is coming under severe competitive pressure from competitors, such as Cognizant Technology Solutions (NASDAQ:CTSH). The following charts are a comparison of key metrics between INFY and CTSH, which show how Cognizant has overtaken Infosys in both growth and profitability, allowing it to plow back its profits into sales and marketing investments, where it is outspending INFY by over 75%.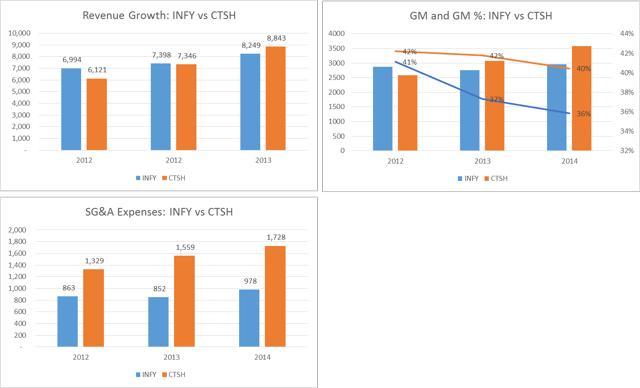 Source: Yahoo Finance
Over the past couple of years, Cognizant has grown its revenues by 44% compared to only 18% for Infosys, and at a more profitable rate. Its gross profit margins are a healthy 40%, 4ppt above INFY. This has allowed it to over-invest in sales & marketing and easily outspend INFY.
Valuation
INFY has a pretty clean earnings statement, which makes a DCF valuation fairly straightforward. I assume a 7% revenue growth for FY15 through FY17, and 5% thereafter. I am assuming gross profit margins stay flat at FY14 levels - in light of the pricing pressures that INFY faces, this seems to be reasonable, though Q4 gross margins actually came in slightly higher at 37%.
I assume that SG&A expenses grow in line with revenue, after removing the $35M legal expense charge from the FY15 estimates. As we have seen, INFY's competitors are significantly outspending it, and it might need to increase its marketing spend to stay competitive.
I am assuming tax rates stay pretty stable, as indicated by INFY management during the earnings calls. For the terminal value calculation, I use a discount rate of 12% and a terminal growth rate of 3%. INFY operates primarily in India, and as such is impacted by exchange rate fluctuations. If the upcoming general elections result in a win for the right-wing coalition, as is widely anticipated, this could result in the rupee strengthening and impact INFY's pricing. The valuation model is attached: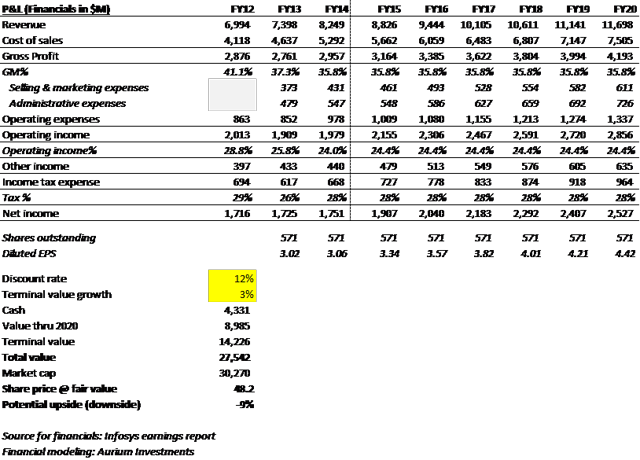 A DCF valuation of Infosys with these assumptions yields a fair value of $48/share, which is around 9% below the 4/15 closing price. Even if we use the upper end of management's guidance of 9% growth for the next three years, it would still result in a discount of 5% to the current share price.
To sum up, INFY appears to be moving in the right direction as a company, by increasing its utilization and focusing on revenue growth. However, the current share price requires it to maintain its profitability and growth estimates, while being constrained on investment relative to competitors. Investors would be well advised to pass.
Disclosure: I have no positions in any stocks mentioned, and no plans to initiate any positions within the next 72 hours. I wrote this article myself, and it expresses my own opinions. I am not receiving compensation for it (other than from Seeking Alpha). I have no business relationship with any company whose stock is mentioned in this article.