If we aren't creating jobs, housing is collapsing even with mortgage rates at all-time lows, and consumers are spending less, how exactly is the economy recovering? As usual, you will never get the true story from CNBC or the other talking heads on the MSM. If you dig into the data, you can come up with these juicy tidbits:
Retail sales in June 2010 were at June 2006 levels, without taking into account inflation.
Motor vehicle sales were below levels achieved in 1998 and were 25% below the peak sales in 2005.
Furniture and home furnishings sales were below levels reached in 2000 and were 21% below the peak sales in 2006.
Building materials sales were at 2004 levels and are running 15% below the 2006 peak sales.
Electronics sales are still 7% below the 2008 peak.
The good news is that people are so depressed they are drinking a lot more. Sales at drinking establishments reached an all-time high and are 19% above 2005 levels.
More good news as the money we have spent at gas stations has soared by 9% over last year and is up 27% since 2004.
A new record was set for spending on medicine at drug stores. Spending at healthcare stores has surged by 24% since 2005.
The really scary fact is that even with the government manipulated CPI, prices are 12% higher than they were in 2005 and 27% higher than they were in 2000. Does that sound like deflation to you? Real retail sales are actually tracking at early 2000 levels. I'm sure Kudlow and Bartiromo will fill you in tonight.
Overall, we are in fine shape. Discretionary spending on crap from China has plunged (how exactly is China's economy surging?), the average American is spending much more to gas up their leased BMW SUV, we are spending a lot more for drugs in order to cure the ailments of depression from drinking too much at bars.
The fact is that consumers are still up to their eyeballs in debt. They will not lead a recovery. They will get a rude awakening as the Greater Depression deepens over the next twelve months. Welcome to the fake recovery.
Here is the Census Bureau report:
The US Census Bureau announced today that advance estimates of US retail and food services sales for June, adjusted for seasonal variation and holiday and trading-day differences, but not for price changes, were $360.2 billion, a decrease of 0.5 percent (±0.5%)* from the previous month, but 4.8 percent (±0.7%) above June 2009. Total sales for the April through June 2010 period were up 6.8 percent (±0.3%) from the same period a year ago. The April to May 2010 percent change was revised from -1.2 percent (±0.5%) to -1.1 percent (±0.2%).
Click charts below to enlarge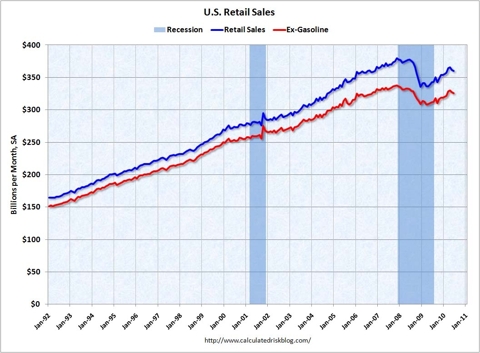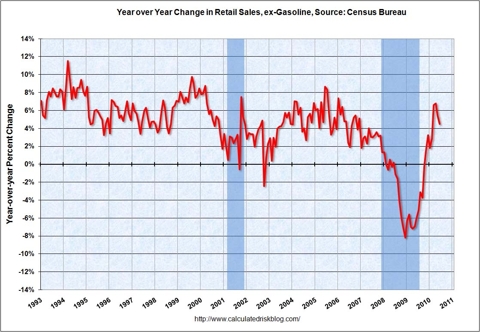 Disclosure: No positions