On March 11, 2014, shares of Zynga (NASDAQ:ZNGA) rallied to $5.89, a 52 week high. Since then, as shown by the chart below, despite a relatively benign news environment, shares have fallen close to 30%.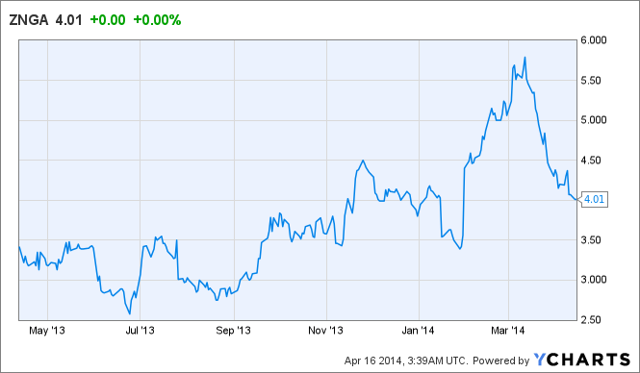 Why Zynga Shares Moved Higher
ZNGA shares began moving higher in late 2013 through early 2014 for a number of reasons. Perhaps the biggest driver of the move higher in ZNGA was the appointment of Don Mattrick as CEO on July 1, 2013. Clearly ZNGA's previous management was not up to the challenge and a change was needed. Mattrick's appointment started, for the first time, positive momentum for ZNGA shares. Next, in late January, ZNGA announced plans to acquire UK based gaming giant Natural Motion for $527 million. The deal has helped ZNGA bolster its mobile business and helped the company diversify its business mix. Finally, ZNGA continued moving higher in the wake of bullish comments from Don Mattrick at a tech conference in early March.
Why Zynga Shares Gave Back The Gains
I believe there are two main reasons why ZNGA shares have given up much of their gains. Neither reason has anything to do with things at ZNGA the company. Rather, the recent decline has more to do with ZNGA the stock. The first reason ZNGA shares have come under pressure is the general selling that has hit high growth high valuation tech stocks across the market. Social media darlings Twitter (NYSE:TWTR) and LinkedIn (LNKD) have both tumbled about 15% since March 11. 3D Printing stocks such as 3D Systems (NYSE:DDD) have fared even worse. Even the beloved Netflix (NASDAQ:NFLX) and Amazon (NASDAQ:AMZN) have tumbled in recent weeks. Not surprisingly, ZNGA has been caught up in the selling. However, it should be noted that ZNGA shares were not being driven by momentum and high expectations. Instead, the rally in ZNGA shares has been more about the possibility that the worst is truly over and the future might be brighter. It should be noted that analyst have been quite pessimistic about ZNGA despite the recent rally with the company attracting 15 hold ratings, 2 buy ratings, and 2 sell ratings. Comparably, most of the other high-flying names that have come under pressure have been rated highly. The point I am trying to make here is that ZNGA is not overextended. Everyone is not bullish ZNGA.
The second reason why I believe ZNGA has sold off has to do with the late March IPO of King Digital Entertainment (BATS:KING) a company that is quite similar to ZNGA because it is in the gaming business. King raised about $500 million and at least some of that money likely came from selling in ZNGA.
Time To Buy
The recent decline in ZNGA is a buying opportunity. The stock had been rising for strong fundamental reasons while the sell-off has been unrelated to company specific prospects. Investors who missed the move in ZNGA from $2.50 to $5.89 over the past 9 months have been given an opportunity.
Disclosure: I have no positions in any stocks mentioned, and no plans to initiate any positions within the next 72 hours. I wrote this article myself, and it expresses my own opinions. I am not receiving compensation for it (other than from Seeking Alpha). I have no business relationship with any company whose stock is mentioned in this article.