At the end of 2013, Kinross Gold Corporation (NYSE:KGC) implemented a new costing methodology for reserve estimate. Then, in its last presentation, the company has tried to prove that this decision, at first glance negative, in the long term, is beneficial to the company and its shareholders. The argument is that although reserves have been reduced, Kinross now possesses mineral deposits of higher grades, so these higher grades, together with reduced capital expenditures and stripping should increase net present values of the operating mines. In my opinion, the whole thing is not that easy. This article presents my stance on it.
Reserves
In its 2013 Annual Report (page 6), the company states that "Kinross' total estimated proven and probable mineral reserves at year-end 2013 were approximately 39.7 million ounces of gold, a net decrease of approximately 19.9 million ounces compared with year-end 2012." The reasons for that decrease were, as Kinross reports: "...primarily due to the impact of cost assumptions and the cessation of development at Fruta del Norte. The gold price assumption used was $1,200 per ounce, consistent with the price used in the 2012 gold reserve estimate." These "costs assumptions," mentioned by the company, then are called "fully-loaded costing methodology." Kinross started introducing this methodology in 2012, when J. Paul Rollinson became the new CEO of the company. The "cost assumptions" made in 2013 are the continuation of a process which started in 2012. The main aim of this process is, as Kinross states in its 2012 Annual Report: "we will stress margin, cash flow and quality over quantity in our business decisions. We cannot control the price of gold but we can control our mine planning process and ask if it makes sense to mine low-margin ounces simply to maximize production. We can change our focus from quantity to quality ounces in our mine planning, production, exploration and resource strategies."
In another corporate document, a presentation dating from February 24, 2014 (slide 11), Kinross evidences that reserves' reduction does not result in "any sterilization of estimated mineral resources" because "estimated potential ounces are still available with increasing gold prices and/or reduced costs." Is this all that bright as the company states?
The company's mineral reserves (and mineral resources as well) are classified in accordance with the Canadian Institute of Mining, Metallurgy and Petroleum (CIM). According to CIM, the definition of a mineral reserve is: "A Mineral Reserve is the economically mineable part of a Measured or Indicated Mineral Resource demonstrated by at least a Preliminary Feasibility Study. This Study must include adequate information on mining, processing, metallurgical, economic and other relevant factors that demonstrate, at the time of reporting, that economic extraction can be justified..." Therefore, reducing the company's reserves means that Kinross has less gold which is economically mineable. Trying to excuse itself (slide 11 - "Quality over quantity"), the company tells that gold, which it had before, has not vanished. Yes, theses ounces are still in the ground, but are not currently profitable to be taken out of this ground. Can you tell this slight, but very relevant, difference?
The reserves breakdown is presented below: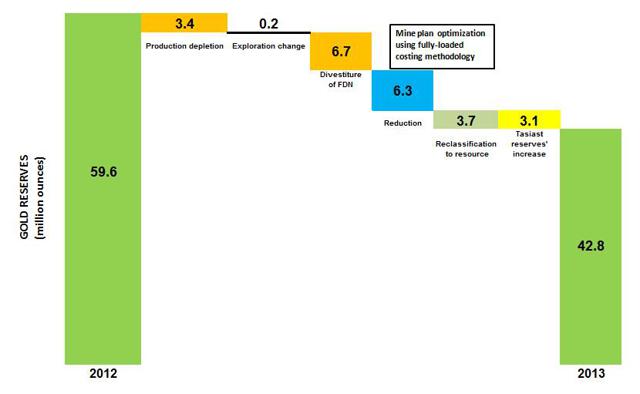 Note: The slide above is a modified version of the company's slide 11 from its February's presentation - the modification was made after e-mailing the company. On March 31, 2014, Kinross published the Tasiast technical report (Tasiast is the company's gold deposit located in Mauritania), which included an update to 2013 reserves at this deposit. The Tasiast reserves increased by 3.1 million ounces; the modification to the slide 11 is presented as the yellow block at the slide above. Therefore, after updating, total Kinross gold reserves, standing at 42.8 million ounces, are higher than the company reports in its 2013 Annual Report (39.7 million ounces) and its February's presentation.
As the slide shows, Kinross reserves decreased by 16.8 million ounces compared with year-end 2012. There were five factors contributing to that, but the most important one was "fully-loaded costing methodology," which reduced Kinross' gold reserves by 10 million ounces ("reduction": 6.3 million ounces and "reclassification to resource": 3.7 million ounces).
What is more, this situation is not anything new for Kinross. Let me show the history of Kinross' gold reserves since 2010. To compare the data, I have excluded Fruta del Norte and Crixas deposits, which, at the end of 2013, are not a part of the company's portfolio anymore:
Table 1
| | |
| --- | --- |
| | Gold reserves (ounces) |
| 2010 | 55,272,000 |
| 2011 | 55,478,000 |
| 2012 | 52,884,000 |
| 2013 | 42,800,000 |
Since 2011, the reserves have decreased 22.9%, with the biggest drop recorded in 2013. In other words, though Kinross still has the ounces it used to have (they have not vanished), since the end of 2010, it has 22.9% less ounces which are economically mineable.
What are the financial implications of these reduced reserves?
Well, reserves are an asset, but they do not appear on the company's balance sheet. So despite reduced reserves, you will not see any direct financial implications in the company's statements (do not confuse impairments with decreasing reserves - it is a different thing). But, indirectly, there are some implications. Decreasing reserves shorten the mine life. At the end of 2013, Kinross' average mine life was standing at 16.1 years (reserves divided by yearly production), while at the end of 2012, the number was 19.7 years. Shortening the mine life means higher depreciation charges, starting from 2013, and higher depreciation charges have a negative impact on the accounting results.
Another implication - if Kinross was to become a takeover target, then its value, due to reduced reserves, would be theoretically lower in 2013 than in 2012.
Grades
At slide 12 of its presentation, Kinross states that the estimated average gold reserve grade increased 14% year-over-year (net of Fruta del Norte mine's share). Well, it is a sort of tautology. Below, you will find a formula which shows what conditions must be fulfilled for a mine to be economically viable:
Metal price x Grade x Recovery > Total costs
so:
Grade > Total costs / (metal price x recovery)
Kinross updating its reserves has only changed the costs - they were higher than in previous estimates. Metal prices are constant ($1,200 per ounce), and I assume that recovery is also the same as in the previous calculations. Therefore, reduced reserves, due to higher costs, must be automatically of higher grade if the mine is to be economically viable.
Net Present Value
On slide 9, Kinross states that a reduction in gold reserves estimates is offset by higher grades, reduced capital expenditures and stripping and greater NPV. Reduction in gold reserves estimates and higher grades are part of the same story, so they have no impact on the net present value (NPV) generated by Kinross' mines. On the other hand, the reduced capital expenditures and stripping should have a positive impact on NPV, but the company has not published the updates of its technical reports, so it is impossible to assess how big this impact could be.
Conclusion
At the end of 2013, Kinross implemented a new costing methodology for reserve estimate. This is a right move for the company and its investors, because the basic and fundamental metric for any precious metals mine, its reserve estimate, is closer to the truth than it was previously. On the other hand, a reduction in reserves estimates means that Kinross has less economically viable gold, which is not good news for its shareholders. In my opinion, to clarify the whole picture, especially NPV estimates for the company's mines, Kinross should publish the updates of technical reports for all its mines. Only then investors have a chance to assess the value of the company. At the moment, it is rather a speculative play on management credibility so, though Kinross share prices are at their long-term lows, prudence is advised.
Disclosure: I have no positions in any stocks mentioned, and no plans to initiate any positions within the next 72 hours. I wrote this article myself, and it expresses my own opinions. I am not receiving compensation for it (other than from Seeking Alpha). I have no business relationship with any company whose stock is mentioned in this article.