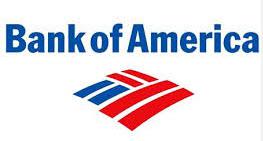 Bank of America (NYSE:BAC) just sold off after reporting earnings as I predicted it would in my earnings preview article. The earnings report was mixed with quite a bit of noise in the numbers. Nonetheless, there were plenty of gold nuggets to be found. Furthermore, the stock appears to be bottoming as we speak. In the following sections I will lay out my case as to why now may be the perfect time to buy.
The selloff on earnings is a buying opportunity
Bank of America reported a loss of 5 cents in the first quarter on revenue of $22.8 billion. This is a significant miss from the consensus estimate of earnings of 6 cents per share. Revenue of $22.8 billion beat estimates by $420 million, yet was down 3% year-over-year. A onetime charge due to litigation expense by the company is predominantly accountable for the miss. This was the first loss reported by the bank since 2011.
On the brighter side, the bank reported the best Fixed Income Clearing Corporation results seen so far out of all the banks, rapidly declining legacy asset servicing expenses, stable net interest margins, and strong capital and liquidity ratios. Wealth Management net income came in at $729 million vs. $721 million a year ago.
Bank of America displayed significant continued business momentum
Several key particulars buried within the report demonstrate the bank's continued business momentum may have been overlooked.
Total Period-end deposit balances were up $38 billion year-over-year to a record $1.13 trillion
The bank funded $10.8 billion in residential home loans and home equity loans in the quarter.
More than 1 million new credit cards were issued in the quarter.
Global wealth and investment management reported record asset management fees of $1.9 billion a pretax margin of 25.6 percent.
Global banking average loan balances were up 11 percent year-over-year to $271 billion.
Credit quality continued to improve with net charge-offs down 45 percent year-over-year.
You have to see the forest through the trees. It seems most of the selling is by investors who have decided to sell now and ask questions later. The bank is making great strides where it really counts. The litigation expenses are related to the past and will subside with time. I posit this sell off may mark the low point for the stock.
The stock is fundamentally undervalued on a historical and relative basis.
The stock is trading for a price to tangible book value of 1.1 versus the industry and peer average of 1.5. This implies the bank may have 36% upside from current levels.

(Table provided by Scottrade.com)
Furthermore, Bank of America is trading for a PEG ratio of .72, which is the lowest of all five major banks.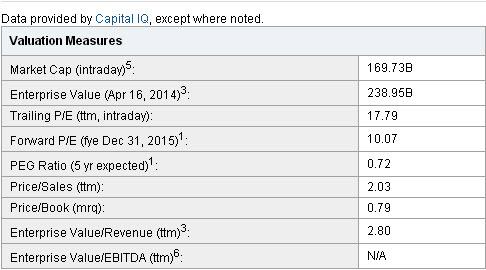 (Table provided by Yahoo.com)
The PEG ratio is a broadly-used indicator of a stock's prospective worth. It is preferred by numerous analysts over the price/earnings ratio because it also accounts for growth. Similar to the P/E ratio, a lower PEG means that the stock is undervalued. Many financiers use 1 as the cut-off point for PEG ratios. A PEG of 1 or less is believed to be favorable. As Warren Buffett would say, "Price is what you pay, value is what you get." I submit Bank of America is the best buy among of all the banks.
The stock has held at major support and appears to be bottoming
A prerequisite for me prior to starting a position is to ensure the stock is not in a precarious technical situation. I had suspicions the stock would sell off after earnings in short order based on the technical picture, as it did. I needed to see this happen first prior to getting interested. Even with the selloff, the current long-term uptrend was not violated and the stock bounced off support early Wednesday at the peak of the selling.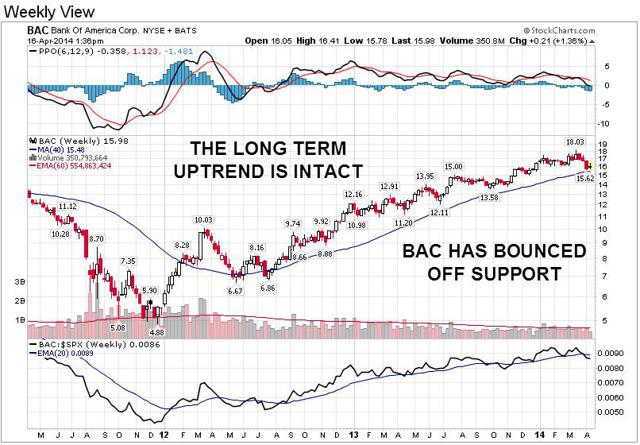 (Chart provided by Stockcharts.com)
Secondly, the stock has touched and bounced off the bottom of the current long-term uptrend channel. The last time this occurred was back in November of 2013 and the stock is up significantly from that time.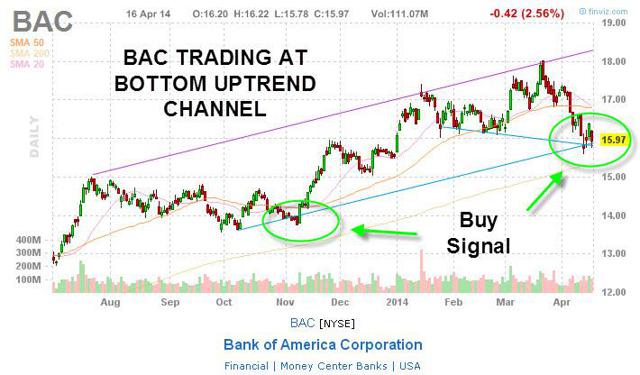 (Chart provided by Finviz.com)
I see this as a major buying opportunity right here. At the very least, it may be a good point to start scaling in a quarter at a time.
Downside Risks
There are multiple downside risks for bank of America going forward. Not all the news was good. Bank of America will have to double down on the company's efforts to ensure it continues to improve in all areas. The legal risks have been the bank's Achilles heel so far and may continue to be a thorn in the bank's side for some time going forward. The current geopolitical situation seems tense as the Russia/Ukraine conflict appears to be escalating.
Conclusion
I am bullish on Bank of America for the long term. The bank's legal issues may continue to be a thorn in the bank's side, yet I propose this risk is overstated. The bank showed numerous areas of improvement. And let's not forget Bank of America did pass the stress test. Previously announced capital actions from the bank included a common stock dividend increase to $0.05 per share in the second quarter of 2014 and a new $4 billion common stock repurchase program. I propose this will underpin the stock going forward. You have to go against the grain and buy low to sell high. This is the perfect time to buy Bank of America. Nevertheless, I would still layer into any position as the market seems extremely fickle right now.
Disclosure: I have no positions in any stocks mentioned, but may initiate a long position in BAC over the next 72 hours. I wrote this article myself, and it expresses my own opinions. I am not receiving compensation for it (other than from Seeking Alpha). I have no business relationship with any company whose stock is mentioned in this article.