This summer is set to be a hot one, according to The 2014 Old Farmers' Almanac. All but one of the sixteen regions of the US are projected to see above-average temperatures this summer, with Texas-Oklahoma and the Upper Midwest possibly falling into drought. Parts of Texas and Oklahoma -- namely the Panhandle, central Texas, and southwestern Oklahoma--are already experiencing extreme drought conditions, which worsened in severity last week.
Further west in California, the top agricultural producer in the country, the ongoing three-year drought has engulfed 95% of the state, spurred a well drilling boom, and driven up food prices to record highs. Beef, in particular, has skyrocketed, fetching an average price of $5.29 for choice grade round steak in March, its highest price in almost 30 years. Typically, beef prices tend to rise closer to the summer as grilling season nears, but the droughts have diminished cattle inventories while demand for beef continues to increase, resulting in higher wholesale prices for cattle. This bodes well for Alico (NASDAQ:ALCO) and other cattle producers but less so for processors like Leucadia (NYSE:LUK-OLD), retailers, and consumers who have to pay more for livestock and meat.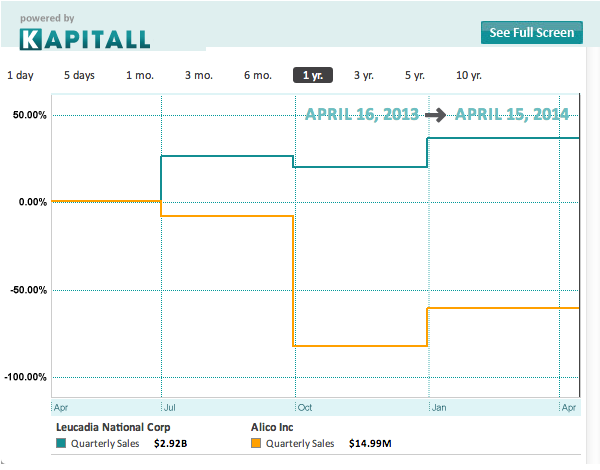 Click here to get more information and to view this chart in full.
The rising cost of beef is also good news for processors that offer chicken and/or pork, such as Tyson Foods (NYSE:TSN), Sanderson Farms (NASDAQ:SAFM), and Pilgrim's Corp. (NYSE:PPC), as the United States Department of Agriculture [USDA] expects Americans to flock to poultry and "the other white meat" for less expensive alternatives to beef during the grilling season. Poultry and pork are still carrying heftier price tags than they have in the past. For pork, widespread porcine epidemic diarrhea [PED] has killed millions of pigs over the last year, driving up prices and threatening to slash production by 7% this year. The USDA projects that per capita consumption of poultry will rise to 101 pounds this year after reaching 99.6 pounds in 2013. The agency also estimates that pork consumption will grow to 47.1 pounds a person from 46.9 pounds a year ago.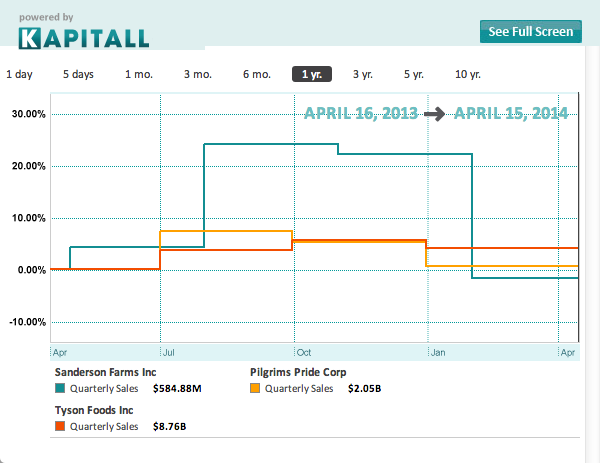 Click here to get more information and to view this chart in full.
So who stands to benefit? A closer look at the financials of domestic poultry and/or pork processors reveals that Tyson, the nation's largest producer of beef and poultry, is the only company with faster growth in quarterly revenue than quarterly inventory year-over-year. During Q1 2014, which ended December 28th, revenue increased by 4.72% to $8.76 billion from $8.37 billion in Q1 2013. Meanwhile, inventory--as a percentage of current assets--fell to 53.12% from 54.43% a year earlier. This indicates that the company is having an easy time clearing its inventory and can be viewed an encouraging sign.
Speaking of inventory and revenue, Tyson's earnings report shows that pork and beef recorded the biggest revenue gains of the company's five segments, growing by 4.48% and 7.14%, respectively. While chicken's revenue only increased by 2.08%, the segment recorded a 3.6% increase in a sales volume--the second highest of all the segments. Chicken also realized a record operating income of $225 million in the quarter. Pork, on the other hand, had a 2.1% decline in sales volume, and operating income fell from $125 million to $121 million. Beef's sales volume grew by 4.1%, and operating income rose by 1.6% to $58 million from $46 million.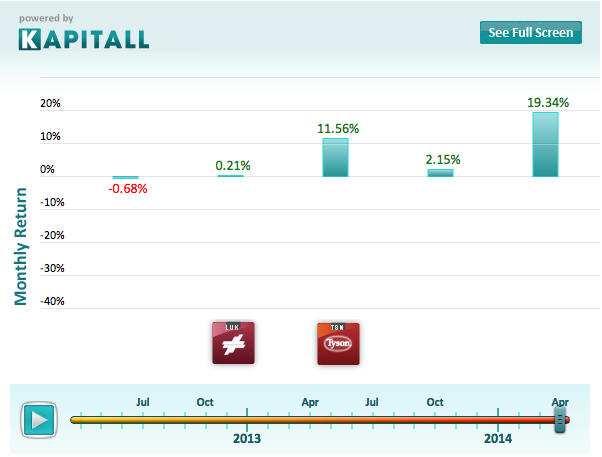 Click here to get more infomation on these companies.
The meat processor also boasts superior sources of profitability than those of its peers, as indicated by DuPont analysis. The formula measures return on equity by examining profit margin, total asset turnover, and financial leverage; an increase in net profit margin and/or asset turnover is considered a positive source of growth while an increase in leverage ratio is viewed as negative. Per DuPont analysis, Tyson's net profit margin rose to 2.9% in Q1 2014 from 2.07% a year earlier, and in Q1 2014 asset turnover was 0.74 compared to 0.705 in Q1 2013. The company's leverage ratio fell to 1.884 from 1.968 a year ago.
Disclosure: I have no positions in any stocks mentioned, and no plans to initiate any positions within the next 72 hours.
Business relationship disclosure: Kapitall is a team of analysts. This article was written by Mary-Lynn Cesar, one of our writers. We did not receive compensation for this article (other than from Seeking Alpha), and we have no business relationship with any company whose stock is mentioned in this article.