Micron Technology (NASDAQ:MU) continues to make an attractive value proposition. This goes particularly after equity markets corrected last week and stocks started to tank. Micron Technology also couldn't escape the sudden negative sentiment and corrected sharply. The shares marked a Low at about $21 last week -- a level not seen since the beginning of the year. Since then, shares of Micron Technology have rebounded slightly and are about to leave the oversold territory, indicated by the Relative Strength index (see chart below).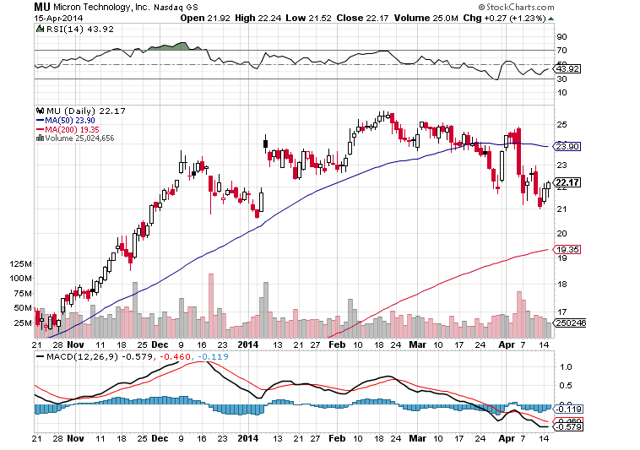 (Source: StockCharts.com)
I believe the recent pullback in Micron's share price is a healthy correction. After all, let's not forget that Micron's share price shot up more than 200% over the last two years and almost 125% over the last twelve months. So, occasionally, investors should allow the share price to take a breather and approach pullbacks with a healthy dose of opportunism. Falling stock prices are a great opportunity to snatch up an undervalued business, such as Micron Technology, at low prices, particularly considering that the company made gigantic progress over the last year.
Strong set of value drivers justifying Micron investment
While I was a bit off with the timing of my last article about Micron Technology, I am convinced of the merits of an investment in the semiconductor company.
As said before, Micron Technology has a couple of things going for it that are difficult to discredit:
Strong y-o-y revenue growth: The semiconductor company delivered revenues of $4.1 billion -- about 2% higher than Q1 2014 revenues and 98% higher than the $2.1 billion achieved at this time last year.
Strong earnings growth: Micron's net income stood at $731 million ($0.61 per diluted share) in the most recent quarter, again hugely outperforming previous performance results: Q1 2014 net income came in at $358 million ($0.30 per diluted share). At this time last year, Micron's net loss stood at $286 million or a net loss of $0.28 per diluted share.
Return to operating income profitability.
Micron's financial turnaround alone justifies an investment in the semiconductor company. In addition, other factors also support an investment in Micron Technology:
Economies of scale advantages and synergies resulting from the Elpida (OTC:ELPDF) transaction.
Industry innovation leadership.
An recent consolidation of more than 10% which offers a contrarian investment opportunity.
And, most importantly: A low valuation.
Micron trades at an extremely low free cash flow multiple
Of course, considering Micron's y-o-y earnings- and revenue growth, my forecasts below could be way off and therefore imply some degree of forecast error. However, I believe I have incorporated estimates that are relatively conservative.
In the first six months of the current fiscal year Micron achieved approximately $2.40 per share in operating cash flow (after consideration of changes in net working capital accounts such as inventories, receivables, payables etc.) and paid out about $0.86 per share for capital expenditures (only consideration of core capital expenditures and no consideration of purchases or proceeds from available-for-sale securities). This brings Micron's core free cash flow to $1.54 per share for the first six month of the current fiscal year.
Given the tremendous progress in y-o-y cash flow growth, I believe Micron could achieve an operating cash flow of $5.00 per share for the current fiscal year. If we annualized Micron's core capital expenditures of $0.86 per share as well, investors would be looking at a full-year core free cash flow of $3.28 per share.
Since Micron Technology currently trades at $22.17 -- down approximately 14% from its most recent 52-week High at $25.68 -- the chip maker trades at only 6.76 times estimated full-year free cash flow (as I have said above, no consideration of available-of-sale security transactions and no consideration of debt changes).
Conclusion
Micron Technology remains an undervalued growth investment -- especially after the most recent, totally undeserved, correction in the equity markets. With the level of revenue- and earnings (and cash flow) growth the semiconductor firm has presented in its most recent earnings release, the company does not deserve to trade at less than seven times core free cash flow or seven times earnings. I have recommended an investment in Micron Technology for some time (the first time at $18.47 back in October 2013). I still believe Micron Technology is seriously undervalued and deserves a free cash flow multiple of around 9-10. This would translate into a fair value of $29-33 per share. Strong, long-term BUY.
Disclosure: I am/we are long MU.
I wrote this article myself, and it expresses my own opinions. I am not receiving compensation for it (other than from Seeking Alpha). I have no business relationship with any company whose stock is mentioned in this article.