While the price of gold and silver have dropped 4% and 18%, respectively, from this time last year, shares of McEwen Mining (NYSE:MUX) have risen more than 6% over the same time period. And against the Global X Silver Miners ETF (SIL) and the Junior Gold Miners ETF (GDXJ), MUX's performance is even better still, with both ETFs down 20% and 34% since last year, respectively.
Speaking at the Prospectors & Developers Association of Canada (PDAC) 2014 in early March, McEwen chairman Rob McEwen said the company's stock performance against the backdrop of Wall Street's nearly-obscure discussion of MUX has been "extraordinary," noting that only one analyst at Stifel Nicolaus covers the stock, rating it a "buy" in addition to a target price of $4.33, or an implied 81% move higher in the stock price from today's $2.38.
Moreover, the last time a journalist/analyst published an article on MUX was Nov. 11, where the author presented a well-written article about MUX's mining properties.
MUX's assets include the San Jose mine in Argentina (49% stake), the El Gallo 1 and El Gallo 2 mines in Mexico, the Gold Bar in Nevada, the Tonkin in Nevada, and the Los Azules in Argentina.
On April 10, the company reported 2014 Q1 total production results, from all of its mining interests, of 32,146 gold equivalent ounces, up 14% from 2013Q1, of which the former included 22,781 gold equivalent ounces from the San Jose mine, up 14% y-o-y, and 9,365 gold equivalent ounces from El Gallo 1, up 38% y-o-y to a company record.
The company issued full-year guidance for fiscal 2014 production of between 135,000 and 140,000 gold equivalent ounces (60:1 ratio).
Production at El Gallo 1 is expected to reach 37,500 gold equivalent ounces during fiscal 2014, and doubling to 75,000 gold equivalent ounces in 2015, according to guidance.
From the chart below, note the ever-increasing rise in silver production. With the slight drop in 2011, gold production has recovered and continues to rise. All else being equal, with the addition of the ramped production expected from El Gallo 1 in 2015, MUX could top 200,000 gold equivalent ounces during 2015.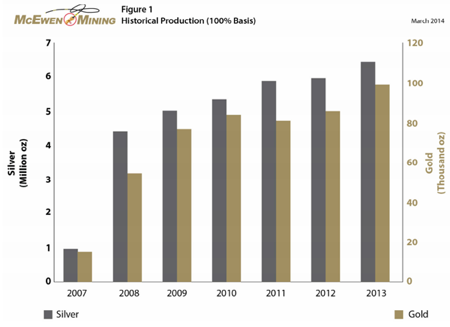 On Mar. 13, MUX reported an increase of gold reserves of 12% and an increase of 12% in silver reserves at the San Jose project. Gold grades increased by 9% to 7.03 grams/ton, and silver grades increased 10% to 515 grams/ton.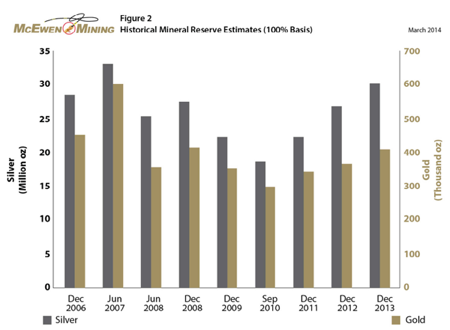 Measured and Indicated reserves at the San Jose mine total 1.05 million ounces of gold and 72.8 million ounces of silver, up 6% and 7%, respectively. At present production rates, reserves represent more than 30 years of production at the San Jose project.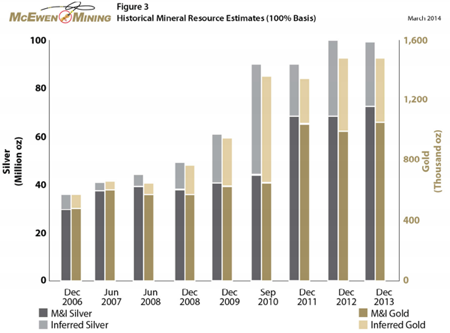 As precious metals prices begin to rise again (our opinion), MUX is poised to capitalize on the restart of the bull market we see beginning in the fall.

The big draw for investors, besides the company's reputation for meeting deadlines, raising production quotas and ore grades, is MUX's clean balance sheet. The company has no debt and approximately $46 million of cash/near cash on the books to cover an operation that reported approximately as much revenue for fiscal 2013.
Additionally, the founder of MUX, Rob McEwen, was also founder of GoldCorp (GG), a tiny junior at one time, but now a major producer, with a capitalization of nearly $20B. GG has grown in capitalization by an astounding 31% CAGR.
McEwen takes no salary and holds 25% of the company's outstanding shares, of which rose to 297,041,000 during 2013, from 261,233,000 for 2012, an increase of 13.7%.
Going forward, investors should realize that MUX makes money at a gold price of between approximately $1,400 and $1,450 per ounce, of which is not an unreasonable target price by the close of 2014.

"For 2013, total cash costs, all-in sustaining costs and all-in costs for all of our operations on a consolidated basis totaled $776, $1,178 and $1,412 per gold equivalent ounce, respectively," according to MUX's 10-k. "Total cash costs and all-in sustaining costs at the San José mine in Argentina totaled $785 and $1,058 per gold equivalent ounce, respectively. Total cash costs and all-in sustaining cash costs at our El Gallo 1 mine totaled $749 and $1,164 per gold equivalent ounce, respectively."
Conclusion
We believe MUX is a superior junior mining company due to its management, history of increased production, increased replacement and total reserves, as well as continued exploration in areas most familiar to McEwen from his days at Goldcorp (see last page of MUX media document).
The company's very attractive balance sheet also suggest to us that, as the price of precious metals rise, MUX will be poised to capitalize on much higher bullion prices as well as production rates in 2015. What's left for the company to do is to primarily continue building out El Gallo 1 and El Gallo 2, and wait for higher metals prices.
Investors familiar with MUX already have witnessed the company's shares outperform its peers during the last 12 months. We suspect that, as the bull market in precious metals resumes, MUX will come under more scrutiny by Wall Street, SA journalists and others. We expect that these added eyes will conclude as we have that MUX is a potential big moneymaker in coming years and will likely trade at a richer premium from today's 0.98 Price/Book.
The company's stock performance may again stand out as the big-mover of the sector as it has in the recent past, and should draw in the slew of momentum-style hedge fund managers who jump from one "hot" sector to the next. These same managers are suspected to be behind much of the exaggerated move in biotech stocks during 2013. We believe a rotation out of last year's winners will move into what we suspect will be this year's winners - mining stocks. MUX stands to gain more investment capital than its peers during the rotation into mining companies - a rotation that appears to be well underway.
Disclosure: I have no positions in any stocks mentioned, but may initiate a long position in MUX, SVLC over the next 72 hours. I wrote this article myself, and it expresses my own opinions. I am not receiving compensation for it (other than from Seeking Alpha). I have no business relationship with any company whose stock is mentioned in this article.