Sprint Corporation (NYSE:S) reports first quarter earnings on April 29th. I think the company will report flat revenue, with a slight improvement in profitability. That is in line with how I think about the year for the company. Overall, the forecast for the next two years suggests Sprint's legacy challenges will remain its current challenges.
Management is attempting to resolve some of the legacy challenges by investing in fixed capital. The company is planning to continue the rollout of its 800-LTE network during 2014. Also, Sprint Spark is expected to reach 100 million Americans by the end of 2014. On the less bright side, Sprint Spark is uncompetitive with AT&T's (NYSE:T) and Verizon's (NYSE:VZ) LTE-A. LTE-A appears likely to blow Spark out of the water. Consequently, Sprint should have uncompetitive network technology for at least the next three years.
Thus, the network, profitability, and debt level suggest that Sprint's equity could be worthless.
Recent Developments
Analyst's Note
Sprint Corp. is a communications company offering wireless and wireline communications products and services to individual consumers, businesses, government subscribers, and resellers.
From the profitability prospective, Sprint's revenue was adversely impacted by the economic recession during 2008 and 2009. But revenue never rebounded to the post-recession level, as the competitive landscape eroded Sprint's growth prospects. The inability to compete in its industry is visible in the operating margin; specifically, Sprint is unable to generate consistent operating profits, as SG&A expenditures and depreciation and amortization expenses reduce the operating profitability. Over the next three years, there could be incremental revenue growth from population expansion, as well as increased sales of cellular network-connected tablets, but I don't see anything that changes the competitive positioning of the firm.
In terms of the network battle, Sprint Spark is an enhanced LTE network that utilizes three bands of LTE to create a tri-band network experience. Spark analyzes all three bands of LTE and connects your device to the optimal band available in your area. This enables peak speeds of 50-60 Mbps. The combined results are faster data speeds, and stronger in-building signals, which may be experienced by users as stutter-free video chat and lag-free mobile gaming. Management plans to make Spark available to 100 million Americans by the end of 2014.
The obvious comp is Sprint Spark to LTE-A. AT&T is the first to roll out LTE-A in the U.S., reportedly doing so in Chicago. The main point here is that AT&T is rolling out LTE-A, which features speeds north of 100 Mbps, while Sprint Spark features speeds of 50-60 Mbps. Additionally, the Verizon tower-climbing guy was hyping the new Verizon network, probably LTE-A, which is "better than AT&T's network," at an outing a few evenings ago. Point being, AT&T and Verizon are rolling out an LTE-A network that is superior to the network that Sprint is rolling out.
Consequently, from the network perspective, it is tough to consider Sprint a "major player" in the wireless industry.
| | | | |
| --- | --- | --- | --- |
| For the quarter ending (in millions of dollars, except per share data): | 2012-03 | 2013-03 | 2014-03E |
| Revenue | 8734 | 8793 | 8750 |
| Gross profit | 3649 | 3860 | 3850 |
| Operating income | (255) | 29 | 86 |
| Net income | (863) | (643) | (438) |
| Diluted EPS | (0.29) | (0.21) | (0.11) |
I think of revenue as coming in flat during the first quarter on the offsetting impacts of the pricing and unit sales mix. The cost-cutting measures are expected to have a positive impact on operating income and net income. Additionally, some shareholders will receive a smaller portion of the net loss, as the share count increased relative to the year-ago period. Summarily, I think of the first quarter as a cost-cutting period.
| | | | | | |
| --- | --- | --- | --- | --- | --- |
| | 2011-12 | 2012-12 | 2013-12 | 2014-12E | 2015-12E |
| Asset turnover | 0.68 | 0.69 | 0.41 | 0.41 | 0.41 |
| Financial leverage | 4.32 | 7.28 | 3.37 | 3.7 | 4 |
| Debt-to-capital | 0.65 | 0.77 | 0.56 | 0.59 | 0.61 |
| Current ratio | 1.60 | 1.55 | 1.22 | 1.1 | 1.1 |
There was a considerable decline in the asset turnover ratio during 2013; the decline is attributable to the sizeable increase in assets. After declining at the end of 2013, financial leverage and debt-to-capital is forecasted to increase as net losses reduce the equity-capital balance. Those net losses should continue to weigh on the company's liquidity.
| | | | | | |
| --- | --- | --- | --- | --- | --- |
| For the year ending (in millions of dollars): | 2011-12 | 2012-12 | 2013-12 | 2014-12E | 2015-12E |
| Cash provided by operations | 3691 | 2999 | 2610 | 2840 | 3131 |
| Capex | 3388 | 4261 | 6987 | 8000 | 8000 |
| FCFF | 1213 | 23 | (2529) | (3312) | (3021) |
| FCFE | 397 | 3123 | 1587 | (5160) | (4869) |
I'm forecasting an improvement in cash flow from operations on executed operating expense discipline. I think management will continue to invest relatively heavily in fixed capital as the company rolls out its Spark and 800-LTE services. The result is notable negative free cash flow to the firm and free cash flow to equity. I don't think management will increase or decrease the level of debt during the next two fiscal years; the debt assumption is subject to revision as future events dictate.
Sprint investors should benefit from the completion of the Network Vision and the Nextel transition. But Sprint's capital expenditure requirements will remain high as AT&T and Verizon start to roll out LTE-A networks and Sprint attempts to play catch-up with its network. Further, lower pricing, combined with an inability to attract and retain customers puts Sprint at a competitive disadvantage. Unless Sprint can increase prices and/or increase its subscriber base, the company will remain in a relatively weak position relative to competitors.
Technicals & Valuation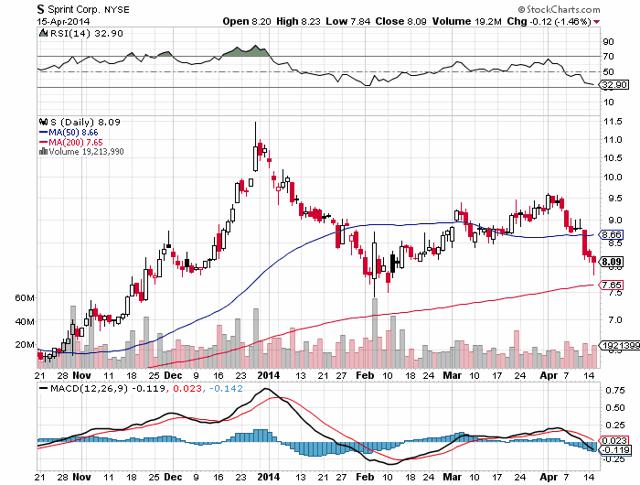 Sprint is in a bear market of intermediate degree that could turn into a bear market of primary degree. The share price fell short of my $10 per share price target by $0.50, and then nosedived to $8 per share. The technicals suggest being neutral.
My valuations include the fundamentals of the company, which assumes that it remains a going concern. In this case, there is no equity valuation model that I can employ. Sprint clearly has a liquidation value, which is helpful for fixed-income investors. As a going concern, Sprint's equity value is somewhere between worthless and highly uncertain but positive.
Disclosure: I have no positions in any stocks mentioned, and no plans to initiate any positions within the next 72 hours. I wrote this article myself, and it expresses my own opinions. I am not receiving compensation for it (other than from Seeking Alpha). I have no business relationship with any company whose stock is mentioned in this article.