Overview and 2013 results
Orange (NYSE:ORAN) is the main French Telecommunication Corporation and a global provider for mobile phones, Internet and television services. Orange was born in 1994 when Hutchinson Telecom acquired a controlling stake in Microtel Communications Ltd. The company became a subsidiary of Mannesmann and was acquired by France Telecom in 2000. France Telecom changed its name to Orange in 2013. The Group has now more than 236m customers, operates at the European and African levels, and employs more than 172,000 collaborators.
The stock has performed very badly over the last years as a new mobile operator, Free, has risen in France. Moreover, Orange has been considered a dividend machine by the French government (main shareholder) at the expense of innovation.
However, the company seems to be back in the game and should benefit from various catalysts at short and medium-term. Orange is turning Green.
The YE2013 results are very positive:
Total customers increased by 2.4% to 236m
More than 1m 4G customers in France and best year since 2009 in terms of contract adds
Strong performance in Spain (+4.4%)
Strong growth in the Middle East and Africa (+ 4.3%)
Decrease in revenues but better margins
Orange achieved its objective of €7b operating cash flow and 2.2x net debt/EBITDA
EPS increased by 129% to €0.71
Labor expenses finally started decreasing for the first time in 2014 (-€107m). Moreover, 30,000 people should retire in the next 6 years, which should improve the profitability.
Source: Company
Orange expects the EBITDA to stabilize between €12.1b and €12.6b ($17.4b) in 2014 with a 2x net debt/EBITDA ratio. The dividend will be cut to €0.60 per share.
Orange has been considered a dividend machine of the French Government (its main shareholder) for years and lost its leadership and ability to innovate. The company just had a double objective: maintain the dividend and the workforce. As a consequence, Orange has been able to provide huge amounts of cash in order to finance the state's spending. The company benefited from a limited competition and very high mobile plan prices.
Distribution of Capital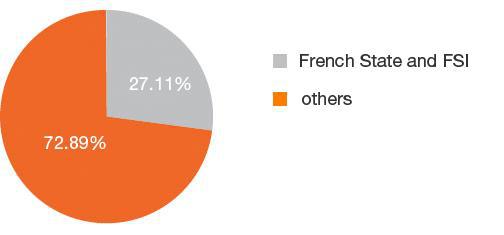 Source: Company
As a consequence, Orange focused on monetizing its investment in the network and the innovation pace has been decreasing over the years. Moreover, the French company became a behemoth with a huge and aging workforce.
Orange was also negatively impacted by the rise of Free, the new low-cost operator. French Telecom companies, especially Orange and Bouygues Telecom, have massively invested over the last years in order to build a strong network and provide mobile services to the whole French population. For instance, Bouygues Telecom has been financed by Bouygues Construction (OTC:BOUYF) for years and years. These investments were justified by the fact that the potential returns were huge. It was when you had to pay €50 per month in order to get a decent mobile plan. But that was before Free Mobile launched in 2011 the now famous €2 plan and the €20 plan with unlimited calls.
Even though Orange has rented its network to Free for a decent amount of cash (€500m to €700m per year), the company has been impacted very negatively. Orange has lost thousands of clients to Free over the last years and had to cut its prices.
As a consequence, the stock has performed very poorly over the last years until the price reached $9.2 in July 2013.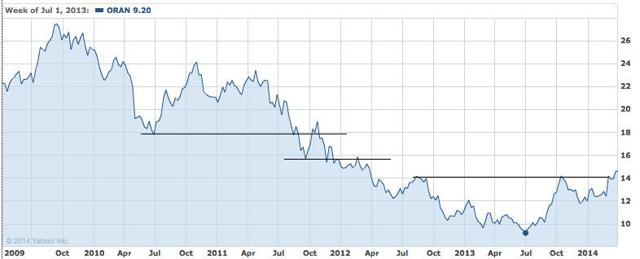 Source: Yahoo Finance
But never forget that Orange is one of the most innovative Telecom Company in the world.
Orange is one of the most beautiful French companies and has produced many innovations and state of the art technologies over the years. The Group developed the first optic fibers in 1970s, the Minitel, the first chip cards, satellites, underwater cables and many other high technologies. Orange used to represent the strength of French engineering and was able to compete with the USA.
The engine has just been frozen; it is not broken. Orange will keep investing and innovating in the upcoming years.
Three catalysts that make Orange a long-term buy:
Consolidation of the Telecom sector in France
We have seen that Orange has been negatively impacted by the new low-cost mobile operator. However, the French telecommunication industry is expected to be consolidated and restructured in the upcoming years. It has been the subject of the last M&A movie starring Vivendi's (OTCPK:VIVEF) subsidiary SFR, Numericable (OTCPK:NUMCF) and Bouygues. Numericable managed to buy SFR for €13.5b last week at the expense of Bouygues, even though it was backed by the French government.
If Bouygues had managed to buy SFR, there would have been only three operators in France with Bouygues/SFR being just a bit bigger than Orange (32m clients against 27m). It would have simplified the Telecom landscape and maybe switched the competition on innovation rather than on prices. However the "Autorité de la concurrence" (the French competition authority) announced today that they were going to investigate the case. The deal is far from being closed.
As a consequence, the consolidation of the sector is likely to be slower but the next move should quickly come from Free Mobile and its mother company Iliad (OTCPK:ILIAF). According to analysts, the company could buy Bouygues for €5b. Iliad's main issue is its lack of mobile network as the company has historically operated on the internet segment but not on the mobile segment. That is why it needs Orange (or Bouygues) in order to rent the network. On the other hand, Bouygues needs a fixed network in order to be able to compete with the new SFR/Numericable entity. As a consequence, Free buying Bouygues makes a lot of sense right now. Iliad would become a national player in both segments with a strong network and could end the contract with Orange.
Bouygues could also decide to engage in a partnership with Orange. Be that as it may, the upcoming consolidation is very positive for Orange. In the recomposing of the Telecom landscape, Orange will benefit from a Premium positioning. In Q4, premium plans already accounted for 63% of the contract net adds, which is very positive.
We have seen that innovation has always been in Orange's blood. As the company is likely to be less short-term and cash oriented in the upcoming years, Orange will start innovating again and developing high-technology projects.
The French company has been operating in Silicon Valley for 14 years and strengthened its presence by financing startups and participating in innovative projects such as Facebook's (NASDAQ:FB) Open Compute Project for instance. Orange recently launched a similar startup accelerator in France and should replicate it in Spain, Poland and Israel soon. According to CEO Stéphane Richard, Orange wants to become the first Telecom operator of the digital age. Orange has never been a simple Telecom operator; its real core business is Telecommunication engineering.
Finally, the fact that Orange will cut its dividend to €0.60 next year epitomizes the switch of strategy. The company will be able to allocate more cash to investments, last generation networks and innovation.
Great prospects in Africa
Revenues from Africa and Middle East increased by 4.3% to €4,060m ($5,603m) in 2013. 3G is already available in 17 countries and Orange Money had 8.9 million customers at 31 December 2013. Orange should keep investing and expanding in the upcoming years. The French company benefits from strong competitive advantages over its peers such as the French language and the historical links between France and African countries.
Moreover, Orange is likely to focus on mobile services such as payment services and develop synergies with French companies such as Ingenico (OTC:INGIF) for instance.
I believe that Africa will drive the innovation in mobile services and boost Orange's revenues in the upcoming years. Investing in Orange is an interesting way to get exposure to Africa.
The share price already started going up again and the company still yields at 5.7% considering the €0.60 dividend. An uptrend seems to be going on with the relative strength between 40 and 80.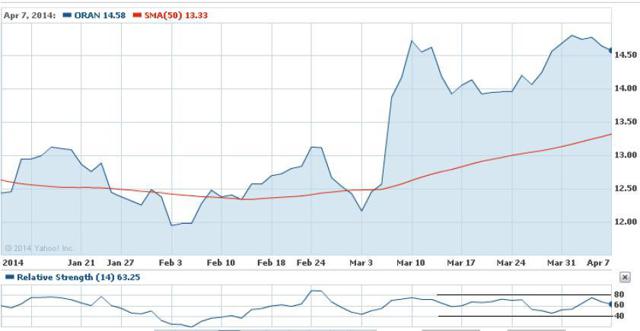 Source: Yahoo Finance
I believe that the main risk in buying a European Telecommunication company is that the industry will be badly hit by the giant "over-the-top" Tech companies such as Google (NASDAQ:GOOG), Netflix (NASDAQ:NFLX), Amazon (NASDAQ:AMZN) or Microsoft (NASDAQ:MSFT) that could compete directly with them in the short and medium-term.
I believe that there is a double solution to this problem:
First, telecom companies must manage to make them pay in order to use their networks. As a consequence, the French and European regulations will be key. Orange is already one of their main interlocutors and the French company should benefit from the help of its main shareholder, the French Government. Finally, I believe that Google needs Orange's network and expertise in Africa, which strengthens the balance of power.
The solution probably stands in the rise of several European actors that should be able to compete with Google & co and expand worldwide. I believe that Orange will become one of these players at medium-term (with Vodafone (NASDAQ:VOD) for instance). The French company has already a good European presence with two strong subsidiaries in Spain and Poland.
Global presence in Europe, quick expansion in emerging markets and innovation will be key in the next years. I believe that Orange is well positioned regarding these three aspects.
Other risks that should be taken into account include:
Expansion in Africa remains risky considering the instability of the area.
The French government is still Orange's main shareholder (29.6%) and can impact the company's strategy.
Conclusion
Orange has suffered a lot over the last years and the stock underperformed its main European peers such as VOD and Deutsche Telekom (OTCQX:DTEGF).
However, the trend seems to be reversing. Revenues are stabilizing, margins are improving, ORAN is expanding in key areas and the company realizes again that innovation is its true identity. Moreover, ORAN is finally cutting its labor costs, which should lead to a more flexible structure and increase the profitability.
The French company is on the good track and the stock has a nice upside potential in order to catch up its peers.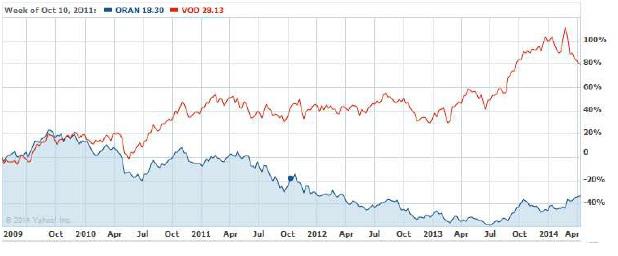 Source: Yahoo finance
Reports for further analysis
Disclosure: I am long ORAN. I wrote this article myself, and it expresses my own opinions. I am not receiving compensation for it (other than from Seeking Alpha). I have no business relationship with any company whose stock is mentioned in this article.