Some of the most exciting companies and high flier stocks of 2013 have been getting crushed lately. Over the past month, the market has seen a major rotation out of high-growth, high-beta, momentum stocks into more conservative, large cap, dividend-paying, and value-oriented equities.
The bull market of 2013 was dominated by rotations into sexy tech growth stocks like 3D Systems (NYSE:DDD), Tesla (NASDAQ:TSLA), and Facebook (NASDAQ:FB). So far, 2014 is telling quite the opposite story. The high growth stocks that are favorites of both hedge funds and retail investors alike are getting slammed.
Facebook is down 13% in the past month, Yahoo (NASDAQ:YHOO) was down 12% (before posting earnings after the close yesterday), and Google (NASDAQ:GOOG) (NASDAQ:GOOGL) is down 7%, just to give a few examples of the types of stocks that have been getting sheared.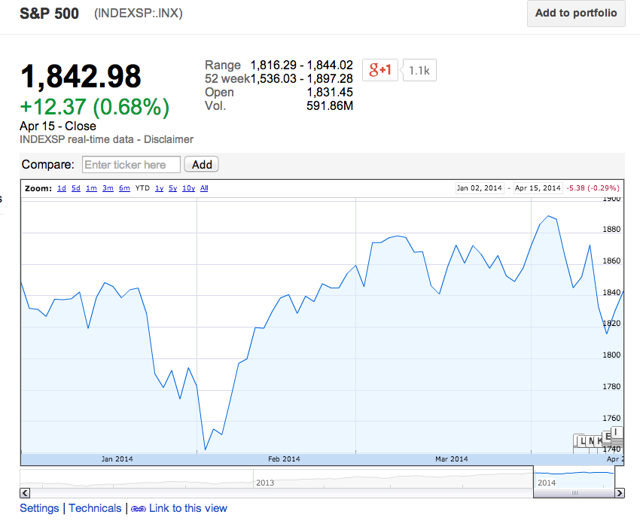 To give a better sense of what's happening here, take a look at the S&P 500 index over the same period of time. It's down too, but by less than 1%. On the other hand, the S&P 500 Utilities index, one of the most value-oriented (boring) sectors out there, is up 11%. Yes, you heard that correctly, utilities are up more than 11% in less than 4 months. The losses in tech stocks, gains in other sectors, and relative flatness of the broader market all indicate that there has been a rotation out of growth and tech stocks and into other sectors.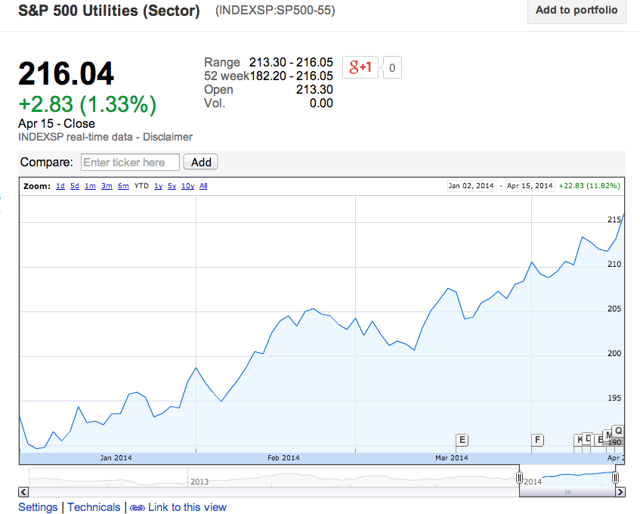 Why are the value stocks growing and the growth stocks stalling? Several bloggers have made great posts recently about how the financial media always tries to fit an excuse to every market move. As humans, we have a psychological desire for meaning; we want to fit a narrative to everything. If the market is down 1% on Monday, it's because of tension in Ukraine. If the market moves up half a point the next day, the financial media might tell us the nerves have calmed or that a marginal beat on some obscure economic indicator is leading the rally. The majority of these headlines are nothing but noise. The truth is that stock prices go up when there are more buyers than sellers, and stock prices go down when there are more sellers than buyers. There isn't much more to it.
The reality of the tech landscape is that investors have sized down their positions in the early parts of 2014. This appears so far to be a trimming of earnings multiples across the sector, but it may be confounded by changes in sell side fundamental estimates. Wall Street has taken its estimates down considerably on the majority of tech stocks including Intel (NASDAQ:INTC), Yahoo, Google, IBM (NYSE:IBM), SanDisk (SNDK), and AMD (NASDAQ:AMD), who all report earnings this week.
Of the tech stocks listed above, only 2 have reported earnings so far. Both Intel and Yahoo released earnings after the market closed on Tuesday. Both companies beat the Wall Street consensus on profit, and Yahoo finally got its revenue growth in gear.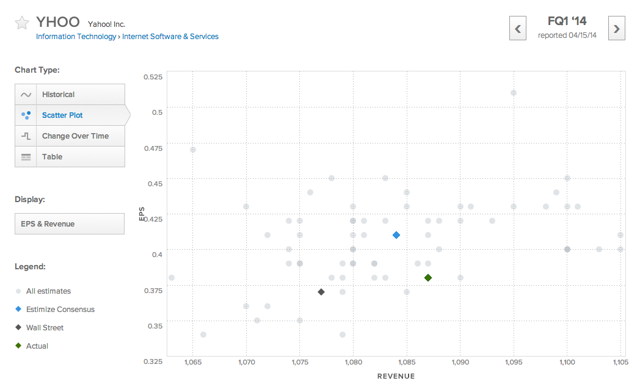 After the earnings were initially announced, Yahoo shares rose 9%, and Intel was up 4% in aftermarket trading. In some cases, like AMD's revenue consensus, the Street has lowered its forecast, while the Estimize community has remained almost entirely unchanged.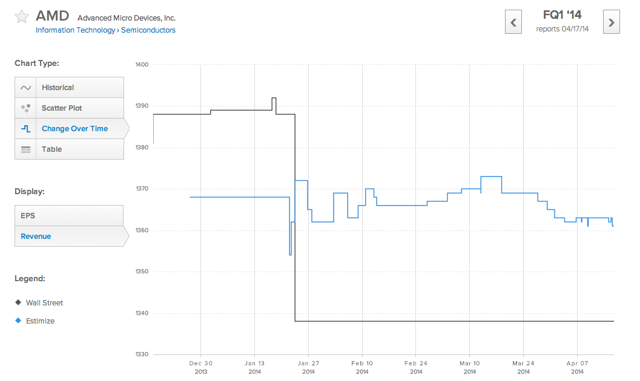 If Intel and Yahoo are any sort of barometer of the tech earnings season to come, the numbers couldn't come out soon enough. Follow all of the tech sector earnings on our Information Technology sector page displayed below.
Disclosure: None