Morgan Stanley (NYSE:MS) is set to report FQ1 2014 earnings before the market opens on Thursday, April 17th. Morgan Stanley is a financial services company, which focuses primarily on its Global Wealth Management, Institutional Securities and Investment Management businesses. So far this earnings season the financials have been a mixed bag with JPMorgan Chase (NYSE:JPM) missing analyst estimates badly while Wells Fargo (NYSE:WFC) and Citigroup (NYSE:C) have stood out as winners. Across the board, this quarter most financials have had their earnings bars set very low by Wall Street, but that's not the case with Morgan Stanley. While year-over-year declines are commonplace for the financials this spring, Wall Street expects Morgan Stanley to report yoy revenue growth of 5% while EPS is expected to narrowly fall by only 1 cent per share. Here's what investors expect from Morgan Stanley on Thursday.
The information below is derived from data submitted to the Estimize.com platform by a set of Buy Side and Independent analyst contributors.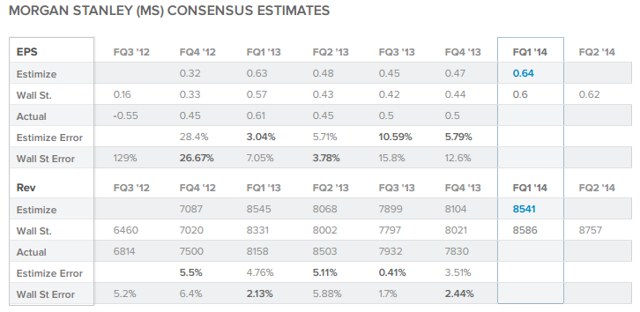 (Click Here to see Estimates and Interactive Features for Morgan Stanley)
The current Wall Street consensus expectation is for Morgan Stanley to report 60c EPS and $8.586B revenue while the current Estimize.com consensus from 21 Buy Side and Independent contributing analysts is 64c EPS and $8.541B in revenue. This quarter the buy-side as represented by the Estimize.com community is expecting Morgan Stanley to beat the Wall Street consensus on earnings per share but come up slightly short on revenue.
Over the past five quarters, the consensus from Estimize.com has been more accurate than Wall Street in forecasting Morgan Stanley's EPS and revenue 5 times each. By tapping into a wider range of contributors including hedge-fund analysts, asset managers, independent research shops, students and non-professional investors, Estimize has created a data set that is more accurate than Wall Street up to 69.5% of the time, but more importantly it does a better job of representing the market's actual expectations.
The magnitude of the difference between the Wall Street and Estimize consensus numbers often identifies opportunities to take advantage of expectations that may not have been priced into the market. In this case, we are seeing a small to moderate difference between the two groups' expectations.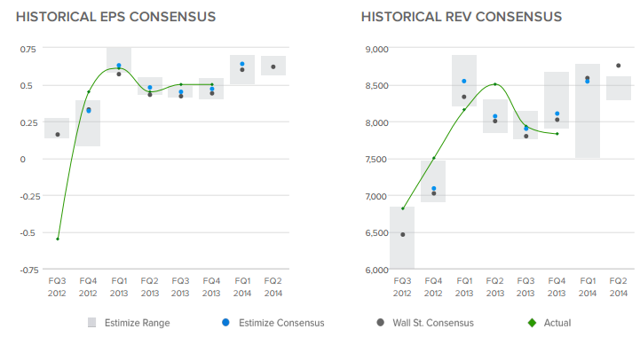 The distribution of estimates published by analysts on the Estimize.com platform range from 58c to 70c EPS and from $8.233B to $8.748B in revenues. This quarter, we're seeing a moderate distribution of EPS estimates and a wide range of revenue estimates on Morgan Stanley.
The size of the distribution of estimates relative to previous quarters often signals whether or not the market is confident that it has priced in the expected earnings already. A wider distribution of estimates signaling less agreement in the market could mean more volatility post earnings.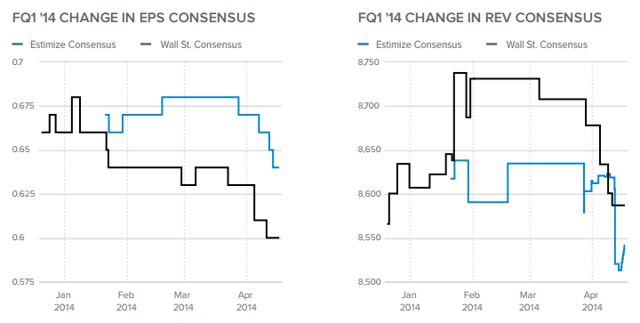 Over the past four months, the Wall Street EPS consensus fell from 66c to 60c while the Estimize consensus pulled back from a high of 68c to 64c. Meanwhile, the Wall Street revenue consensus climbed to $8.738 before falling to $8.586B while the Estimize forecast plummeted late in the quarter before clawing some gains back to $8.541B. Timeliness is correlated with accuracy and downward analyst revisions at the end of the quarter are often a bearish indicator.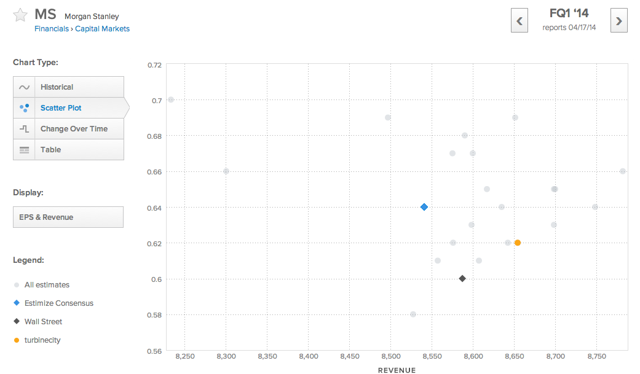 The analyst with the highest estimate confidence rating this quarter is turbinecity who projects 62c EPS and $8.654B in revenue. turbinecity was our Winter 2014 season winner and is ranked 6th overall among over 4,000 contributing analysts. Over the past 2 years, turbinecity has been more accurate than Wall Street in forecasting EPS and revenue 59% and 55% of the time respectively. Estimate confidence ratings are calculated through algorithms developed by deep quantitative research, which looks at correlations between analyst track records and tendencies as they relate to future accuracy. In this case, turbinecity is expecting Morgan Stanley to beat the Estimize community's expectations on revenue but come up short on profit.
Many of the banks and financial services are expected to see their earnings fall this spring compared to FQ1 of last year. Despite sluggish economic growth and an underperforming financial sector contributing analysts on the Estimize.com platform expect Morgan Stanley to grow both its EPS and revenue on a year-over-year basis by 5% each.
Disclosure: None.