The minutes of the Federal Reserve Board meeting June 22-23 were released yesterday, July 14. The essential news is that the Fed's economic outlook was lowered slightly from the April meeting. A symmary of some of the changes are given in the following table from the Summary of Economic Projections: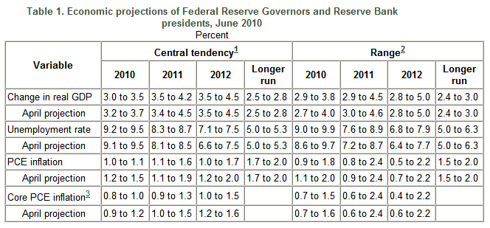 Read the original document for the extensive footnotes.
From the minutes:
In their discussion of the economic situation and outlook, meeting participants generally saw the incoming data and information received from business contacts as consistent with a continued, moderate recovery in economic activity. Participants noted that the labor market was improving gradually, household spending was increasing, and business spending on equipment and software had risen significantly. With private final demand having strengthened, inventory adjustments and fiscal stimulus were no longer the main factors supporting economic expansion. In light of stable inflation expectations and incoming data indicating low rates of inflation, policymakers continued to anticipate that both overall and core inflation would remain subdued through 2012.

Financial markets had become somewhat less supportive of economic growth since the April meeting, with the developments in Europe cited as a leading cause of greater global financial market tensions. Risk spreads for many corporate borrowers had widened noticeably, equity prices had fallen appreciably, and the dollar had risen in value against a broad basket of other currencies. Participants saw these changes as likely to weigh to some degree on household and business spending over coming quarters. Participants also noted ongoing difficulties in financing commercial real estate. Nonetheless, reports suggested that more-creditworthy business borrowers were still able to obtain funding in the open markets on fairly attractive terms, and a couple of participants noted that credit from the banking sector, which had been contracting for some time, was showing some tentative signs of stabilizing.
The final point above was discussed in yesterday's article.
The U.S. stock market continues to show strength in the face of subdued domestic economic expectations. The reason for this is also discussed in the Fed minutes. Specifically, the minutes cite the strength of foreign economies, such as Canada, Japan and emerging markets. With 50% or more of U.S. corporate income coming from foreign operations, U.S. stocks can perform well in spite of domestic weakness. This and other reasons for stocks outperforming the economy have been discussed by Edward Harrison and Seeking Alpha reader tripleblack.
Perhaps the most noteworthy item, beside the lowered outlook for second quarter GDP growth, is the continued longer term outlook range for GDP growth to fall in the range of 2.4 -3.0%. This is a projection that the recovery of 2002-2007 will be repeated (2.6% average). The outlook is much lower than the recoveries and expansions from the 1990-91 and 1981-82 recessions. From 1991-2000 real GDP growth averaged 3.7% growth and from 1983-1990 4.2%. The following graph from the St. Louis Fed shows the history.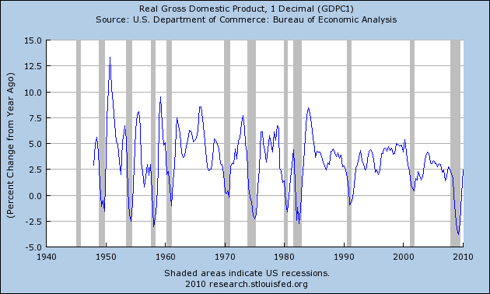 I have suggested that the recovery and expansion 2002-2007 was actually an illusion based on deficit spending, both by the government and consumers, as described in an article last summer. I would maintain that such deficit funding is not an option for the next decade. In particular, the consumer no longer has a home mortgage ATM to tap and the unsustainability of long term deficit spending by the government is becoming recognized, even by politicians.
I believe the Fed is right in projecting a slow recovery, lasting for several years. But, in projecting it will be comparable to 2002-2007, are they being too optimistic?
Karl Smith points out that the projections by the Fed are for optimum response to their policies. Since these optimum responses are below normal performance targets, Smith suggests that the Fed aims to fail.
How about that: Aiming to fail could be too optimistic.
Disclosure: Author is long several S&P 500 stocks.