The Organization for Economic Cooperation and Development (OECD) says Netherlands needs to clean house now that the Dutch government doesn't need to solely focus on the devastation wrought by the financial downturn. Lingering problems in the eurozone could further hinder the growth of the country's economy and related ETF.
The OECD has stated that the Dutch government needs to focus on cutting spending, winding down stimulus measures and adopting structural reforms, writes Gilbert Kreijger for interactive investor. "As economic growth strengthens, the government coming in after the June 2010 elections will be confronted with the task of consolidating public finances without putting the recovery at risk," as stated in OECD's country report.

Some other factors that could determine the direction of iShares' Netherlands ETF:
Last week didn't yield a clear winner on the Dutch elections and observers are worried that the current coalition government won't be able to bring government finances under control. The government will have to work around a 6.6% GDP deficit for the year.
The OECD projects the Dutch economy will grow 1.2% in 2010 and 2% in 2011, with a budget deficit of 5.4% of GDP.
The Netherlands' Bureau for Economic Policy Analysis (CPB) reduced its growth forecast for the economy to 1.25% this year compared to the previously projected 1.5% and 1.75% for 2011 compared to the previously calculated 2%, according to RTTNews. The CPB lowered its forecast based on the uncertainty in the euro area, fiscal cuts in a lot of countries and the formation of the new coalition government.

The CPB also stated that unemployment will be 5.75% for 2010 and will increase to 6% in 2011. Inflation may hit 1.5% this year and 2% next year. The budget deficit will touch 6.3% of GDP this year, but diminish to 4.7% GDP next year. The Dutch Central Bank estimates that the economy will expand 1.2% this year, 1.3% in 2011 and 1.7% in 2012.
iShares MSCI Netherlands (NYSEARCA:EWN)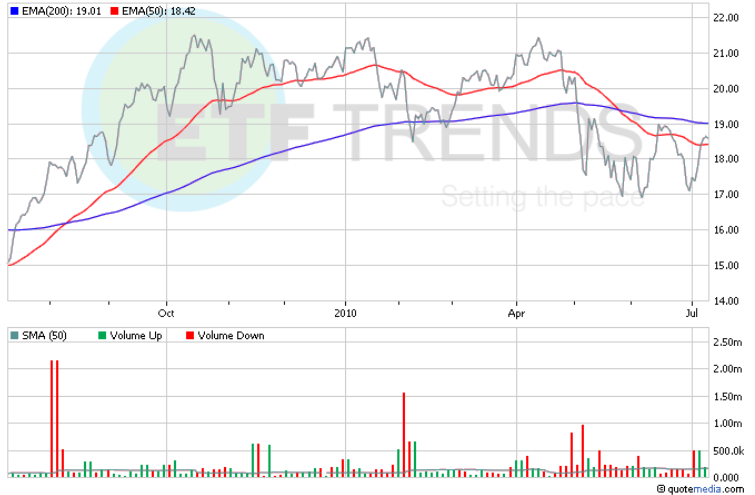 Max Chen contributed to this article.
Disclosure: None