At the absolute peak of the 2003-2007 global bull market for stocks, 900 South Korean won purchased one U.S. dollar. Near the 2008-2009 bear market low, the South Korean won had depreciated to the point where one required 1500 for the right to a single greenback. (That comes close to rivaling the Asian currency crisis of 1998!)
In 2009, the Federal Reserve embarked upon a course of unprecedented quantitative easing, eventually causing world equities to climb once more. It also prompted world currencies to rally into 2010. The South Korean won, for instance, made it all the way back to 1100 won/1 USD$.
Then came North Korea's sinking of a South Korean ship as well as the Euro debt crisis in March 2010 and April 2010 respectively. World equities descended rapidly; the won sold off by as much as 14%.
As I type, however, foreign currencies appear to have stabilized. The won has appreciated nearly 5% over the last 7 weeks. And South Korean stocks have begun pricing in the potential for big gains.
Here are 3 reasons to consider the iShares MSCI South Korea ETF (NYSEARCA:EWY):
1. The Won Will Win South Korea's currency is undervalued at 1200. At the very least, a person should expect it to move back to the 1100-1120 levels of January.
Continued strength of the won versus the U.S. dollar should directly benefit iShares MSCI South Korea ETF (EWY) investors. Since EWY is unhedged, won strengthening against the dollar translate into EWY gains… even before the performance of core stock holdings.
2. No Doubt About Economic Growth Versus Plenty Of Growth Concerns The FOMC meeting of Federal Reserve participants highlighted a cornucopia of threats to the U.S. economy… from unemployment to housing to lack of small business credit. Bernanke and Co. even went so far as to estimate a 5-6 year time table for economic restoration.
In complete contrast, The Bank of Korea raises its benchmark interest rate last week, removing monetary stimulus and simultaneously signaling confidence in its internal growth; GDP estimates for 2010 are at 6%. Moreover, South Korea recently logged a record trade surplus; both exports and imports surged 33%+ from the year prior.
3. Long-Term Technical Uptrend Resurrected One might have wondered if the sinking of the South Korean naval ship in March might have permanently damaged iShares MSCI South Korea ETF (EWY). The 200-day moving average suggests otherwise.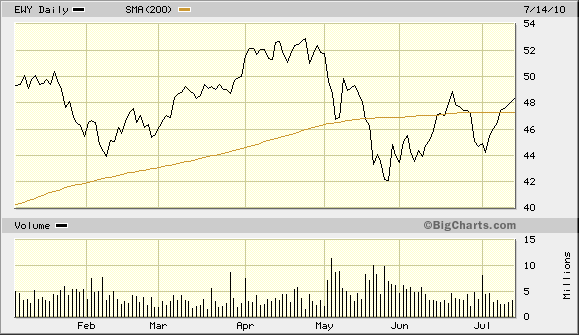 Disclosure Statement: Gary Gordon, MS, CFP is the president of Pacific Park Financial, Inc., a Registered Investment Adviser with the SEC. The company and/or its clients may hold positions in the ETFs, mutual funds and/or index funds mentioned above. The company receives advertising compensation at the ETF Expert web site from Invesco PowerShares Capital Management, LLC. The commentary does not constitute individualized investment advice. The opinions offered herein are not personalized recommendations to buy, sell or hold securities.