I work at the crossroads of design, engineering and research, and have used 3D printing (formerly known as rapid prototyping, which is what it really is) for the better part of two decades. I read the Wohlers Report and attended the Euromold. Therefore, I am neither "against" 3D printing in general nor "against" equipment vendors in particular. However, what most uninformed futurologists so conveniently ignore is that the intersection of creation, production and consumption is far more complex than it is made out to be, and that it is by no means clear where and by whom substantial and sustainable value will be created.
This article is the second of a three-part mini-series, debunking the most common mythologies surrounding additive fabrication. The first article addressed Consumers, the last articles will address Technologies.
2nd myth: 3DP will revolutionise industrial production of goods
Journalists of quality magazines and newspapers, as well as analysts of well-known investment banks, have jumped onto the additive fabrication bandwagon, claiming that 3D printing will revolutionise production of goods, with 3D Systems (DDD), Stratasys (SSYS) and ExOne (XONE) eventually putting a "factory in everybody's home", like an inkjet printer. If true, that would mean that products as diverse as corduroy trousers, hospital beds, storage shelves, lawn mowers, TV-sets, cosmetics bottles, etc. would eventually jump off the build-plate of 3D printers small and large at an economy of scale that would have to be more effective than what can be achieved by the multitudinous production processes available today, themselves also advancing at a rapid pace, which is conveniently overlooked.
A side-robot injection moulding machine from Kuka AG (OTC:KUKAY) or Sumitomo can produce an entire performance-plastics car bumper, including metal in-mould-decoration, with perfect surface finish in only 42 seconds, a part that would take many days to produce on a large Voxeljet (VJET) machine (at far inferior quality). The parts for a Buzz Lightyear toy figurine, the token example from the first article, could be injection moulded at Chinese Miriat Products (HK) Co. Ltd in seconds, an entire set of parts per tool in a single shot, perfectly finished, coloured and ready to be snapped together; from only 5.000 to up to a massive 1.000.000 of them per month, starting from as low as US $0.68-1.28 (quantity FOB price). With rapid tooling, in part advanced by additive manufacturing (laser sintered with an ultra-fast EOS or envisionTEC machine, for example), small batch production of 100 off is already a reality.
That said, let's now debunk the "revolution of production" in more detail, taking some of the most warped storytelling of a typical cheerleader article (TechRepublic) to the acid test:
Aircraft engine myth: "GE Aviation wants to produce 100,000 additive parts by 2020." - Apart from the six-year time frame and FAA approval, let's put things into perspective: A single Rolls-Royce TRENT 1000 jet engine that powers the Boeing 787 consists of ~18.000 parts. A single GE/Pratt & Whitney GP7200 jet engine that powers the Airbus A380 consists of ~26.000 parts. This is without washers, bolts, etc. An annular jet engine combustor contains 24 fuel injection nozzles - 0.11% of the average total part count of a jet engine. Rolls-Royce, GE and Pratt produce ~3.000 jet engines annually. Reality check: The additive fabrication of small non-moving parts such as fuel injection nozzles will hardly be a volume driver for 3D Systems and other players in that field. The technology will remain grounded for a long time to come.
Car engine myth: "The auto company has been using 3D printing technology since the 1980s and recently printed its 500,000th part with a 3D printer, which was an engine cover for the new Ford Mustang." - A fine example how the inability of analysts, journalists and bloggers to read and understand texts of over 140 characters length: Ford has, of course, not 3D printed a production engine cover for the all-new Mustang, like the writer attempts to suggest - Ford has done what it has been continuously doing since the 80s: It has used rapid prototyping to develop the engine cover for the all-new Mustang, the real parts being cast from aluminum as is the norm. Rephrasing the old proverb, one can safely say: Old oil in new canisters.
Aircraft body myth: "The airline company [Boeing] was one of the early adopters of 3D printing technology, and has made more than 20,000 3D printed parts for 10 different military and commercial planes." - Again, without revealing time frame and whether the parts were rapid prototypes, remember that Airbus' and Boeing's large body aircraft consist of around 3.000.000 individual components, discounting rivets, etc. A Boeing 787 contains 46 additively fabricated production parts of lesser importance: air-condition ducting and hinges. It takes several years of prototyping and testing to have a new part to be approved of its airworthiness by the EASA/PMA/FAA. Reality check: No 3D printed aircraft in the skies for decades to come, not even an economy class seat, let alone a simple luggage rack lid with aluminum quick release handle and locking mechanism.
Shoe myth: "Nike reported 13% growth for its latest quarter. CEO Mark Parker has previously stated that 3D printing technology has been a big boost for the company recently. Nike made 3D printed cleats for the 2014 Super Bowl." - The writer cunningly implies a coupling of a company's growth with the use of 3D printing technology, where, in fact, Nike had 3D printed custom limited edition parts (not entire shoes) for a single sporting event and a niche footwear sub-component within its soccer range. As anyone who ever designed sports footwear (I did) knows, cleats are often individualised on a team and per-player basis and wear off (which is why originally they were replaceable). For a niche custom component, additive fabrication makes indeed sense - time, volume and cost are no issue. However, rapid prototyping is common practice with sports, leisure and dress shoe brands in the design process in general and outsole tooling development in particular - since two decades. Sales of tens of thousands of 3D printers, churning out sports and leisure footwear are not in the pipeline in this industry - the shoe myth disintegrates faster than a British gentleman can say "Crockett & Jones".
Food myth: "The 3D printing company said this partnership is a good way to show how the technology can be mainstream, though there is no word when the chocolate-making machine may be available." - In order to print foodstuffs in meaningful quantity and quality, extreme hurdles have to be overcome, related to the unavoidable liquefaction of all ingredients; hygiene, safety, viscosity, setting duration, texture and nutrient disintegration, to name just a few. The decorative "foodstuffs" that have been served at various hype-fests so far are nothing but ornamental squiggles resembling oddball micro-architectures with a gooey texture and consistency. The torturing of natural and wholesome ingredients for the sake of novelty value can only go so far, just as molecular cuisine and space foods remain confined to be served in the diners of Absurdistan, where time and money are unknown categories. Made viscous with additives and stabilisers, chocolates, and sweets make for a nice wedding cake gimmick; mainstream adoption will be low, as long as our improving dental hygiene lets people want to enjoy a good bite well into their old age. Thanksgiving turkey paste - thanks, but no thanks - is not even remotely on the horizon.
Ad infinitum.
I suspect that many believers in 3D Systems acquired the stock, and later any stock remotely associated with additive fabrication (Organovo comes to mind), after The Motley Fool injected its "Dear China, its over… the little shop that's putting China out of business" campaign in retail investors' minds from April 2012 onwards. Remember the Segway and how it would change personal inner city transport forever?
Last, but not least, investors should carefully watch Gartner's Emergent Technology Hype Cycle Curve to see what lies ahead of them, when investing in science fiction: Please beware of the Peak of Inflated Expectations and the Trough of Disillusionment. Many fields of business got trapped right there, to never fully emerge.
(Emergent Technology Hype Cycle Curve, source Gartner Inc. 2010)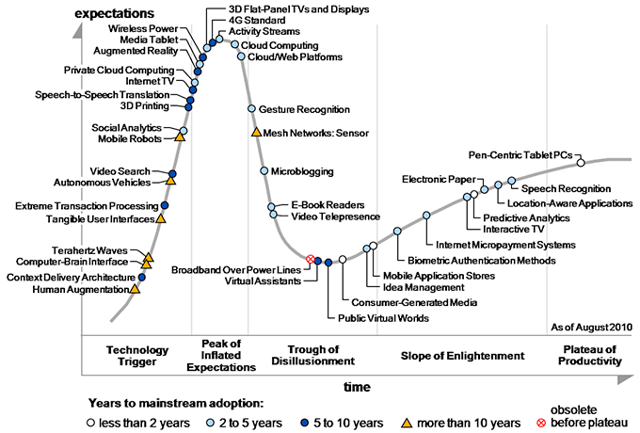 (Emergent Technology Hype Cycle Curve, source Gartner Inc. 2013)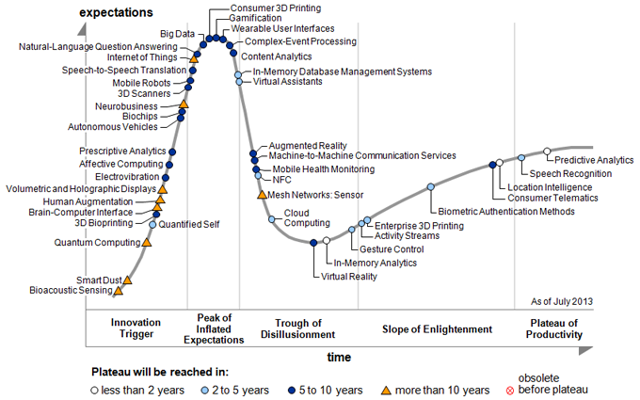 Disclosure: I have no positions in any stocks mentioned, and no plans to initiate any positions within the next 72 hours. I wrote this article myself, and it expresses my own opinions. I am not receiving compensation for it (other than from Seeking Alpha). I have no business relationship with any company whose stock is mentioned in this article.