Individual Investor Portfolio - March 2014 Quarterly Update and Review
At December 2013 year-end, the majority of the portfolio's holdings were liquidated in order to create a more diversified allocation of company holdings. In order to achieve this, new methods have been established to attempt to develop more solid entry points for stock company selection. Unfortunately this transition has uncovered some weaknesses in valuation techniques from previous stock purchases, and appropriate actions have been undertaken to remedy this. As a result, the update and review will track slightly into the month of April to simplify the overview. All information is as of April 14, 2014. Comparative indices and benchmarks will be extended into the same period for assessment. The fund will continue to be managed through a Roth Individual Retirement Account, or Roth IRA. The Roth IRA account will take advantage of the contribution limit of $5,500 during 2014.
The first quarter leading into mid-April has been a complete contrast for the Dow Jones Industrial Average, S&P 500, and NASDAQ as compared to the past couple of years. For the year, the Dow is down near 3%, while the S&P is down 1%, and the NASDAQ is down near 4%. As a result, many broader sectors and industries, especially technology and biotechnology have witnessed significant volatility.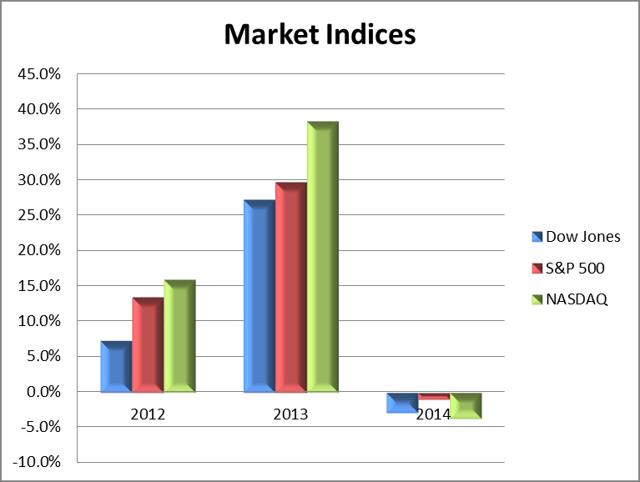 CURRENT HOLDINGS AS OF April 14, 2014
All enterprise values are as of April 14, 2014.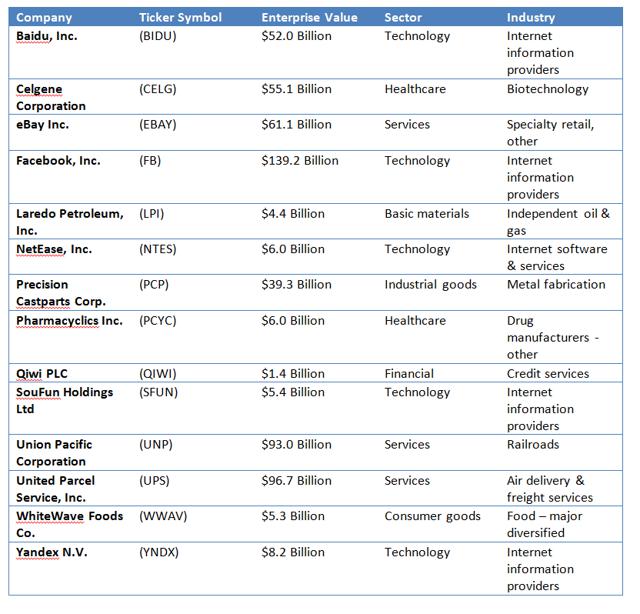 The current holdings include Baidu, Inc. (NASDAQ:BIDU), Celgene Corporation (NASDAQ:CELG), eBay, Inc. (NASDAQ:EBAY), Facebook, Inc. (NASDAQ:FB), Laredo Petroleum, Inc. (NYSE:LPI), NetEase, Inc. (NASDAQ:NTES), Precision Castparts, Corp. (NYSE:PCP), Pharmacyclics Inc. (NASDAQ:PCYC), QIWI (NASDAQ:QIWI), SouFun Holdings (NYSE:SFUN), Union Pacific (NYSE:UNP), United Parcel Service (NYSE:UPS), WhiteWave Foods (NYSE:WWAV), and Yandex (NASDAQ:YNDX).
Portfolio Composition


As evidenced the portfolio's composition is heavily weighted in the consumer discretionary and information technology sectors. Health care is also weighted fairly significantly. These areas are expected to decline as more positions are added, but remain as the leading sectors. Geographically, North America will continue to be the dominant region representing the majority of holdings. Aside from Emerging Markets, other areas of interest include Europe and the Pacific.
TOTL RETURN, YTD, AND PREVIOUS PERFORMANCE AS OF APRIL 14, 2014
All of the information regarding the Fund's performance from quarter to quarter is compared by a percentage point basis. For example, if a stock is up 25% at year-end, and then is up 20% in the first quarter of the year, the stock has increased by twenty percentage points. Total return is based on realized and unrealized gains from the initial date a position was taken and varies for each company for the years between 2012 and 2014.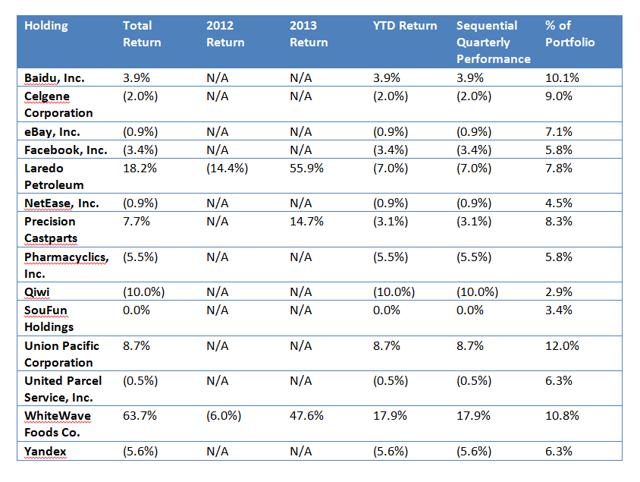 The majority of holdings have had positions initiated in 2014. Only Laredo Petroleum, Precision Castparts, and WhiteWave Foods have measurable performance prior to this year. The volatility that the markets have experienced in March and April is clearly reflected in the consumer discretionary, health care, and information technology holdings. Many of these companies were added in the first couple weeks of April after the market had already declined, yet the market continues to display downward pressures and volatility.
The strongest performers during this period include WhiteWave Foods, Union Pacific, and United Parcel Service.
BENCHMARK COMPARISON AND PERFORMANCE
The portfolio has averaged a return of 11% per year since its inception in 2012. This reflects an underperformance against the identified peers below, however, the portfolio's rebalancing will provide an opportunity to outperform this peer group in the future. To date, the portfolio is down 1.2%. Comparatively, the S&P 500 is down 1.0% and the Russell 2500 is down 2.3%. The Vanguard VMGMX fund has returned negative 1.5% and the Fidelity FMCSX is basically flat for the year.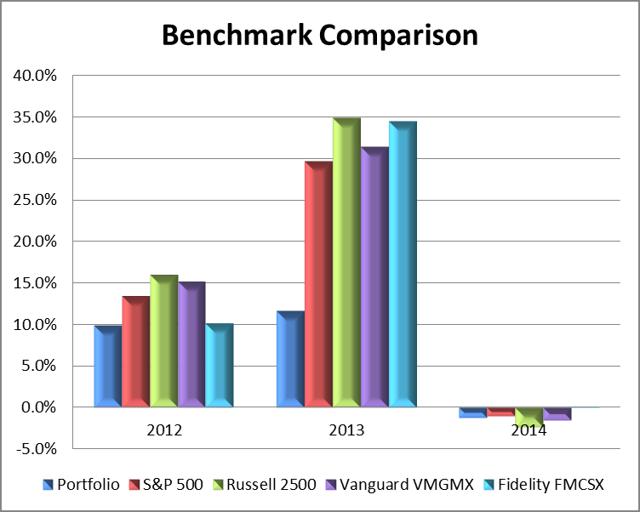 The management activities section below will highlight the actions taken to remove companies with rich valuations, as well as other general moves undertaken to rebalance the portfolio.
MANAGEMENT ACTIVITIES
All charts in this section are used from Yahoo! Finance.
Recent transactions where entire positions were sold included: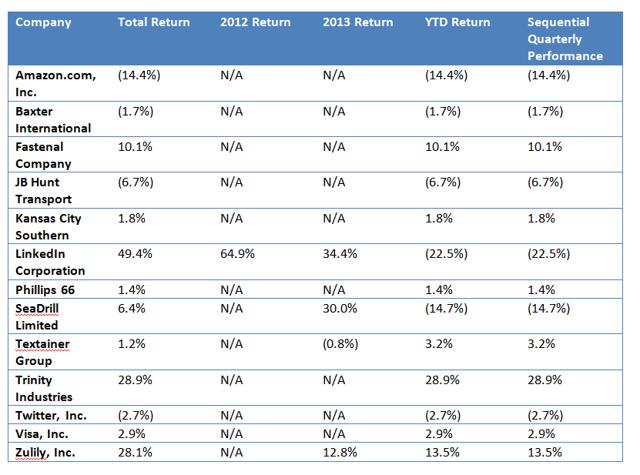 The majority of these positions were purchased in the first quarter or first couple weeks of April with exceptions being LinkedIn (LNKD), Seadrill (NYSE:SDRL), Textainer (NYSE:TGH), and Zulily (NASDAQ:ZU). There were multiple reasons justifying the liquidation of these companies including rich valuations, too much exposure to a particular sector, and leverage risks.
As examples, companies including Amazon (NASDAQ:AMZN), Fastenal (NASDAQ:FAST), LinkedIn, Trinity Industries (NYSE:TRN), Twitter (NYSE:TWTR), and Zulily were determined to be overvalued based on long-term growth potential, and therefore, positions were sold. A standard to focus more intently on earnings growth has been put into practice; unfortunately some purchases were made prior to this development. Companies including J.B. Hunt Transport (NASDAQ:JBHT) and Kansas City Southern (NYSE:KSU) were considered duplicative within the consumer discretionary sector and Union Pacific and United Parcel Service were held instead. Baxter International (NYSE:BAX), Phillips 66 (NYSE:PSX), and Visa (NYSE:V) were sold for companies with higher growth prospects in the portfolio. And lastly, Seadrill and Textainer were sold due to their over-reliance on debt to operate their respective businesses.
The companies which have been added are not without their risks, but from a valuation perspective offer much more stock price growth potential over the long term.
For investors not familiar with Baidu, Inc., the company through Baidu.com was the largest website in China and fifth largest website globally as measured by average daily visitors and page views during the three-month period ended December 2013, according to Alexa.com, an internet analytics firm. The company is the most used internet search provider in China, capturing 81.6% of internet search traffic in 2013, according to iResearch Consulting Group, a market research firm.
The company is facing challenges to grow its mobile presence and generate advertising revenue and is looking to compete against Alibaba's Alipay through the development of its virtual wallet payment system.
For 2013, Baidu generated over $5.2 billion in revenue; this was accompanied by a 32% profit margin. The company is estimated to grow revenues to over $10.5 billion by 2015. Based on today's price levels, Baidu offers strong stock price appreciation potential in both the near term and long term. Assuming Baidu's growth potential and margins, a P/E ratio near 25 is justifiable. Based on this information, Baidu can reasonably trade near $165/share by year-end.
Management Activities:
In early April, a new position was established at $147.94/share.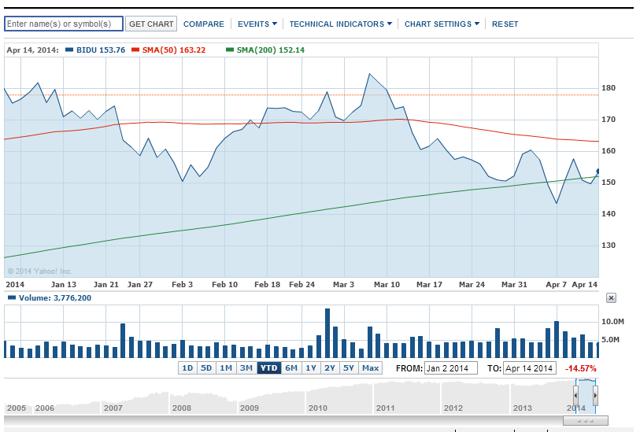 Celgene Corporation is a global biopharmaceutical company with research and product development targeted to treat cancer and immune-inflammatory related diseases. The company's primary commercial stage products include REVLIMID®, VIDAZA®, ABRAXANE®, POMALYST®/IMNOVID®, THALOMID® (inclusive of Thalidomide CelgeneTM), ISTODAX® and azacitidine for injection (generic version of VIDAZA®).
Celgene has a very strong track record of revenue growth over the past 13 years. The company has consistently generated profit margins over 22% during the past five years. The company's leading product is REVLIMID® which generated 67% of total net product sales which were roughly $6.4 billion for 2013. The company will continue to face patent challenges from generic drug producers for its products as most all biopharmaceutical companies do. The management team is very experienced and the company has a strong backlog of potential products. The company seems to be trading near fair value and offers strong growth prospects for the long term.
Management Activities:
In early April, a new position was established at $140.86/share.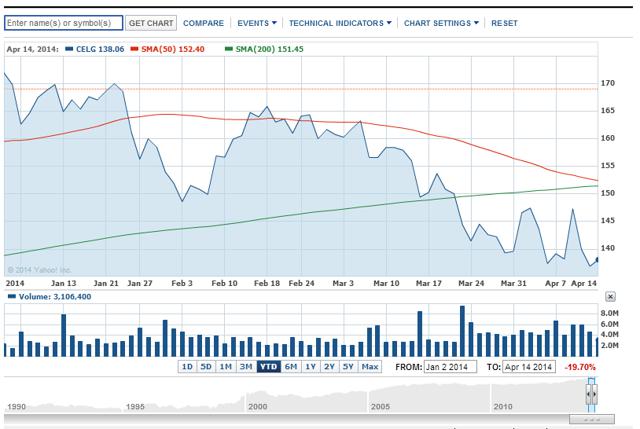 The most notable information for eBay, Inc. has revolved around the stir created by Carl Ichan's proxy battle and suggestion for eBay to spin-off its Paypal unit. As this dust has settled eBay can get back to focusing on its strategies to continue to grow its marketplaces units as Paypal continues to thrive. As of December 2013, eBay had more than 128 million active users and 143 million active registered accounts for its marketplaces and payments segments respectively.
Paypal continues to grow its revenue near 20% as of the December 2013 fourth quarter, while the marketplaces segment is growing near 12%. The company has nearly doubled its revenues post-recession near $16 billion. With a profit margin just under 20%, eBay is generating substantial free cash flow.
There is speculation that The Alibaba Group will be disclosing its F-1 draft prospectus with the SEC on Monday of next week. Alibaba has been mentioned as a potential competitive risk since the company operates similar marketplace segments and its Alipay business is duplicative to Paypal. This information should be considered once Alibaba's disclosures are available.
Based on eBay's growth potential and earnings, the company currently trades at a discount. The company offers excellent stock appreciation potential for the long term.
Management Activities:
In early April, a new position was established at $54.46/share.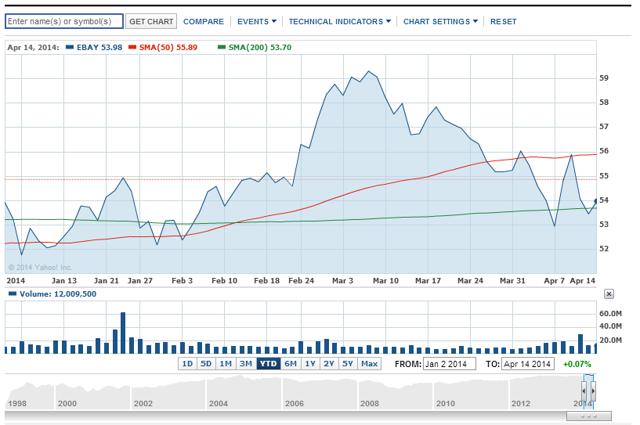 Facebook, Inc. had an impressive 2013 primarily stemming from its performance during the second half of the year. All-in-all, the company generated nearly $8 billion in revenue with a close to 20% profit margin. Views have been mixed as to whether Facebook will exceed or fall short for the first quarter's earnings report in 2014.
Recently the company has acquired WhatsApp and Oculus VR. As everyone knows, these acquisitions have come at a hefty price, but Facebook has financed the purchases mostly through stock. This year will be important for Facebook to display that the company can build off of a tremendous growth year and continue to return solid earnings.
The company trades at a high premium currently, but has significantly improved its mobile advertising growth, combined with the monetization opportunities for WhatsApp, which should allow investors to reap strong returns over the long term.
Management Activities:
In late March, a new position was established at $60.96/share.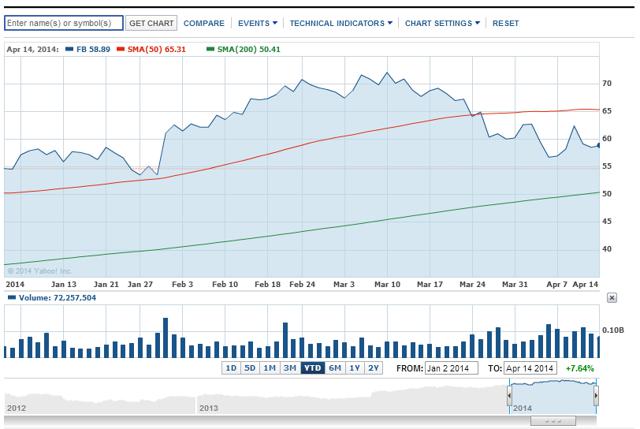 Laredo Petroleum continues to develop its oil and natural gas properties in the Permian Basin reflecting roughly 143,000 net acres as of December 2013. The company has identified significant resource potential within this acreage and has proven that there are excellent return opportunities for the company and investors.
Laredo spent roughly $750 million on capital expenditures during 2013. For 2014 the capital program is budgeted to spend $1 billion with $840 million dedicated to drilling and completion including 6-7 horizontal rigs and 5 vertical rigs (120-125 wells). The company is heavily investing in its capital programs to complete more rigs and wells in proven areas to maximize economic recoveries of resources.
As a result, Laredo is expected to grow revenues robustly and achieve over $1 billion in revenue by 2015. At today's price, the stock offers a fair value entry point, however, the stock will continue to be volatile as the company is still in an early development stage.
Management Activities:
In early and mid-March, positions were liquidated for realized gains of 46% and 16% respectively. Towards the end of the month, a new position was established at $24.50/share.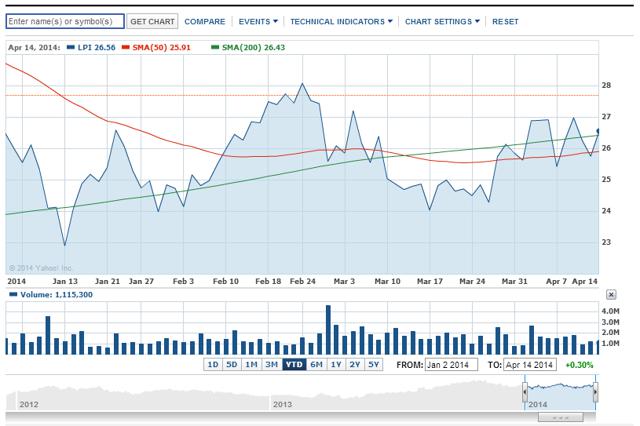 NetEase, Inc. serves as one of the older Chinese-based internet companies to date. The company was founded in 1997 and provides online game services, a web portal, advertising services, and an email, wireless value-added services and others segment.
The core revenue driver for the company is its online game services segment which focuses on massively multi-player online games or role playing games to the Chinese market. NetEase has a solid amount of internally developed games and has licenses with Blizzard, one of the world's most successful game publishers.
For 2013, the company generated 90% of its total net revenues from online game services, and attained a 48% profit margin for the year. NetEase announced the payment of a $1.40/share dividend to shareholders, with a current yield around 2%. The company is well-equipped to pay dividends as it has near $3 billion in cash, which represents 89% of the company's total shareholder equity.
NetEase trades near 10-12 times earnings and is still estimate to grow near 15% per year through 2015. The company has a cash war chest that will only continue to grow. The stock is undervalued and offers growth potential with dividends and no debt.
Management Activities:
In mid-April, a new position was established at $69.80/share.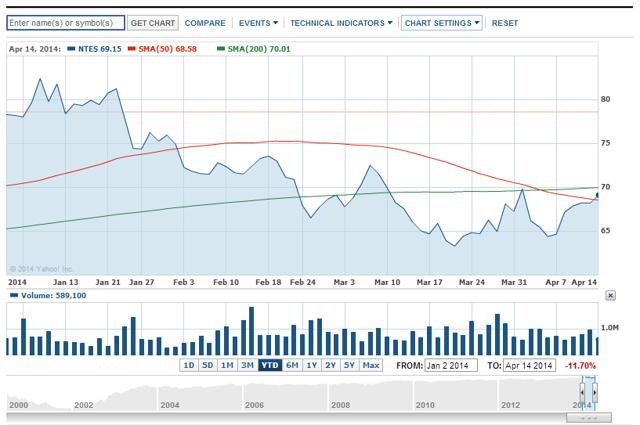 Precision Castparts manufactures complex metal components in three principal business segments including Investment Cast Products, Forged Products, and Airframe Products. Some of the company's products are supplied to large product suppliers including General Electric Company (NYSE:GE), Pratt & Whitney, a division United Technologies Corporation (NYSE:UTX), and Rolls-Royce.
Precision Castparts has executed well on its growth-by-acquisition strategy. Since 2000, the company has spent nearly $10.5 billion on acquisitions. Most recently the company has acquired Aerospace Dynamics International from the Marvin Group for $625 million, nearly one quarter the size of the Titanium Metals Corporation acquisition in the fall of 2012.
The company has been greatly successful as debt to equity levels are near 35% and free cash flow is at an all-time high near $1.6 billion. The company is still growing in the double digit realm and has profit margins near 20%. At today's price the company is fairly valued and offers stable growth potential for the long term.
Management Activities:
The entire position was sold for a 14.7% gain in the fall of 2013. In early April, a new position was established at $253.38/share.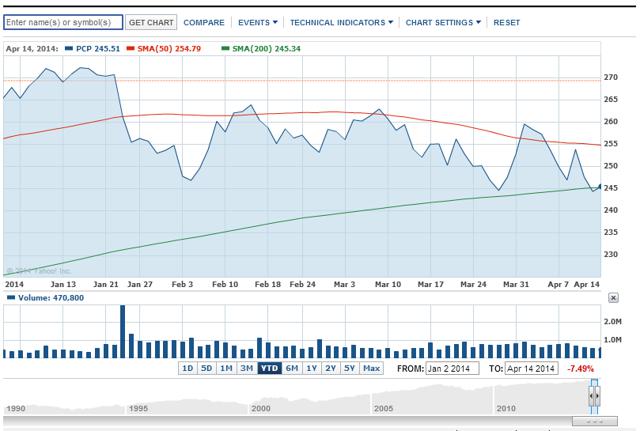 Pharmacyclics, Inc. is focused on developing and commercializing innovative small-molecule drugs for the treatment of cancer and immune mediated diseases. On November 13, 2013, the U.S. Food and Drug Administration, or FDA, approved IMBRUVICATM (ibrutinib, PCI-32765) under accelerated approval as a monotherapy for the treatment of patients with mantle cell lymphoma (MCL) who have received at least one prior therapy. IMBRUVICATM has been designated as a breakthrough, fast track, and orphan drug designation in the U.S. and European Commission, or EU.
The company has collaboration and license agreement with Janssen Biotech, Inc., a Johnson & Johnson (NYSE:JNJ) company, which includes the development and commercialization of IMBRUVICATM, and certain related compounds within a global development plan. The company has received $385 million in milestone payments from Janssen as of December 2013 with another potential $590 million outstanding. Additionally, the company has begun commercial production of IMBRUVICATM late in the fourth quarter of 2013.
Several analysts have been positive on Pharmacyclics product potential versus competitive products and the company is awaiting approval from the European Medicines Agency, or EMA, as Janssen submitted a Marketing Authorization Application, or MAA. Additionally, the company has filed a supplemental New Drug Application, or sNDA to the U.S. FDA for IMBRUVICATM on the basis of positive data from a head-to-head phase III study.
The company is not providing guidance based on its product development and is definitely a high risk/reward situation.
Management Activities:
In early April, a new position was established at $94.12/share.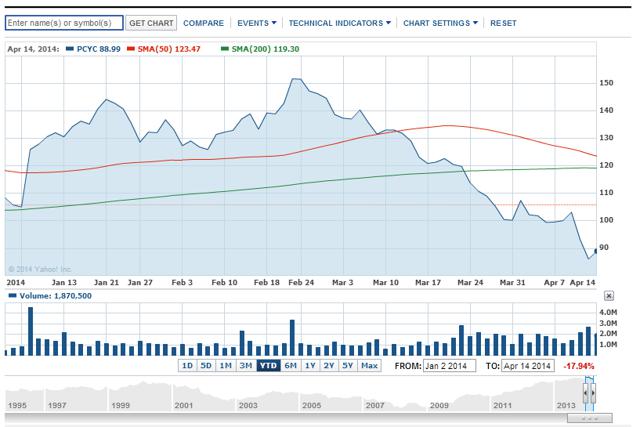 QIWI is a leading provider of next generation payment services in Russia. Consumers access the payment network through both the Visa QIWI Wallet and QIWI Distribution channels. The QIWI Distribution segment comprises approximately 127,000 kiosks and 42,000 terminals that help connect consumers and merchants and enable them to conduct commercial transactions, such as bill payments and purchases, at thousands of convenient locations. The Visa QIWI Wallet is an online and mobile payment processing and money transfer system allows account holders to pay for the products and services of merchants, and to perform peer-to-peer money transfers using a virtual wallet.
The Visa QIWI Wallet segment is growing significantly faster than the QIWI Distribution segment averaging over 100% per year the past two years versus 13% per year. As of 2013, Visa QIWI Wallet had 15.4 million active virtual wallets registered and 75,000 merchants registered in the system. Visa QIWI Wallet is available through a variety of interfaces, including mobile apps, its own website, touch-screens of kiosks, merchant websites, social networking platforms, and SMS/USSD.
There are significant risks owning Russian stocks trading in the U.S. based on the events occurring in Russia and Ukraine. Additionally, virtual payment regulations in Russia are nascent and uncharted territory.
QIWI does pay a $1.28/share dividend with a current yield near 4%. The company's revenue estimates are expecting 20% growth over the next couple of years and QIWI has improved its margins near 16% resulting from the higher margin Visa QIWI Wallet growth. The company trades at a slight discount currently, and offers a high risk/reward scenario.
Management Activities:
In early April, a new position was established at $33.12/share.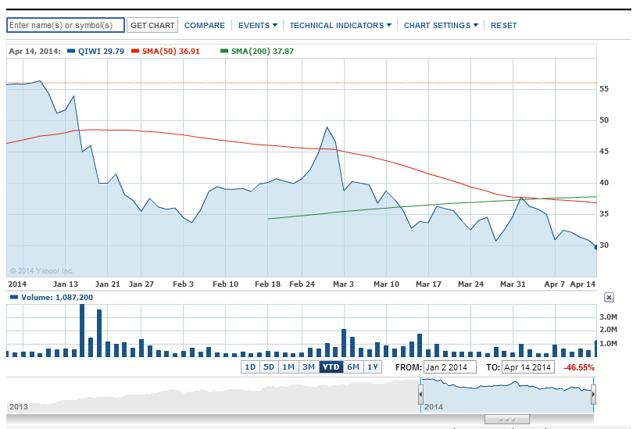 SouFun Holdings provide marketing services, e-commerce services, listing services, and other value-added services to participants in the Chinese real estate and home-related sectors through websites. The company's marketing services segment is the largest representing 44% of revenue. The company has experienced extraordinary growth for its e-commerce and listing services growth over the past few years and these segments now represent 30% and 25% respectively. For context, in 2008 the marketing services segment represented 82% of revenue.
SouFun is similar to Zillow, Inc. (NASDAQ:Z) based on its marketing and listing services, however its e-commerce services are unique. The company is growing robustly and is expected to average near 25% top-line growth over the next couple of years with a profit margin near 45% at year-end 2013. The company is generating significant free cash flow growth, and offers a $0.40/share dividend with a yield near 3%. The stock trades at a significant discount based on its TTM and future P/E ratios and offers the potential for excellent stock price appreciation with dividends.
The stock chart below illustrates the 5:1 stock adjustment (basically a stock split).
Management Activities:
In early April, a new position was established at $12.95/share.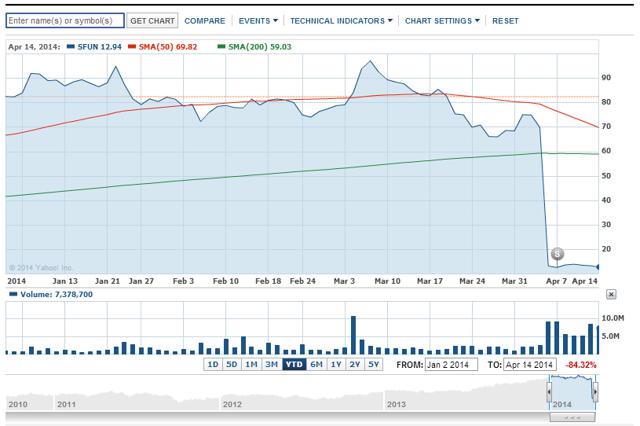 Union Pacific has outperformed the rail operator industry based on last year's performance. The company, like Kansas City Southern is involved in Mexican politics as the Senate will vote on whether or not to prematurely end a concession with 14 years remaining on it to open up competition. Union Pacific owns 25% of Ferromex which is a Mexican rail operator.
With more pipeline expansion expected over the next few years, the company's petroleum segment should be monitored carefully. Pricing power being passed on to consumers is expected to be tight during this time frame. Additionally, coal is in a long-term downtrend, and global supply chain sensitivity to the Panama Canal Expansion and Mexican near-shoring are other items to keep on the radar. Ultimately, the company is well-positioned to meet these challenges.
From a performance perspective, Union Pacific has the second highest operating ratio in the industry. The company has increased its dividend substantially to reward shareholders, currently at $3.64/share with a 2% yield. Revenue growth is going to slow over the long term, more than the past decade most likely, but the company's profit margins near 20% should allow for excellent free cash flow growth.
The company is near fair value at the moment, and offers stable growth for the long term.
Management Activities:
In early January, a new position was established at $168.40/share.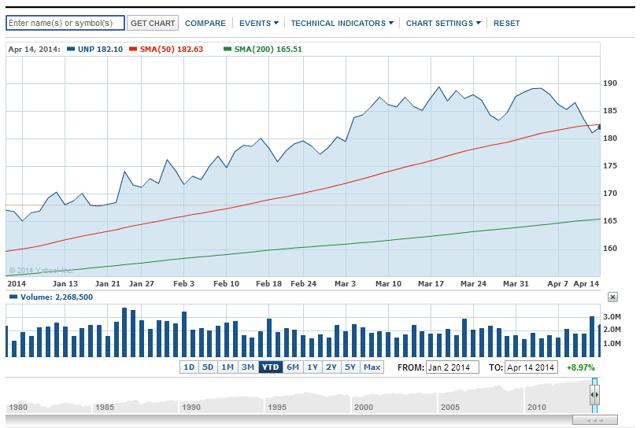 United Parcel Service is well-known as the brown-truck package delivery service. "What can brown do for you?" I'm hoping first, outperform FedEx Corporation (NYSE:FDX) and second, provide stable long-term returns. When comparing these two companies FedEx's growth has slowed and estimates place both companies growing similarly in the near term. If this continues over a longer period, by United Parcel Service's dividend at $2.68/share with a near 3% yield, the company should be able to return more to investors versus its closest competitor.
The company generates substantial operating and free cash flow, $7.3 billion and $3 billion respectively for 2013. The company also has higher profit margins than FedEx, near 10% which is good for a company in this line if business.
United Parcel Service is near fair value at today's price, but offers stable long-term growth potential pegged to the economy and dividends.
Management Activities:
In mid-February, a new position was established at $97.28/share.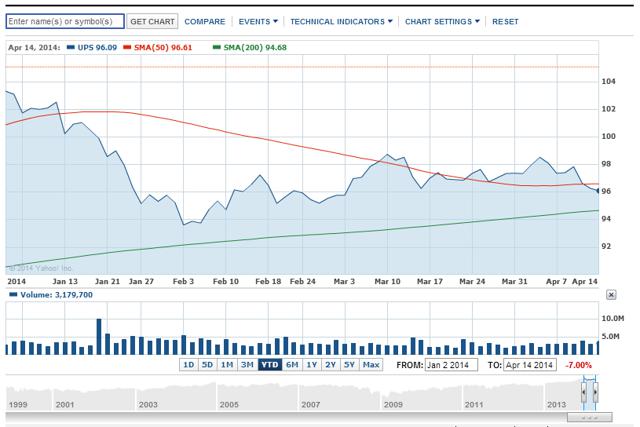 WhiteWave has been busy orchestrating acquisitions and ventures into other global territories of late. This has included the previous acquisition of Earthbound Farm and the joint venture agreement with China Mengniu Dairy. Additionally, the company continues to expand its product offerings including macaroni and cheese and crackers, and has formed a partnership with Dunkin' Donuts.
WhiteWave is expected to grow revenue near 30% for 2014 as a result of the Earthbound Farm acquisition, however, profit margins are expected to remain near the 4% level on a diluted per share basis. Debt to equity is stable near 70%, and the next filing will highlight more transparency regarding how Earthbound Farm will impact the company's financials. WhiteWave trades at a premium currently based on TTM and future P/E ratios, so upside is limited.
Management Activities:
There were no management activities during the period. WhiteWave has been held as a long position since October 2012.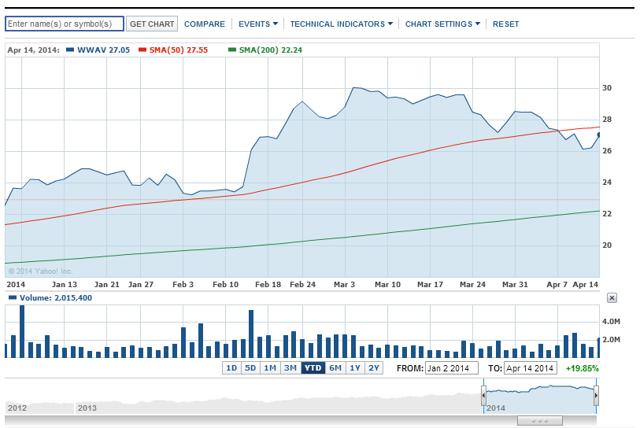 Yandex is one of the largest European internet companies and the leading search provider in Russia. The company also serves Turkey, Ukraine, Belarus, and Kazakhstan. Yandex generated 61.8% of all search traffic in Russia in 2013 and 61.9% in February 2014, according to comScore. Yandex sites attracted 66 million unique visitors in Russia, 13.8 million unique in Turkey and 102.1 million worldwide in January 2014. In December 2013 Yandex websites attracted 8.8 million unique visitors in Ukraine and 2.6 million in Belarus, according to Gemius, and 2.4 million unique visitors in Kazakhstan according to TNS.
Just as Baidu above is the "Google" of China, Yandex is the "Google" of Russia, even though Google has a much stronger presence in Russia than China. Similarly to Baidu, Yandex is estimated to grow revenue over 20% in the near term and generated a 34% profit margin in 2013. Yandex also faces the political tension and risks associated with the developments of Russia and Ukraine. Both China and Russia also have government regulations in place which contribute risks to each company's respective internet business segments.
The company is currently trading at a discount based on its growth and profit margins. Competitive pressures persist so the discount is justifiable. However, the company offers the potential for robust stock price appreciation over the long term.
Management Activities:
In early April, a new position was established at $29.14/share.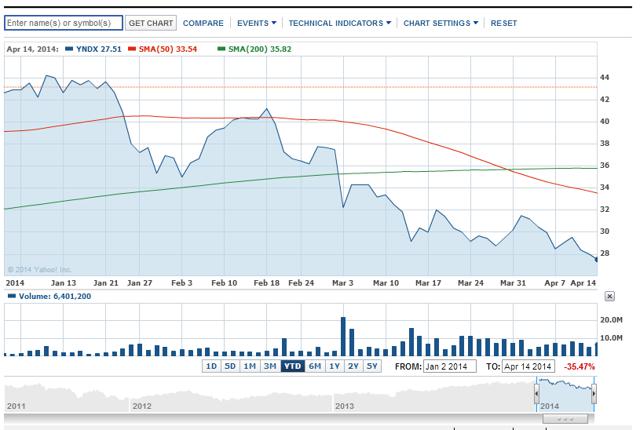 RADAR SCREEN
Companies being considered for the portfolio are listed on the Instablog, Radar Screen .
NEXT UPDATE
The next IIF portfolio update and review will occur at month end, June 2014.
Disclosure: I am long BIDU, CELG, EBAY, FB, LPI, NTES, PCP, PCYC, QIWI, SFUN, UNP, UPS, WWAV, YNDX. I wrote this article myself, and it expresses my own opinions. I am not receiving compensation for it (other than from Seeking Alpha). I have no business relationship with any company whose stock is mentioned in this article.