Virtualization is fast becoming the buzz word much like dot com did in the late 1990s. Converting to virtualization IT departments are looking to slash costs from existing IT spending, but avoid losing any functionality. The move will be friendly to budgets, but IT departments will need to spend on infrastructure to support the move into the virtual world. Storage is a key component to the new virtual world and when we dig deeper a leader emerges within the space.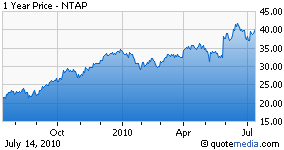 Netapp Inc (NASDAQ:NTAP) is the clear winner in the space with rivals coming from IBM (NYSE:IBM), EMC (EMC), and Isilon Systems (ISLN). However, the company has been able to sport better fundamental growth numbers than its rivals. While risks may lie in their inability to grow beyond their core product line, for now the company has been able to produce as proven by its positive cash flow of $2.07 a share and a return on equity of 25%.
Institutional support has been on the rise as 27% of the stock is owned by institutions. Since September of 2009 the number of mutual funds holding the stock has risen from 308 to 336. This comes at a time when we saw the flash crash and a 15% overall decline in the market. Institutional support is important as the strongest stocks in history have shown tremendous institutional support.
It is clear why institutions like the stock beyond just the virtualization story. The stock has seen its earnings per share growth accelerate from -24% (Jan 2009) to +61% the most recent quarter. A big run up in price is often preceded by acceleration in earnings growth. Sales growth hasn't been a slouch either with sales in the last two quarters: 36% and 33%.
The amount of data needing to be stored and consumed by companies has yet to see a decline. As the world we live in becomes more complex the need to document and retrieve information will become much more vital to any corporation. This need translates well, right to the bottom line for NTAP as we begin a new upgrade cycle and virtualization becoming an integral part in IT organizations. NTAP for the foreseeable future will continue to be the leader in the storage space.
Seeing the fundamental picture and its potential growth is only part of the picture. Currently NTAP has been consolidating its most recent move into new high territory in the beginning of June. Ideally, the stock would continue working on its current base and on a strong move off the 50 day moving average with volume would be an excellent entry spot.
If the stock is unable to sustain its gains from my entry point a close below the 50 day moving average would trigger me to exit the position and wait for another base to form.