Background: I have been a consistent critic of International Business Machines (NYSE:IBM) since last summer. I have felt that they have not been running the business well- which is no sin, but I have also felt that they have used multiple inappropriate stratagems to try to hide their recurrent operational problems. This has been done without any joy, as my first exposure to the stock market many years ago was as an IBM admirer (and as a "Mathlete" for whom IBM's achievements were in my mind on the highest of pedestals).
My first article on IBM on Seeking Alpha was titled IBM And The Media Attempt To Obscure Its Declining Business Results following its poor Q2 last year. For that quarter, IBM threw its "workforce rebalancing" for the rest of the year into that one quarter and tried to pretend that it was a non-event. It also acted as though non-recurring tax events deserved a P/E. My point then was that IBM was underperforming its peers, the general market, the general U.S. economy, the general global economy, etc. It was doing so by cutting back on R&D and increasing its debt load to goose EPS by buying back stock. All this was courtesy Bernanke put on interest rates.
The large charge for layoffs last year followed large charges for the same thing in 2012. Now we have a dismal Q1 in the books, and yet another large charge for (the Orwellian-sounding) workforce rebalancing, aka layoffs. Free cash flow is diminishing at a worrisome pace (though there's always tax rates to blame at IBM when they hurt operations), financial leverage is increasing, and as was the case with old General Motors (NYSE:GM) last decade, IBM is seeing its main growth driver be its financial services division.
With IBM shares having risen on a slope of hope recently, I believe there are superior market choices than IBM for new money. I've made that case often enough, and there's no point in revisiting it.
The question examined herein is whether the fat lady is singing loudly enough, or is close enough to entering onto the stage, that existing shareholders should sell their stock, or at least lighten up, even if there are adverse tax consequences for doing so.
Introduction: There are few more iconic corporations than IBM. Yet we tend to forget that despite all its past glories, serious and anguished discussions about the possible need to break IBM up into smaller companies were taking place before Lou Gerstner arrived on the scene from a cigarette company and put in place a turnaround strategy. This strategy was solidified by the next CEO, Sam Palmisano. However, Mr. Palmisano introduced one innovation that may be hurting the company now, no matter how wise it may have been initially. Every 5 years, IBM announces that it will earn at least $5 more per share than it is currently earning. That's fine as a goal, but what has happened is that IBM has begun subsuming normal long-term business practices to that arbitrary EPS goal. Thus, as others more knowledgeable about tech companies than I have pointed out, it has been starving its R&D division, cutting spending consistently while growing its financial services division(s). This quarter is, sadly, no different.
IBM's hardware business, incredibly, is imploding, and has been doing so for quarter after quarter after quarter. This can only be due to lack of R&D, given the market share and mindshare of purchasers IBM had. But the latest layoffs, costing nearly $900 million this past quarter alone, could not have come largely from Big Iron.
So this article is inspired by the sad realization that it may be coming time even for long-time IBM loyalists to take their gains and move on, at least with some of their shares. This is sad on my part, as my first introduction to business was as a math nerd in the 1960s, when everything about IBM glittered. This included its high, triple-digit stock price, its world-leading patent count, its growth rate, its general fame and reputation - and then the '360' appeared and blew the minds of the best math brains in the school (not mine). But times change, and IBM has failed to keep up with them.
Discussion: You have all seen Q1 results, or are welcome to read the linked press release. Separately, Bloomberg.com provides a summary. It was another depressing quarterly report. Sales were down. Operating profits were down 22%. Cash generation fell sharply. Debt increased and cash in the bank decreased. IBM is not close to regaining its AAA rating. The worse its P&L and balance sheet get, the more likely it is that its credit rating will be downgraded. Its book value is moving closer toward zero as its tangible book value sinks farther below zero. Yet just in this quarter, IBM executives found it necessary to cut R, D and E spending while shrinking the share count another 3%.
It took a couple of quick-witted analysts in the conference call to force IBM execs to admit that they had actually guided down this quarter compared to their January guidance. In modern typical IBM style, they concealed it. Here are the interchanges:
Toni Sacconaghi - Sanford Bernstein

Yes, thank you Martin. I was hoping that you could confirm that you still expect to meet your free cash flow goal for this year of $16 billion? And secondly, in terms of goal setting, you now have a much lower tax rate for the full year than you anticipated three months ago? I think that's going to add about $0.70 to EPS that was not anticipated three months ago...

Martin Schroeter - Chief Financial Officer and Senior Vice President, Finance and Enterprise Transformation

Sure, Toni. I guess, first on free cash flow as we noted in the prepared remarks, our free cash flow was $600 million in the quarter and down about $1.1 billion year-to-year... (He then gives a long answer which I do not think answered either of Mr. Sacconaghi's two question.)

Next question:

Bill Shope - Goldman Sachs

Okay, great. Thanks. I just wanted to get a clarification on Toni's question for the full year guidance. I mean, given the lower tax rate, as Toni mentioned, you are still offering the same EPS guidance. So, without the lower tax rate, it is a net guide down. So if so, could you comment on what exactly has changed above the tax line versus your prior expectations and the expectations you gave us in January?

Martin Schroeter - Chief Financial Officer and Senior Vice President, Finance and Enterprise Transformation

Sure, sure. So we got a lot done in the first quarter...

...I think it's important to note that we did not see much improvement in the trajectory in the GMU in the quarter. We were down 5% in the first quarter. We were down 6% in the fourth quarter. So, we are not seeing a trajectory improvement. GBS, as an example, just within the GMU went from high single-digit growth to low single-digit growth. So, we are not seeing the trajectory improve in the GMU as an example. (He then completes a long answer.)
If you read the above in full and are confused, you are not alone. This is how the conference call's last question went:
David Grossman - Stifel

Thank you. Martin, sorry to revisit the cash flow question, but I am still confused about the reconciliation of free cash flow growth and your net income growth, it seems that your EPS guide for the year, if my math is right, implies flattish, maybe even down net income this year?
(What follows again is a long, complex answer to that simple question.)
I look at this and am agog. Adjusted for IBM's usual savior, a lower-than-expected tax rate, IBM has guided down operationally from three months earlier and cannot even explain this simply. Please read Mr. Schroeter's responses to these questioners. Did he think that these top-tier analysts, who have been following IBM for years, would not catch the projected change in the tax rate without a corresponding upward revision to EPS?
While operations struggle and sometimes deteriorate, why is IBM's board so intent on stock buybacks? What's the rush? What's so bright about IBM's future that requires so much cash to be spent on the stock rather than on the business?
Is it not more prudent to increase R&D, or at least maintain it, rather than engage in yet more financial engineering? Remember, as a public company, IBM executives cannot hide the alleged good news that a turnaround in profits is just around the corner. They have to tell all of us why they find their own stock so appealing that they have to run the company's finances ever downward even as profits sink. But as usual, the press release and discussion contain a large number of excuses, "one-time" changes, etc.
If the board is going to go all in on buybacks, then the directors and senior execs should also buy the stock as individuals, not just purchase it on behalf of shareholders. However...
Here is how Yahoo! Finance shows the flow of buy-sell from insiders and institutions:
| | |
| --- | --- |
| Insider Transactions | Get Insider Transactions for: |

Net Share Purchase Activity

Insider Purchases - Last 6 Months
Shares
Trans
Purchases
N/A
0
Sales
231,553
20
Net Shares Purchased
(Sold)
(231,553)
20
Total Insider Shares Held
1.05M
N/A
% Net Shares Purchased
(Sold)
(18.1%)
N/A

Net Institutional Purchases - Prior Qtr to Latest Qtr
Shares
Net Shares Purchased
(Sold)
(7,334,620)
% Change in Institutional Shares Held
(1.19%)
18% of shares held by insiders were sold; none were purchased on the open market. It is unfair to say that IBM is doing its large repurchases to help senior management get the best price for their options, as shares outstanding are shrinking, but if I were chairman of the board, I would ask the CEO to be aware of appearances.
Now, the question of fundamental valuation arises. What future cash flows will IBM deliver to shareholders, in what time frame? With the balance sheet leveraged and with both sales and earnings in a seemingly endless decline, the simple approach of looking at a P/E is insufficient. Johnson & Johnson (NYSE:JNJ) could throw caution and its AAA-rating to the winds and buy back a large minority of its shares to raise EPS, but why should it? How does that strengthen its future business prospects? It does not. IBM is overly-fixated on share count.
A more relevant question relates to game theory. Who is the marginal buyer of IBM at a higher price? Increasingly, it is difficult to see that every potential buyer of the stock is already in it, and that many owners are wishing they owned less of it. This can be seen by looking at relative performance of IBM vs. the market: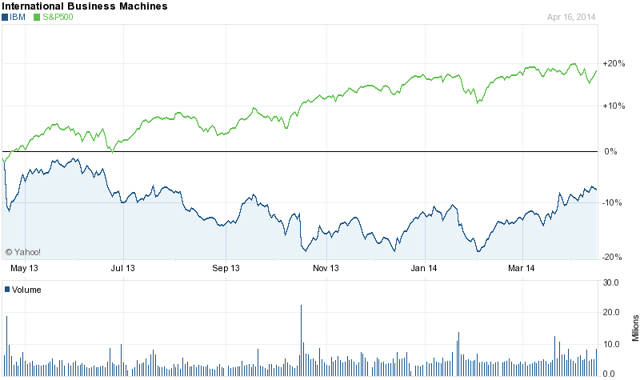 IBM sends the wrong message time and time again. A segment of its earnings release reads:
Growth Markets

Revenues from the company's growth markets decreased 11 percent (down 5 percent, adjusting for currency)...
These are "growth" markets? LOL, it looks strange that no one changed the language. In a world in which central banks are running wild printing new money, how can a "growth market" show such large declines, currency issues or none?
Note these "growth markets" were tough ones for IBM last year, as well. In other words, this is not a sudden, new problem. IBM has been struggling in a number of foreign venues for some time.
IBM is now like General Motors in its decline. It is so huge and has such a famous name, and is such a part of our lives one way or the other (at least our investing lives), that it is easy for investors to deny the reality of the downward evolution of the company's business prospects and finances. It took GM many years to go bankrupt; note I am not predicting any particular path for IBM's business or stock. But this is what happened some decades ago to GM, and it never really came back.
In a big picture sense, as I personally sense it, IBM no longer acts like a winner. It looks more like a loser (though who can be sure?), as it did after it ceded control of Microsoft (NASDAQ:MSFT) and Intel (NASDAQ:INTC) in the early '80s and then began losing its mojo to PCs, Apple (NASDAQ:AAPL), DEC and others. Its most famous outside financial backer, Warren Buffett, famously said during the first tech bubble that he didn't "get" technology. Perhaps he "gets" it now-- only the lean, mean and paranoid survive. But it seems that's no longer the IBM way- perhaps excepting workforce reductions.
Oracle (NYSE:ORCL), which I wrote favorably about after its earnings report, was recently reported to have passed IBM in software presence to become #2 globally. Oracle's mature database business may not be growing much anymore, but it is a cash cow that Oracle defends ferociously. Meanwhile, IBM's hardware business is a total mess. This is a mind-boggling thought. What would you think if Disney (NYSE:DIS) theme parks were surpassed by Six Flags (NYSE:SIX)? It's simply unthinkable. But IBM has let it happen.
Competition in services is growing. Accenture (NYSE:ACN) recently reported quarterly earnings and is also having difficulty growing revenues. Business conditions are tough, yet IBM's major response is to buy back stock, fueled by debt. Higher EPS by a few pennies a share due to a high-powered QE-fueled buyback program provides no competitive advantage for its salespeople.
Regarding IBM's push into the cloud, it looks like too little, too late. IBM is a services company now, with a profitable financing arm. As a services company, it "should" participate in the modest inflation that central banks have engineered. But, the services business has turned into a very tough one. If an investor wants one such company in his/her portfolio, Accenture does fill the bill. Accenture is not burdened with legacy Big Iron that is sinking through the foundation into the muck below. ACN is seeing rising earnings estimates for this fiscal year and next. This is not true of IBM.
IBM's legacy core business of mainframes appears to be dying, and IBM's response is to continually cut research and development expenses and devote its cash flow to shrinking shares outstanding to meet its 5-year plan for a number called earnings per share. Meanwhile in the real world, very young people in California and elsewhere are starting with nothing but an idea and ending up with companies that are changing our lives. Think of Facebook (NASDAQ:FB), Twitter (NYSE:TWTR), and of course Google (GOOG, GOOGL), and somewhat older ones such as Qualcomm (NASDAQ:QCOM). Does GOOGL obsess about EPS? No. Does Mark Zuckerberg? No. Neither do their shareholders. They have a vision of changing the world, and they know that success is guaranteed to bring gigantic rewards. For them, success is all about investment. I am not putting Amazon.com (NASDAQ:AMZN) in with them; profits are the eventual point, and it is not clear that this is Amazon's goal.
Meanwhile, IBM stretches to find ways to call layoffs something more antiseptic and came up with "workforce rebalancing." Sorry, it's simple. IBM grossly misjudged its future business success and is paying the price for over-hiring. Meanwhile, Google is hiring, Facebook is hiring, Apple is hiring, even Yahoo! is hiring. Railcar manufacturers are hiring. Chemical manufacturers are hiring. Yet IBM in just this past quarter lost $870 million in severance costs. This was on top of heavy expenses for the same thing in the past two years.
IBM is so large and diverse that it will always have some area of growth to point to. It is not about to go bankrupt. It operates in secular growth areas. However, a careful reading of its results the past several quarters shows that it has many challenges. These challenges are both geographic and segmental within more than just one operating division. The problems began under Mr. Palmisano and have continued and perhaps worsened under Ms. Rometty.
On a trading basis, my sense is that IBM can thank the Fed for whatever resilience the stock has had the past year and a half. Borrowing money to buy back stock has remained dirt cheap, and the huge stock market rally since fall 2012 has provided a fortunate tailwind. With QE winding down and IBM's operations looking poor compared with those of many companies operating both in information technology and in other industries, the new money case for IBM turns to a large extent simply on price and relative cheapness to other stocks. When this happens and the stock chart is constructive, it is often wise for long-time holders of the stock to at least lighten up and be grateful for a buoyant market with historically high valuations. Better to pay tax on a large gain than to lose a good part of the gain. (Or consider selling an out-of-the-money covered call.)
Where might IBM bottom if it does re-enter its own bear market? I would hypothesize $130-$135 or so based on the chart and on the price:sales ratio, but this would possibly be occurring in the setting of a general bear or weak market, so who knows what selling pressure the market as a whole could see. My basic answer is that based on every fundamental metric, IBM stock can easily trade much lower every day that true operating improvement is not seen.
IBM insiders are eager to sell their options and not hold the stock. Investors in the stock may wish to emulate those who know the company's prospects better than anyone.
I'd love to see IBM turn matters around and begin growing sales with a slew of important, innovative products, but that's emotional. In the real world, the company has run out of time from my standpoint. Companies that underperform in a bull market often underperform if the bull turns to a bear.
I'm not an IBM shareholder, but if I were, I would very much consider selling at least some of my holding, even if paying taxes to Uncle Sam were a result. In the fullness of time, will IBM sink, swim or tread water? There is no way to know, but when a company as storied and proud (arrogant?) as IBM persistently lags operationally and lays off (fires) large amounts of its workforce, the warning signs are unmistakable. Any stock is unpredictable, and we're still in a bull market until proven otherwise, but when a company as large and sophisticated as IBM cannot even provide a simple, comprehensible answer to an apparent lowering of guidance compared with three months earlier, something is wrong in Armonk.
Disclosure: I am long ORCL, QCOM, YHOO. I wrote this article myself, and it expresses my own opinions. I am not receiving compensation for it (other than from Seeking Alpha). I have no business relationship with any company whose stock is mentioned in this article.
Disclaimer: Not investment advice. I am not an investment adviser. I am also not a short-seller and am not working with any short-seller (or buyer of put options, etc.) I write bullishly on many stocks and occasionally am motivated to write bearishly on a few.