Investors should look at the whole picture for AMD beyond the current quarter. With Advanced Micro Devices' (NASDAQ:AMD) Quarterly Earnings Report for Q1 2014, many investors may be nervous or anxious not knowing what to expect. AMD had beaten analyst estimates previously, but stock prices still tumbled due to fear of a stagnating PC market. What should investors expect this time for earnings?
Looking at historical trends, there's clear indication that AMD is showing a turnaround in revenue and profitability. Revenue had been rapidly declining from $6.6B in 2011 to $5.3B in 2013. However, if you look at the quarterly chart below, the turning point was around the middle of 2013, when AMD started shipping console chips. If the revenue continues through 2H of 2014, and AMD will achieve. AMD's CEO, Rory Read, expected the profitability trend to continue for 2014. You can read more about that here for information about the stabilizing PC market and high demand for GPUs and consoles.

Source: YChart
How did AMD Achieve profitability?
What AMD did was trade gross margins for revenue and net margin (chart below). You can see the large increases in revenue from Q2 to Q3 resulted in a loss of 4% in gross margin. The trend continued in Q4, where revenue increased another 9%, but gross margin declined 1%. This was due entirely to console chips being high volume, low gross margin, and high net margin. AMD did not follow the traditional licensing royalty payments for this next generation of consoles. They sell directly to the Sony (NYSE:SNE) and Microsoft (NASDAQ:MSFT). There's no marketing or sales expense needed. AMD is shipping these chips from their producer to their clients. The only expenses are logistics and warehousing, which are very low.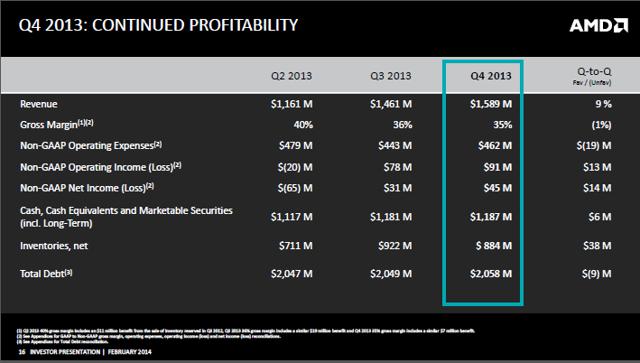 Source: AMD
Can we count on consoles for Q1?
According to VGChartz, who closely monitor videogame hardware/software sales on a weekly basis, console sales for next generation consoles continue to stay strong, with PS4 sales being better than expected. As of April 5th, over 4M next generation consoles (PS4 & XB1) have been sold in 2014. AMD is also collecting royalties for every Xbox360 and WiiU sold.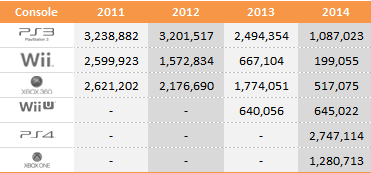 Source: VGChartz
Can we count on consoles for 2014 and beyond?
According to sales data of previous set top box consoles, sales are very consistent throughout the life of consoles. If you look at Xbox360 and PS3 sales from 2006 and beyond, it is very linear. The initial low volume during launch year is offset by higher ASP. Sales of Xbox One and PS4 should follow the same pattern and be very predictable.

According to Wedbush, worldwide console sales of PS4 and XB1 are expected to be over 20M units combined. This chart does not take into account recent news of the Chinese market opening up to consoles. Microsoft is reported to be launching its XB1 console in China this July, expecting to sell at least 100k units.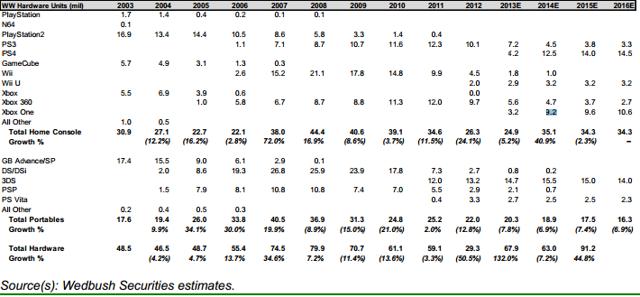 Source: Wedbush
With the current high demand and sales volume of consoles, we can expect an even better holiday season. Historically, console sales during October through December are 3 times higher than the rest of the year. Q4 2013 had massive supply shortage for consoles. I expect Q4 2014 to do much better.

Source: VGChartz
Debt and liquidity
AMD had $1.2B in cash for Q4 and will be looking at around $1B in cash for Q1 after they paid $200M for wafer agreement with Global Foundries. The high level of cash available makes AMD less risky to fluctuations in the market demand.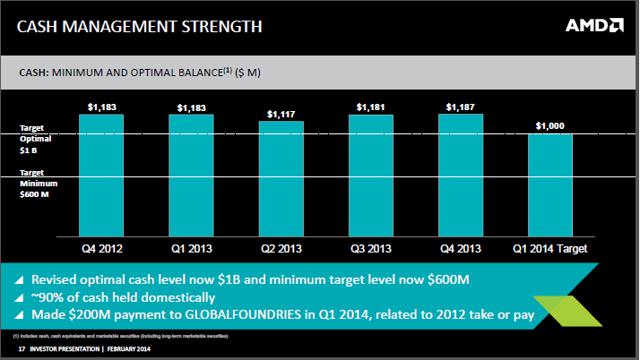 Source: AMD
Over half of AMD's debt is long-term (5+ years). Their cash for Q1 is estimated at $1B. There's nothing indicating AMD would have problems funding its current operations or paying its current liabilities.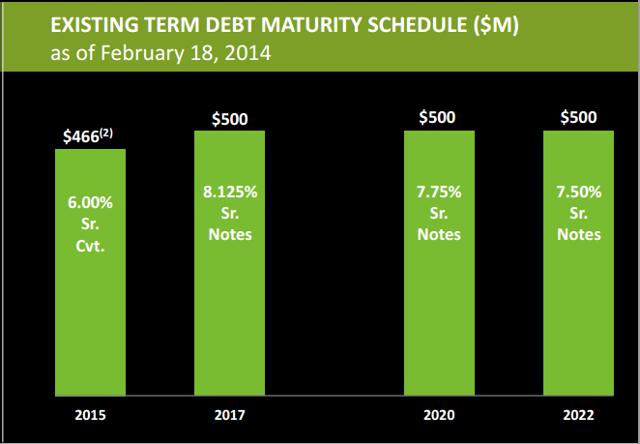 Source: AMD
Update: AMD's debt due in 2015 and 2017 is pushed back to 2017 and 2019 respectively. The aggregate outstanding principal amounts due in 2017 and 2019 will be $452M and $500M respectively. Credit to Justin Jaynes for catching my mistake.
What else to expect for 2014?
Many of us may remember the this slide about transforming AMD's business to high growth areas. AMD achieved their goal of 30% for 2013. The goal is 50% by 2015, but 2014 is missing. That is because the major catalyst for 2014 is dense servers. It won't hit volume sales until late 2014 or early 2015.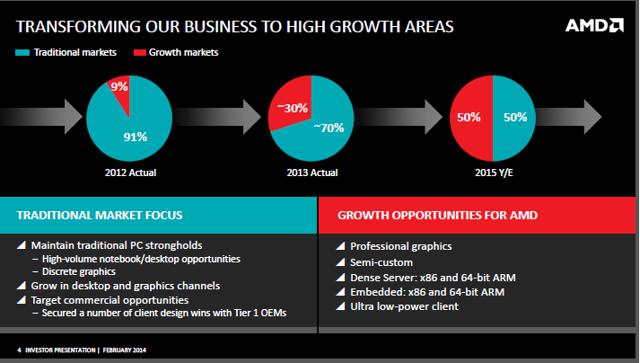 Source: AMD
AMD is putting its acquisition of SeaMicro to boost its relevance in the server market. There's not much competition with Intel (NASDAQ:INTC), which should give AMD a better chance of acquiring market share. Their largest customer right now is Verizon (NYSE:VZ).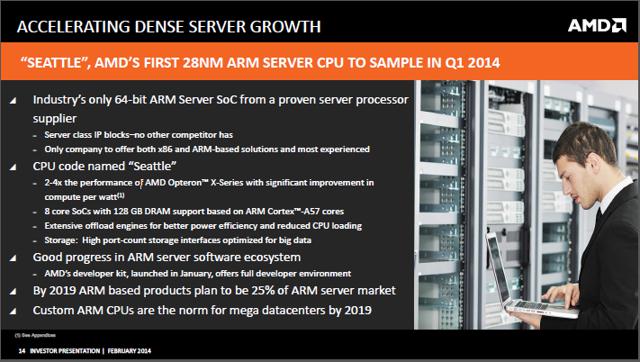 Verizon's cloud service is now in beta. You can request a beta invite at no charge through May 2014 to test out the technology. Verizon called it an Innovative New Architecture.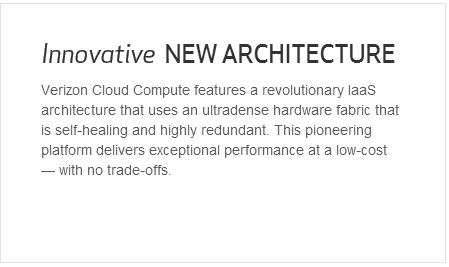 Source: Verizon
There are several sources that talked about the advantages of the new Verizon cloud services. You can find them here, here, here and here. Currently, Verizon only deployed this within data centers in Culpeper, Va. By mid-2014, Verizon will expand their new servers in Amsterdam, London and Sao Paolo.
AMD should see increased revenue in 2014 from Verizon. However, it is not a large amount until Verizon is out of beta mode. I don't foresee this happening until late 2014 or even 2015. This is probably why AMD's goal of 50% in high growth areas is by the end of 2015.
For 2014, high growth markets will still primarily be from consoles. I would expect around 35% of revenue would be from high growth areas in 2014. I based this on current demand of consoles and Wedbush's 2014 projections of about 21M PS4 and XB1. This is assuming ASP of $100 for the APU AMD supplied to Microsoft and Sony. AMD's revenue estimate for 2014 by 25 analysts is $5.75B.
21M X $100 = $2.1B
$2.1B/$5.75B = 36.5%
Just from their two main console deals alone, AMD's transformation plan will continue to gain traction in 2014.
Conclusion
AMD's current growth driver is consoles. It will have a bigger impact on their revenue in 2014 than 2013. Industry reports showed Windows XP upgrades are helping PC sales. Demand for consoles remained high; it is a long-term, consistent stream of revenue for the next several years. With China being in the mix in 2H 2014, we could see consoles sales beating Wedbush's projections of 21M next gen consoles.
Q1 is traditionally the worst quarter for AMD in terms of sales due to seasonality. A positive ER for AMD will set them up for a great start. If Q1 earnings are positive, we will see many analysts revising their estimates for 2014 earnings. It is currently averaging at 12 cents by 26 analysts. I believe AMD's share price will rise accordingly as more analysts take a more bullish stance.
Disclosure: I am long AMD. I wrote this article myself, and it expresses my own opinions. I am not receiving compensation for it (other than from Seeking Alpha). I have no business relationship with any company whose stock is mentioned in this article.