"In the first quarter we saw solid growth in the data center, signs of improvement in the PC business, and we shipped 5 million tablet processors, making strong progress on our goal of 40 million tablets for 2014,"

- Intel CEO Brian Krzanich
The market couldn't seem to make up its mind about how it wanted to trade Intel's (NASDAQ:INTC) earnings yesterday. In after hours Tuesday and pre market yesterday, the stock bounced all over the place, up over 5% at points. At one point, the stock was at its highest levels in years. When liquidity kicked in yesterday and the markets opened, the stock pared its gains.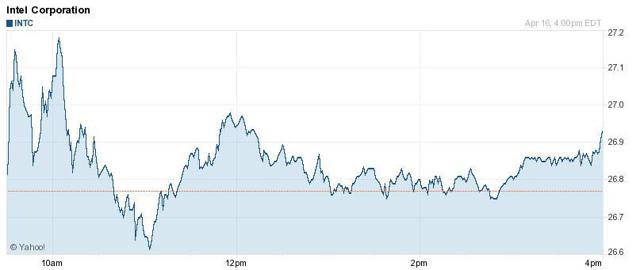 On Tuesday, Intel reported earnings of $0.38/share, beating the street's expectations by a penny. Revenue matched analyst expectations, coming in at $12.8 billion.
Of course, we know the vision for Intel now is to capitalize on the shift from PC to mobile and tablet. CEO Brian Krzanich disclosed in the company's call that Intel had shipped 5 million chips for tablets and had increased its foothold in the mobile market - extremely important information for Intel, whose vision for innovation is based on growth in this niche.
Krzanich has it all to do with tablets, still. His approach of relying on contra revenue to flex Intel's strength and seriousness about getting ahead in tablet & mobile seems to be one that shareholders are alright with.
Worldwide PC shipments continued to fall off - although it's still widely held that the PC market has bottomed. Chip revenue from PC sales continued to be Intel's primary breadwinner, posting $7.9 billion in revenue, which was down 1% from the same quarter the year prior.
Seeking Alpha reported:
Intel expects Q2 revenue of $12.5B-$13.5B vs. a $12.96B consensus. Full-year guidance for flat revenue growth (compares with a consensus for 0.8% growth) and capex of $10.5B-$11.5B is reiterated.
Q1 gross margin was 59.7%, -230 bps Q/Q and +350 bps Y/Y, and above a guidance midpoint of 59%. GM is expected to rise to 63% (+/- 2%) in Q2, and full-year GM guidance has been raised 100 bps to 61% (+/- a few percentage points).
Full-year R&D/MG&A spending guidance has been raised by $300M to $18.7B-$19.1B. While revenue rose just 1.7% Y/Y in Q1, opex rose 12% to $5.09B.
$545M was spent on buybacks, up from $528M in Q4.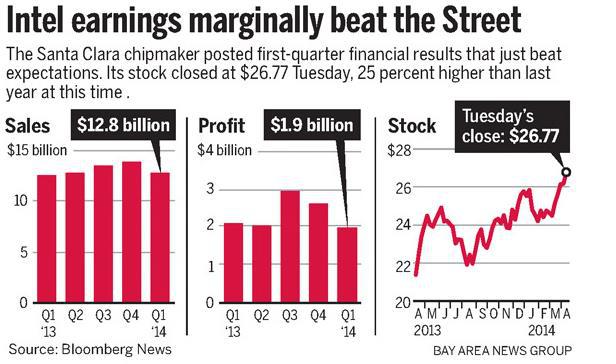 The company attributed its bullish forecast for the coming quarter on lower 14nm costs (finally) associated with higher volumes of the 14nm set.
In addition to that, we got our first look at Intel's new reporting structure that they announced a week or so prior to earnings. It's inclusive of the following groups (from Intel.com):
PC Client Group (PCCG): PCCG will now include the results of our gateway and set-top box business, previously reported as the Service Provider Group within the other Intel architecture (Other IA) operating segments.
Data Center Group (DCG): DCG will now include the communications infrastructure portion of the Intelligent Systems Group, which had been previously reported in the Other IA operating segments.
Internet of Things Group (OTC:IOTG): The newly formed IOTG includes the embedded portion of the Intelligent Systems Group. Wind River Software Group (Wind River) will also transfer from the software and services operating segments to be part of the newly formed IOTG.
Mobile and Communications Group (MCG): MCG includes the Phone Group, the Tablet Group and Multi-Comm, all previously part of the Other IA operating segments.
Software and services operating segments: The software and services operating segments will reflect the removal of Wind River. McAfee, Inc. (McAfee) and the Software and Services1 Group will continue to be part of the aggregated software and services operating segments.
All Other: All other will now include the remaining components of the Other IA operating segments, specifically: New Devices Group and Netbook Group. All other will continue to include Non-Volatile Memory (NVM) and Corporate.
Analyst action as a result of earnings was generally positive - there were 11 price target increases and analysts generally have a positive sentiment behind the company.
Options traders got this one wrong, as the main headline heading into earnings was the amount of $26 calls sold heading into the report.
The Internet of Things group, which will likely be one of the fastest growers in coming quarters, totaled $485 million in revenue, up 32% from the same quarter in the year prior. This is an area where I'm anticipating serious growth as the focus continues to move towards the consumer's home ecosystem; inclusive of personal appliances and vehicles, all linked into the consumer operating system that exists on phone, tablet, and PC.
This is an area where Intel is also predicting significant growth - the question isn't going to be whether or not this evolution is going to happen - it is - it's going to be how Intel is positioned for it.
If Intel can execute in this new niche, while continuing its foothold in mobile, and the PC market finally "officially" bottoms (read: stops declining) - it could be sunny days ahead for Intel.
I recently sold my position in Intel, but should it continue to pull back a bit, or in the midst of a macro market pullback that negatively effects how Intel trades, the time could be right again to enter - only this time, I'd likely split my position between long dated calls and the equity to try and get a tiny bit more aggressive with my growth strategy.
You know, in honor of Krzanich's strategy for Intel.
Best of luck to all investors.
Disclosure: I have no positions in any stocks mentioned, but may initiate a long position in INTC over the next 72 hours. I wrote this article myself, and it expresses my own opinions. I am not receiving compensation for it (other than from Seeking Alpha). I have no business relationship with any company whose stock is mentioned in this article.