On April 1st of this year, new Canadian regulations opened up the supply of medical marijuana to licensed large scale growers. Since then, a number of public companies have expressed an intent to enter the business. One such company is Medican (OTCQB:MDCN), a corporation based in Las Vegas, Nevada which was, until last September, a shell corporation, doing no business.
In January this year Medican announced that it would be entering the medical marijuana industry and signed an agreement with International Herbs Ltd. and LFG Advisory and Accounting whereby those companies would assist Medican in obtaining a marijuana growing license in Canada. International Herbs is a Canadian company which imports herbs, and which has applied for a license to grow medical marijuana. LFG is a company which provides business advisory and accounting services. Immediately after the announcement, the share price jumped from about 30 cents to $1.50 on relatively heavy trading.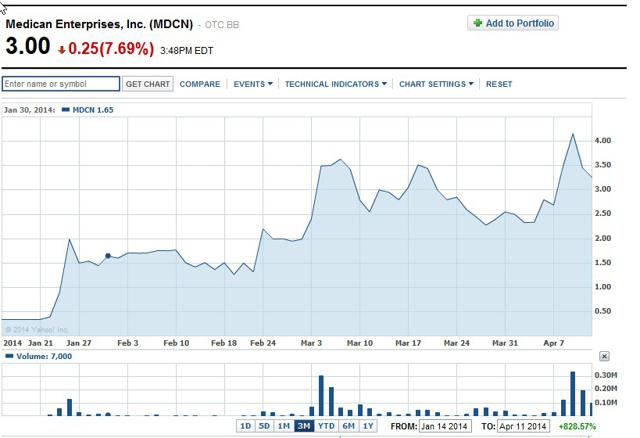 A second announcement in March confirmed a management services agreement with International Herbs and LFG. On March 26th, the company announced that it had signed a letter of intent to purchase 50% of International Herbs Medical Marijuana Ltd, a subsidiary company of International Herbs. IHMML is the company that has applied to Health Canada for a growing license.
That Letter of Intent has now become a Definitive Purchase Agreement. Under the terms of the agreement, Medican will pay $52,000,000 (Canadian) to IHMML and will issue 6,000,000 share purchase warrants at a strike price of $2.86 to the existing shareholders of IHMML.
The $52,000,000 will be used to purchase and fit out a 400,000 sq.ft. building in Atholville, New Brunswick to become a medical marijuana growing facility. The company also has an option to purchase another 300,000 sq.ft. facility in Poekmouche, New Brunswick.
As of the date of its last financial filings (Dec 31st, 2013), Medican had no cash, or cash equivalents. A recent private placement has raised just over $1 million and a number of warrants have been issued at strike prices well below the current share price. Exercising of those warrants would bring in another $1.1 million. However, it is not clear yet, what will be the source of the $52 million payment for the shares of IHMML, due in installments from April to October of this year.
The marijuana produced at the facility, located in New Brunswick will be marketed under the trade name Zenabis. A website promoting the product is already active, and the company is trying to sign up patients, even though it will be at least a year before any of the product is available.
Is Medican about to become a Pot of Gold, or are investors chasing rainbows?
At first glance, Medican's proposal to build what will be one of the largest medical marijuana growing facilities in the country looks quite attractive. Assuming an average selling price of $7/g, they can produce 60,000 kg/yr in the 400,000 sq. ft. facility which will give them an annual revenue of $420,000,000. Growing costs, even with the extra costs required to comply with the pharmaceutical standards should not exceed $2/g., leaving a gross profit of $300,000,000.
Allowing for 30% overheads for marketing, general admin., amortization etc, this would leave a healthy $200,000,000 per year profit before tax (Approx. $130,000,000 CDN after tax, equal to $117 million USD). Medican will own 50%.
EDGAR lists Medican's market cap as $79.5 million. However, recent issues have increased the number of shares outstanding, so the market cap is now closer to $120 million. Add in the $47 million (US) they will have to raise to finance the acquisition of 50% of IHMML, and you have an enterprise value of $166 million. An EV/Earnings ratio of just over 2.8 in any industry is fantastic value. In an industry that is expected to grow at 26% per year or more, it is incredible.
Let's take a look at the downside:
Market Demand
The existing market for medical marijuana in Canada is about 40,000 patients. Daily usage per patient varies widely, and firm statistics not readily available. However, Health Canada, in 2007 was advocating that doctors do not prescribe more than 5 g/day and was suggesting that typical doses in the range of 1 to 3 g/day would be appropriate (the doses refer to dried marijuana). At that time the number of patients using more than 5 g/day was about 15% of the total. I estimate the market at 30,000 to 60,000 kg/yr, or an average of 2 to 4 g/day/patient.
Amongst the 2 million or so unlicensed users in Canada, there are about 400,000 who claim that they use marijuana for medical purposes, but do not do so legally. The number of users should increase under the new regulations because the criteria for use have been relaxed, and patients can now get a prescription from any doctor whereas in the past they had to visit a specialist. Health Canada itself predicts that the number of patients will increase tenfold by 2024, equivalent to a compound growth rate of 26%. Their forecast is for a $1.3 billion market by 2024, with some lowering of prices expected as a result of increasing competition.
However, the rate of growth will still depend very much on acceptance by doctors, many of whom are cautious and conservative in their approach to new medicines. The Canadian Medical Association has spoken out against the new regulations, citing the lack of conclusive research as to the effectiveness of the drug, and a lack of guidance with regard to appropriate dosage.
The other major factor which will limit use is affordability. Very few Canadians can afford to spend $7,000/year on medications.
Market Supply
Only growers who hold an MMPR license issued by Health Canada will be able to legally grow marijuana in Canada. A list of the 12 companies with licences is published on the Health Canada website.
Those companies include experienced medical marijuana growers, including existing suppliers to Health Canada and Netherlands-based medical marijuana supplier, Bedrocan. They range in size from small family run businesses to large commercial scale operations. The largest is Tweed Inc., which has 150,000 sq.ft of growing area in an old Hershey's chocolate factory in Smith's Falls, Ontario.
All of the licensed growers are privately held corporations, except for Tweed which recently went public and lists on the TSX venture exchange with the symbol TSD.
All of the licensed companies will be growing a range of different strains with different THC and Cannabidiol concentrations. Some have only four products, others have as many as 33. Some of the growers have product immediately available, others are in the process of growing their first batches and won't have product until later in the year. Bedrocan is proposing to supply from the Netherlands at first, and will not start up its Canadian growing operation until 2015.
Based on a review of the websites of these companies, and the claimed size of their facilities, I have estimated that if they were all operating at full capacity, they would be able to provide up to 80,000 kg/year of dried marijuana.
To estimate the capacity of a particular operation I have used a figure of 200g./sq.ft/yr, and assumed that 67% of the building area is usable growing space.
Prices range from $4.50 to $12/g with many of the suppliers offering discounts of 30 to 50% to low income users. Because many users are suffering from chronic illnesses, it is reasonable to assume that the proportion of people qualifying for these discounts will be relatively high and average selling prices will be at the low end of the quoted price ranges.
In addition to the 12 licensed growers, there are a number of companies that claim to be in the final stages of their application and can be expected to join the list of licensees within the next year. The following table lists companies that have received approval to build, and are close to completion of their facilities (capacity is the estimated number of patients that could be served by a facility of the size proposed by each of the companies):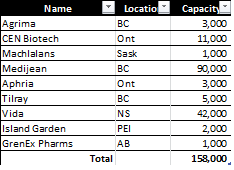 Medican's proposed facility will add another 60,000 kg/yr. to an already overcrowded marketplace.
Licensed growing capacity is already at twice the level of demand, and is likely to be at seven or eight times demand when the above facilities are completed. There are probably others that are not listed here, so I am very likely underestimating the capacity of the supply chain.
In addition, Health Canada is currently processing 454 license applications, and is receiving another 25 every week. It is important to note that Health Canada states clearly in the FAQ section of its website that there is no limit to the number applications it will approve. The regulations are primarily focused on security, quality and traceability of sales. Although the application process is time consuming and involves a level of risk, in that the facility has been built prior to final inspection and approval, it is not intended to be a supply management tool, and is not an insurmountable barrier to entry into the industry.
Another uncertainty in the industry is a court decision last month which allows the continuation of licensed home growing until a case can be heard and the situation resolved. This will probably take a year or more. This significantly reduces the size of the market, at least temporarily, because approximately 75% of the existing patients were getting their medication from home grown sources, and many will continue to do so until they are forced to buy from the licensed producers.
Growers can only sell directly to patients, or to other licensed growers. There are no distributors or dispensaries. Every patient has to register with the grower and submit documentation from a doctor. Effective marketing, signing up new patients and keeping those patients will be the key drivers to success in a market which will at first, be operating at less than half its capacity, and will probably remain oversupplied until some of the participants go out of business. Latecomers to the party are at a distinct disadvantage, because once a patient has signed up with a supplier, he is more or less stuck with that supplier until his doctor's prescription expires (usually a year).
Key Risks
The risk that competition in the marketplace will severely limit sales, and drive down prices is very real.
The grower license may not be granted.
Medican has does not have enough cash to finance its business plan. The source of funds for the acquisition of IHMML is not clear. It is possible that a financing deal will require issuing new shares and/or warrants which will dilute the stock. A private placement in March was valued at only 30 cents per share, at a time when the market price was between $2 and $3 per share. If that kind of discount is necessary to raise funds, the share dilution could be quite drastic. The number of approved shares was recently doubled to 100 million.
The available float is limited and the share price could be easily manipulated. The company may pull out after selling shares to the public. (Reference the recent events around Growlife (OTC:OTCQB:PHOT) and Creative Edge Nutrition (OTCPK:OTC:FITX). )
Conclusion
If you must invest in this industry, wait for the hype to die down. An announcement that a company has submitted the 15 page application form and intends to join the long queue of license applicants is worthless. An announcement that a company has signed up a few thousand patients would be more useful to an investor, but so far there have been no such announcements.
Wait until some of the companies have produced income statements and balance sheets. Then invest in the ones that are profitable and are likely to become consolidators as the industry moves from dozens of small players to a handful of larger players. There is plenty of time to cash in on the projected 26% per year growth, and to catch the big boost if the stuff ever becomes legal for recreational use.
Disclosure: I have no positions in any stocks mentioned, and no plans to initiate any positions within the next 72 hours. I wrote this article myself, and it expresses my own opinions. I am not receiving compensation for it (other than from Seeking Alpha). I have no business relationship with any company whose stock is mentioned in this article.