(Editor's Note: Investors should be aware of the risks in trading illiquid securities such as BNTGF and BNTGY. Brenntag's listings in Europe under BNR can offer improved liquidity.)
Business and history
With its 5.9% share of the global chemical distribution business, Brenntag (OTCPK:BNTGF) (OTCPK:BNTGY) is the global market leader. The company links chemical manufacturers and chemical users, and offers over 10,000 products to approximately 170,000 customers.
Brenntag entered into the chemical distribution business in 1912, expanded beyond its home country Germany in 1966, and entered the U.S. market in the early 1970s. In the following decade, Brenntag expanded within Europe through acquisitions and joint ventures. By acquiring Holland Chemical International in 2000, the company became a market leader in Latin America. In late 2008, Brenntag opened its first distribution presence in the Asia-Pacific region, which was further expanded through the acquisitions of EAC Industrial Ingredients Ltd. and Zhong Yung Chemical Ltd.
The advantages of scale
The major chemical industries don't provide the same extensive choice and services offered as Brenntag. The company offers more than just chemical products: Brenntag purchases large-scale quantities of industrial and specialty chemicals from various suppliers, enabling the company to achieve economies of scale, and offers to its customers a full-line range of chemical products and value-added services, such as just-in-time delivery, product mixing, blending, repackaging, inventory management, drum return handling, technical and laboratory services for specialty chemicals.
The following charts from a company presentation illustrate the value-adding function of the chemical distributor: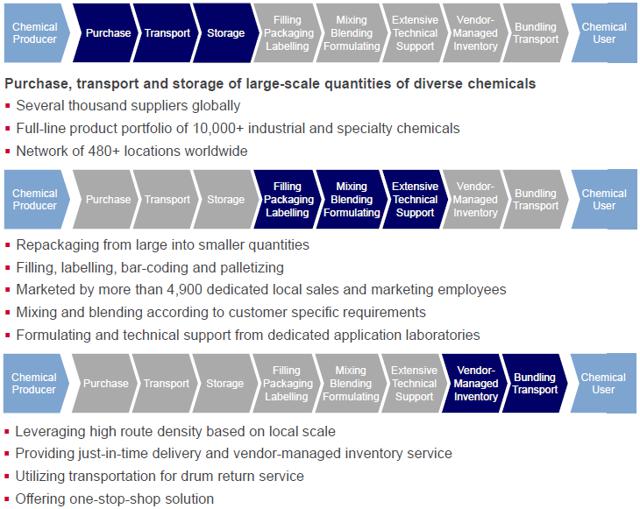 Brenntag stores the products it buys from thousands of large and small manufacturers all over the world, packs them into the quantities required by customers, manages regulatory and safety issues, and delivers the packages, with an average delivery value just below $3,000. It wouldn't make any sense for Brenntag's customers to cut out the distributor for such small-sized deliveries, as single chemical manufacturers typically don't offer all products they need, don't offer remixed or blended small-sized packages, and can't guarantee just-in time delivery because they don't have a distribution site nearby. Moreover, by repackaging, labeling, palletizing, mixing according to specific customer requirements, Brenntag's services become integrated parts of the customer's production process, making them difficult to substitute. We also have to keep in mind that we are talking about chemicals: the absolute respect of safety and environmental regulations is paramount. With its track record of over a century, Brenntag has certainly demonstrated to be up to the task.
A look into the future
Being highly diversified among industries and geographies makes the company largely independent from the volatility of any single specific market segment or region.
Brenntag is by far the largest distributor in Europe and Latin America, and among the Top 3 in all other regions. Interestingly, the chemicals distribution business is still highly fragmented, with over 10,000 smaller players as potential consolidation targets.
All in all, it's not hard to imagine Brenntag's future: As the strongest player worldwide (25% larger than its closest competitor, Univar) in a growing market, the company has greater bargaining power when it purchases its goods, and less expenses when it distributes these goods, thanks to a closer-knit network of distribution centres (480+ worldwide) and a lower proportion of fixed costs. Hence, at one end of the value chain, Brenntag will be able to offer more and better value-added services at a lower cost, building even more sticky relationships to its customers, while at the other end of the value chain, it will become more and more indispensable for its suppliers and gain even more bargaining power. This should translate into strong competitive advantages and make it very tough to stay in the game for smaller players. Therefore, over time, Brenntag should be able to further expand its distribution network by acquiring smaller competitors.
Antifragility
Especially when markets get tough, Brenntag's strengths should become more evident, which gives the company some of the characteristics of what Nassim Taleb calls "antifragility," and makes the stock an interesting pick for investors that generally shun volatility.
In my article "The Portfolio for Early Retirees", I have commented on why I consider "antifragile" businesses to be a smart choice for retired investors:
"Antifragile" is a concept developed by Nassim Taleb and characterizes objects that actually benefit from being subjected to stress. Not only do they resist, they even benefit. Applied to businesses, this means that there are companies that can profit from recessions, stock market panics or general disorder. As retirees basically depend more on a stable economic environment than other people, investing in antifragile businesses can be a smart way to manage this problem.
Moreover, Brenntag should also provide more than decent inflation protection, as price increases generally are simply passed through to its customers.
Financials
Gross profit has grown steadily over the past decade, with only a slight reduction during the great recession: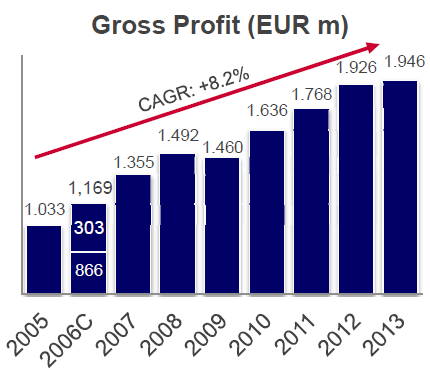 Over the same period, margins have increased almost as steadily:
| | | | | | | | | | |
| --- | --- | --- | --- | --- | --- | --- | --- | --- | --- |
| (€ millions) | 2005 | 2006 | 2007 | 2008 | 2009 | 2010 | 2011 | 2012 | 2013 |
| Sales | 4,991 | 5,958 | 6,671 | 7,380 | 6,365 | 7,649 | 8,679 | 9,690 | 9,770 |
| EBITDA | 254 | 331 | 408 | 481 | 477 | 598 | 659 | 707 | 697 |
| EBITDA/Sales margin | 5.09% | 5.56% | 6.12% | 6.52% | 7.49% | 7.82% | 7.59% | 7.30% | 7.13% |
If we exclude costs of supplies and compare EBITDA to gross profit, the picture becomes even clearer: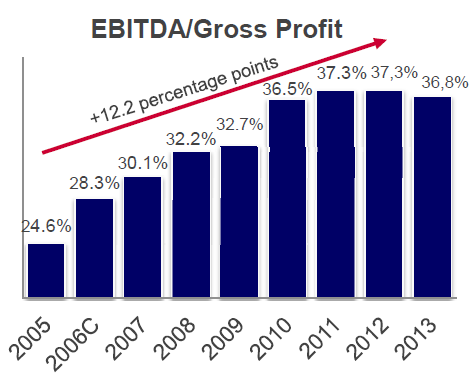 These figures seem to confirm our thesis that sales growth and further expansion of the distribution network will likely result in increasing profit margins.
Brenntag has little net debt...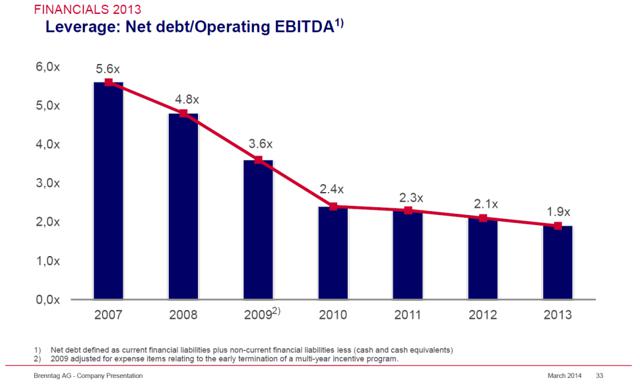 … and a clear dividend policy in place: "It is Brenntag's declared policy to pay an annual dividend of 30 % to 45 % of its consolidated profit after tax attributable to shareholders of Brenntag AG" (Annual Report 2013). Since it has been floated in 2010, the company has increased its dividend every year.
Diversification among geographies, end-markets, suppliers, customers, and products should continue to reduce volatility: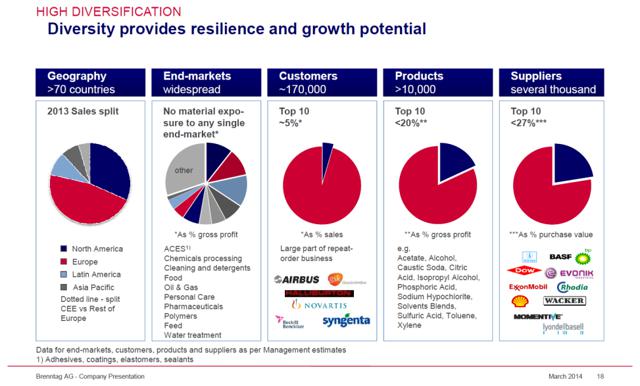 Analysts forecast the growth trajectory to continue its path of steady growth: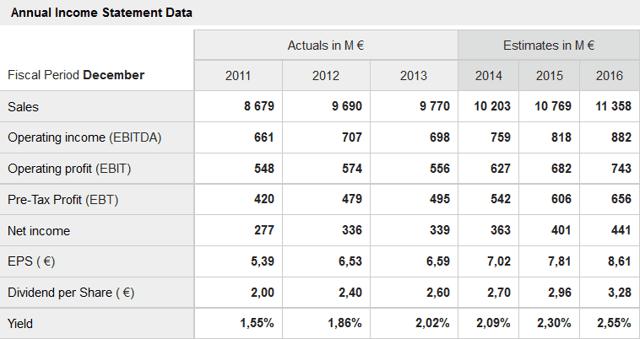 Valuation
Brenntag's resilient business model has not gone unnoticed. Since being floated in 2010, the company has more than doubled EPS and share price. Currently, Brenntag trades at about 18 times the consensus EPS expected for 2014, and yields about 2%. Considering the stable growth record and, most importantly, excellent future growth prospects thanks to a strongly growing chemical industry in the emerging markets and further industry consolidation, I would consider Brenntag to be about fairly valued at this point. Investors buying the stock at the current price should expect a total return of about 7-10%/year.
Where to trade
Brenntag trades with scarce liquidity on the OTC segment, under the ticker symbol BNTGF. There is also an unsponsored ADR under the ticker symbol BNTGY, representing 1/10th of an ordinary share each. Better liquidity is provided by German stock exchanges.
Resources for further analysis
Brenntag AG - Investor relations
Brenntag AG - Annual Report 2013
Brenntag AG - Investor presentation
Disclosure: I have no positions in any stocks mentioned, and no plans to initiate any positions within the next 72 hours. I wrote this article myself, and it expresses my own opinions. I am not receiving compensation for it (other than from Seeking Alpha). I have no business relationship with any company whose stock is mentioned in this article.