Consolidated Edison Inc. (NYSE:ED) is one of the largest investor-owned energy companies in the U.S. Consolidated Edison is a holding company that owns the Consolidated Edison of New York, "CECONY," a regulated utility providing electric, gas, and steam services in New York City and Westchester County, the Orange and Rockland Utilities, "O&R," a regulated utility, and the competitive energy businesses that sell electricity to retail customers. The company provides a wide range of products and services to its customers through its subsidiaries.
The Earnings are not Impressive, and the 2014 Outlook is Weak
In 2013, despite a slight increase in revenues, the net income faced a decline of 6.7% from 2012. The net income of $1,062 million, or $3.62 per share was lower than the net income of $1,138 million, or $3.88 per share in 2012. For the fourth quarter of 2013, the net income was $234 million, or $0.80 per share, compared with $207 million, or $0.71 per share in the fourth quarter of 2012. Earnings from ongoing operations for the fourth quarter of 2013 that exclude the net mark-to-market effects of the CEBs were $202 million, or $0.69 per share, compared to $203 million, or $0.69 per share in the fourth quarter of 2012.
In fiscal year 2013, the company's performance remained mixed in different business segments. CECONY's electric operating revenues decreased by $45 million compared to 2012, primarily due to lower net revenues from the electric rate plan. CECONY's electric delivery service volumes also decreased 0.5% during 2013. Higher purchase power and fuel costs further squeezed the operating income by $98 million from 2012. However, CECONY's gas business did well, and operating revenues increased $201 million in 2013, primarily due to an increase in gas purchased for resale and higher revenues from the gas rate plan. Healthy increase in revenues and comparatively lower costs allowed the operating income to increase by $16 million. Due to favorable weather conditions and favorable steam rate plans, CECONY's steam revenues increased by $87 million, and this resulted in a healthy operating income increase of $49 million in 2013.
The outlook for fiscal year 2014 remains weak, as the company expects earnings in the range of $3.65 to $3.85. If the company manages to beat its earnings estimates, on average, there will be lower single-digit growth of around 3.8% compared to the earnings of 2013. The company will start its three-year capital program 2014-2016. The investment will be spent on the regulated utilities business. In 2014, out of total investment, $2,223 million will used by Con Edison of New York to improve and increase electric and gas generation capacity. Similarly, in 2015 and 2016, the company plans to spend $2,481 million and $2,347 million respectively. However, this program is much smaller compared to Southern Company's (NYSE:SO) capital investment plan of $15.9 billion over the same period.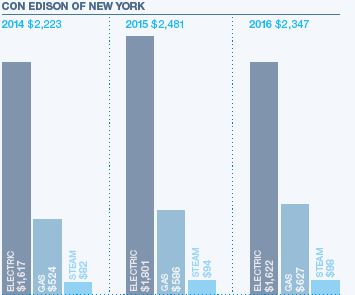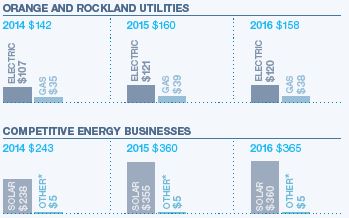 Source: Annual Report 2013
Industry at a Glance and Recent Solar Projects
According to the Energy Information Administration, or "EIA", total energy usage in the U.S. will increase to 106.3 quadrillion Btu in 2040 from 95 quadrillion Btu in 2012. The industrial sector's demand will increase higher than the commercial sector. Demand for energy from the industrial sector is expected to increase 25.5%, and the commercial sector is set to improve by 18.6% year-over-year. Due to environmental footprints, utility companies are shifting their energy generation mix mostly towards natural gas power generation.
The electric consumption in the U.S. will increase from 3,826 billion KW hours in 2012 to 4,954 billion KW hours in 2040, implying an average annual increase of 0.9%. For fuel type energy generation, renewables and natural gas will play an increasing role, while coal and nuclear power will gradually fall out of favor. The coal-fired power generation fell from 310 GW in 2012 to 262 GW in 2040, and this decline is a function of greater dependence on natural gas, usage of alternate energy sources, and stricter regulations.
Consolidated Edison is expanding its solar capacity through its recent collaboration with Sempra Energy (NYSE:SRE). Both companies entered into a joint ownership agreement of five solar projects in California and Nevada. Together, all the facilities will have a power-generating capacity of 360 MW, and have been sold under long-term power purchase agreements. The company is focused on energy efficiency initiatives, and is also aggressively pursuing an oil-to-gas conversion program that will lower costs and improve air quality.
Earnings Estimates and Better Dividend Profile
Although the earnings per share declined in 2013, Consolidated Edison increased its payout ratio to 68% from 62%, and the dividend per share of $2.46 increased from $2.42 per share in 2013. The investors might not be happy with the previous increase, so recently, the company increased the annual dividend by 6 cents from the previous annualized dividend of $2.46 per share. On the positive side, Consolidated Edison's stock has one of the highest dividend yields amongst other utility stocks.

Source: Nasdaq
Analysts expect slow earnings growth over the next few years. Consensus forecasts an EPS of $3.73, or a 3% increase for fiscal year 2014 compared to 2013. The earnings per share are expected to grow at a CARG of 2.7% between 2014 and 2017. Over the last five years, Consolidate Edison has maintained an average payout ratio of around 68%. Based on the consensus forecasted, earnings per share, and average payout ratio, the dividend for the next three years might be around $2.6316, $2.7268, and $2.7471 per share in 2015, 2016, and 2017, respectively.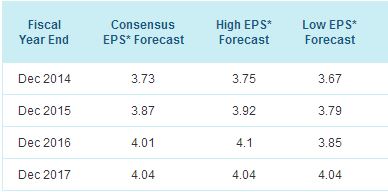 Source: Nasdaq
Conclusion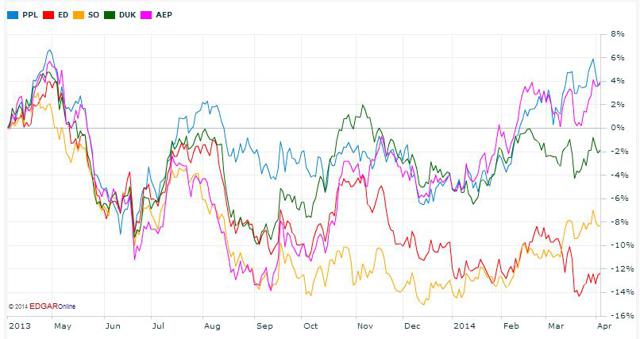 Source: Nasdaq
Consolidated Edison's share price slipped by 13% over the last twelve months, while in comparison, Southern Company declined by 9% and Duke Energy (NYSE:DUK) fell by 1%. In contrast, American Electric Power (NYSE:AEP) climbed 4% and PPL Corporation (NYSE:PPL) climbed 3.7% over the same period. In 2013, the company's top line growth remained in the lower single-digits and its earnings declined by 6.7%. The outlook for 2014 does not look quite good, as its bottom line growth will remain in the lower single-digits. Analysts estimate the next five years' growth will be 2.31% for Consolidated Edison. This is way lower than the utility sector growth of 5.73% over the same period. Apart from the current dividend profile of the company, other utility stocks with better growth prospects and better returns are good options to consider.
Disclosure: I have no positions in any stocks mentioned, and no plans to initiate any positions within the next 72 hours.
Business relationship disclosure: The article has been written by a Gemstone Equity Research research analyst. Gemstone Equity Research is not receiving compensation for it (other than from Seeking Alpha). Gemstone Equity Research has no business relationship with any company whose stock is mentioned in this article.