For the last several years, the market has found grocers selling fresh and organic food items very appealing. Whole Foods Market (WFM) has been a long-term winner and new entrants Sprouts Farmers Market (NASDAQ:SFM) and The Fresh Market (NASDAQ:TFM) got off to rousing valuations in the last couple of years. Even last week the restaurant chain of Zoes Kitchen (NYSE:ZOES) focused on fresh foods had a strong IPO in the midst of a weak stock market. On top of that, Farmland Partners (NYSE:FPI) raised $53 million to purchase and operate farmland. Currently though, investors have little investment opportunities in actually growing the fruit and vegetables so craved by the consumers of those stores.
Patriot Berry Farms (PBFI) is a new start-up focusing on acquiring berry farms with an initial target of gathering 1,000 to 2,000 acres of mature blueberry plantings under a single operation. The company will also consider strawberry and raspberry farms. Patriot Berry is only in start-up mode currently going through the first harvest from the initial farm. These initial harvest results and the ability to acquire more attractively priced berry farms is crucial to success.
Favorable economics and consumer trends towards higher consumption of berries place this company at the center of an attractive trend. The question is whether it can acquire enough farms to generate scale and create a very profitable berry farmer.
Blueberry Market
According to the Agricultural Marketing Resource Center, the U.S. is the largest producer of blueberries in the world. A total of 564.4 million pounds of cultivated and wild blueberries were harvested in 2012. Michigan is the nation's leading producer of cultivated blueberries with over 87 million pounds in 2012. The blueberry ranks as the second largest berry crop in the U.S. with the crop value exceeding $850 million in 2012.
Interestingly, the country is a big exporter of fresh blueberries during the summer months to Canada and Japan. The U.S. exports a large amount of frozen blueberries, as well. During the winter months though, the U.S. is a large importer of fresh blueberries to the tune of $420 million with a primary origination from Chile.
Due to surging consumption during the 2000s, the national per capita consumption surged from 0.26 pounds in 2000 to nearly 1.3 pounds per person in 2011. Big Picture Agriculture provides the following charts: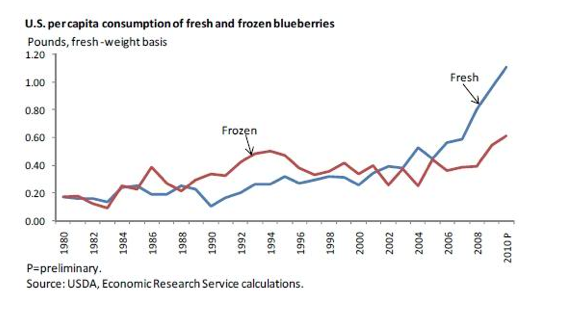 Along with higher consumption is the corresponding higher production numbers. The amount of blueberries produced has grown dramatically over the last couple of decades.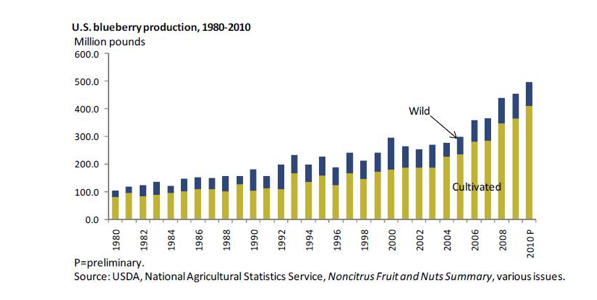 The US Department of Agriculture plans to expand promotional funds and research to support an increase in berry consumptions from 32 ounces in 2012 to 50 ounces in 2017. The health benefits of eating berries are widely accepted including large amounts of Vitamin C, fiber, and even aging and anti-inflammatory benefits so it shouldn't be difficult to promote further consumption.
In addition, the strawberry and raspberry markets have seen healthy growth, but for brevity of this article the focus will remain primarily on blueberries. The larger valuation of the strawberry market could provide more opportunities to purchase farms.
Drink Market Supporting Berry Growth
One of the biggest reasons for the growth in the berry market is the growing use of berries in smoothies and other ready-to-drink markets. Consumers are increasingly finding the fruits appealing in blended drinks where the benefits of the fruits are gained and the tastes are blended with better tasting items to enhance drinks.
The US juice/juice drink market is estimated at a value of over $20 billion with the majority of the revenue going towards the traditional apple and orange juices. The new understanding of the benefits of berries and especially blueberries combined with the attractive taste of blending the berries into drinks is shifting the market towards the more non-traditional drinks. The super-premium fruit and vegetable juice sales totaled $2.3 billion in 2011.
The potential for the berry drink market is so substantial that the major beverage firms bought up the major independent fruit drink producers over the last decade.
In 2012, Campbell Soup (NYSE:CPB) purchased Bolthouse Farms from a private equity firm for $1.55 billion in cash. Bolthouse sells super-premium juices and generated EBIT of $92 million on annual sales of below $700 million. The company was only growing revenues at a 7% clip at purchase time.
In 2006, PepsiCo (NYSE:PEP) bought Naked Juice for an estimated $450 million from a private equity firm. The company focuses on selling refrigerated smoothies made from real fruit.
In 2001, Coca-Cola (NYSE:KO) bought Odwalla for $181 million. Again, the company focused on producing super-premium juices.
All of the deals were done at attractive valuations. Patriot Berry has worked up some prototypes for its own line of berry drinks and berry sachets. Clearly, this stage is in early development and would provide value added products from the harvests. The company would need to raise significant funds or find a partner in order to establish this product line anytime soon including likely sourcing blueberries from outside farms.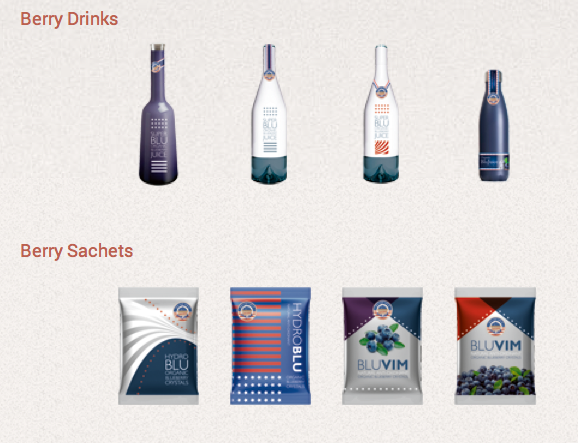 Blueberry Farm Economics
A recent North Carolina Statue University study found that a 100-acre blueberry farm in North Carolina would generate an attractive 16.6% annual return. The study assumes a peak crop yield of 8,000 pounds per acre and assumes that 80% of the berries were sold fresh at only $1.57 a pound. All of these numbers assume good soil and irrigation. The estimated returns for blueberries produced on good soil using irrigation were $3,526 per acre. The numbers drop substantially on marginal soil and no irrigation.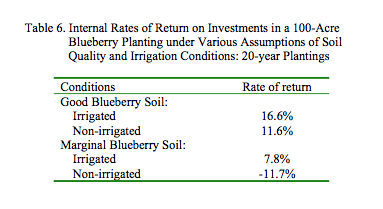 Other studies have found higher rates of return noticeably depending on the price obtained from selling the blueberries. A University of Georgia study found the net annual rate of return of $5,452 per acre on southern highbush blueberries producing 4,000 pounds per acre with an expected price of $5.00 per pound. An economic analysis in Oregon estimated annual returns of over $9,000 per acre for fresh market sales at only $1.34 per pound.
In summary, it all depends on the crop yields and the prices obtained on whether an acre produces annual returns from anywhere around $2,000 to upwards of $9,000. Patriot Berry is off to a good start with the $5.00 per pound estimate, but the company will need to scale beyond the initial small farm to achieve some of the economics included in the studies such as the 100-acre farm in the North Carolina State study.
A big question will be whether the company can purchase these farms in close proximity in order to achieve some scale and share resources.
Stock Market Values
Whether Patriot Berry Farms can achieve the success of a Whole Foods Market or a Sprouts Farmers Market it yet to be seen, but no uncertainty exists on whether the market will reward a successful fresh fruit growth concept. Patriot Berry takes on an added level of risk for spoilage or a disaster to the crop and even a sudden reduction in consumer demand for berries while Whole Foods and Sprouts Farmers only face a risk that consumers no longer want fresh and organic food items. A reduction in any particular fruit or vegetable would have a negligible impact to the grocers.
The organic and fresh stocks generally trade at attractive price to earnings multiples with the well-established Whole Foods Market constantly trading at over 30x earnings. Not bad for a stock worth around $18 billion.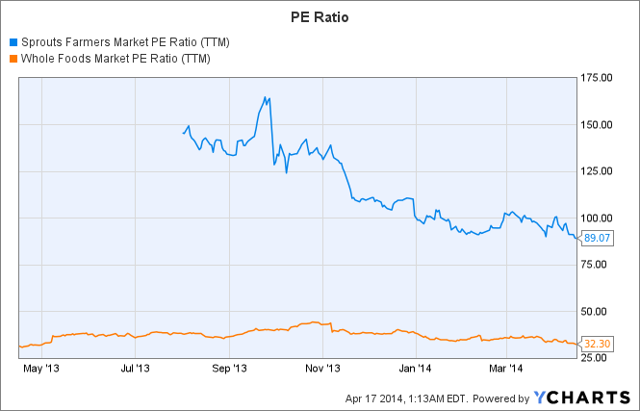 SFM PE Ratio (TTM) data by YCharts
The recent Farmland Partner IPO wasn't a rousing success with the downsized offering pricing at the low end of the range. The internally managed REIT is focusing on acquiring row crop (corn, soybeans) farms in the farm belt of Illinois and Nebraska. The company plans to use the proceeds of the offering to purchase 38 farms with approximately 7,300 acres, mostly in Illinois. Also, Farmland Partners expects to acquire three grain storage facilities.
The IPO wasn't a huge success, but it does show a level of interest in owning farmland. The lack of operating history was likely a big detriment to investors and will impact Patriot Berry in a similar fashion until it reports the initial harvest numbers and adds more berry farms.
Patriot Berry Story
The company is initially targeting blueberry plantings, but also it will consider other berries including strawberries and raspberries. The total crop value of all berries exceeds $3.5 billion with strawberry by far the most valuable at around $2.4 billion.
Small mom and pop producers mostly dominate the market with a group of private growers including Driscoll's Berries, California Giant Berry Farms, Wyman's of Maine, Wish Farms and Hurst's Berry Farm. Unfortunately, these private growers don't provide investors any opportunity hence the interest in the developing Patriot Berry Farms.
The company is at the initial stage of acquiring farms and developing infrastructure to amass the scale to create a large berry producer. At this point, investors get the opportunity for high growth, but the risk is high with the unproven model.
Initial Blueberry Farm Success
The company purchased the Harmon Farm in Florida that produced roughly 14,000 lbs. of blueberries during 2012. The 10-acre farm has six irrigated acres with mature blueberry plants and room for expansion of two and half acres. The company spent $400,000 to acquire the farm and expects to nearly double production during this year with the added help of capital from Patriot Berry Farms for frost protection equipment and other infrastructure.
The company is using the previous owner as an operator with an expectation of yielding nearly 30,000 lbs. during the five to six week picking season that began in early April. The farm manager expects to obtain prices in excess of $5 per pound for the crop. The advantage of this Florida crop is that it beats other crops to the market when the only option for fresh berries is imports.
Now the company must achieve this success on a wide scale over a multiple of established farms. The Director of Farming, Anthony DiMeo, comes from a blueberry legacy in New Jersey and is actively pursuing other farm purchases and investment options. The company targets a goal of adding to the farm portfolio prior to Q314 suggesting news could be released in the near term.
The company has raised cash on several occasions by selling stock in the $0.50 range suggesting more fundraising is likely down the road with the stock now trading at higher levels. Patriot Berry will need more cash to fund the aggressive farm acquisition plan.
High Risks
Patriot Berry is a very high risk, high return concept. The micro-cap stock needs to acquire more farms in order to reach profitability and is highly susceptible to any change in the pricing and demand for berries, especially blueberries. While the concept of acquiring mom and pop farms and improving yields sounds easy, the concept is unproven especially by this management team. It also faces risk of severe weather that could destroy a crop and severly damage the operations.
Conclusion
The data suggests the market would highly reward a successful berry farm that profitably reached scale from consolidating mature farms. Patriot Berry Farms appears on target with its goal of consolidating blueberry and possibly strawberry and raspberry farms to create a premier leader in the sector. Based on the tepid Farmland Partners IPO, the market wants to see operational results and actual farm purchases before jumping into the concept. Proof of concept will be very key to this stock going forward.
Investors must be willing to take on high risks including losing capital, but the concept provides an interesting opportunity to not only own farmland, but also the growth of a healthy and beneficial super-fruit. Patriot Berry investors should benefit from the growing consumption of berries combined with the growth from acquiring farms and improving crop yields by adding capital and improving infrastructure making it a very attractive high risk investment. After piling into fresh and organic grocers, the next logical step should be the producers and Patriot Berry hopes to fill those shoes.
Disclosure: I have no positions in any stocks mentioned, and no plans to initiate any positions within the next 72 hours. I wrote this article myself, and it expresses my own opinions. I am not receiving compensation for it (other than from Seeking Alpha). I have no business relationship with any company whose stock is mentioned in this article.
Editor's Note: This article covers one or more stocks trading at less than $1 per share and/or with less than a $100 million market cap. Please be aware of the risks associated with these stocks.