Wal-Mart Stores Inc. (NYSE:WMT) has seen declining same-store sales in the last 4 quarters. But now it seems Wal-Mart is putting serious efforts into reversing this deteriorating trend. Wal-Mart has attempted to snap up an increasing share in the organic food market. The retailer's largest unit, Wal-Mart US, has teamed up with Wild Oats to sell a collection of its organic products at a much cheaper value than the national-branded organic and inorganic foods already on Wal-Mart's shelves. In this article, I will be focusing on what this deal will bring for Wal-Mart and its rivals in the future.
A Brief Description of the Wild Oats Partnership
Before moving on to analyzing the effect of Wal-Mart's above-mentioned move on other players in the organic food market, let's take a look at what this deal means for Wal-Mart itself. This is not the first time Wal-Mart has sold organic food items. In fact, before Wild Oats products, Wal-Mart was offering more than 1600 organic products, including produce and dairy items. However, those products already on offer will not be provided at special prices, rather, they will keep their price labels as is. The only special price decrease will be offered for Wild Oats products and include staples such as salsa, organic olive oil, canned black beans, and tomato paste.
Wal-Mart announced that 100 products from Wild Oats will be rolled out to half of its US stores or as much as 2,000 by the next month. After closely monitoring the results of this move by the company, it anticipates to incorporate more organic products from its partner in the deal. Note that Wal-Mart will be the only national retailer to offer Wild Oats products, and its offering may be extended to fresh organic products from Wild Oats such as the milk, eggs, and salads.
Organic Food Market's Prospects
The US packaged organic food market grew 108% reaching $12 billion last year up from $5.77 billion 10 years earlier. In contrast, the overall packaged food market grew by about 25% to $360 billion during the same period. This reflects a boost in the US organic food industry driven by increasing awareness regarding health, environmental protection, food safety, and animal welfare reforms.
The US food Market Analysis had predicted this market to grow at an annual CAGR of 12.2% during 2010-2014. Now in 2014, we can further predict the movement of the market. Currently the improving economy will improve the job market and will ultimately lift income levels and the standard of living of the population in the country. Hence more and more members of the population will be able to enjoy organic food, and it will become even more affordable if offered at the same price as non-organic food. This is what Wal-Mart is trying to do with its latest partnership. According to the company, 91% of its shoppers are eager to buy organic food if offered at more affordable prices.
Impact for Wal-Mart
As indicated by the company's data, since 2011 about 50% of shoppers at Wal-Mart stores have purchased organic food, and it can be anticipated that with lowered price levels, a big portion of the other half will also show a tendency to buy organic food. However it remains unclear whether this price cut will attract non-Wal-Mart customers to start visiting Wal-Mart for their groceries and organic food shopping. I personally believe this does not seem probable until Wal-Mart offers the same attractive prices on almost all of the organic brands its shelves display. If this can be done, then ultimately Wal-Mart stores will see boosted customer traffic coming to buy organic food items of their choice at lucrative prices.
However as Wal-Mart will be exclusively offering Wild Oats products, loyal customers of the brand will definitely visit Wal-Mart stores for getting their favorite product from Wild Oats. Whatever the case, the latest agreement of the company with Wild Oats can act as a leveraging tool for Wal-Mart to see its same-store sales rising once again.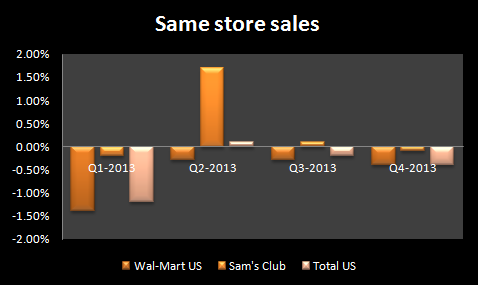 Source: Wal-Mart website
Is This Price Cut Sustainable?
Organic food products are generally sold at premium prices because of their higher costs. In order to offer discounted prices, Wal-Mart aims to cut down its costs. For this purpose, it has been eliminating middle men and entering into long-term agreements with farmers. Under these agreements, farmers are guaranteed purchases and the ability to negotiate discounts on the purchase prices. This way the company intends to secure lower costs and then deliver the products on to lower income US shoppers who feel higher product prices are a bottleneck for them to purchase organic food items.
According to the Executive Vice President of grocery for Wal-Mart US, it is important to source lower priced supplies in order to produce cheap organic food products, and in this regard, it is really important to grow more organic crops. This price cut is a result of efforts of both partners in this initiative for a couple of years, and thus seems sustainable. Moreover, by reducing costs of the supplies, Wal-Mart can ensure its profits do not get eroded by lowered prices. However, there is a persistent need for the company to cut down its prices on other branded organic food products that it has been offering all these years as well.
Will this Present Challenges to Other Players?
Other players in the industry have also made strides in the growing organic food market, such as Kroger (NYSE:KR), Target (NYSE:TGT), Whole Foods Market (WFM) and Safeway Inc. (NYSE:SWY). Whole Foods' private label 365 line is also very price-competitive according to the company. However Wal-Mart's partnership with Wild Oats, the second largest US organic grocer before being acquired by Whole Foods Market, seems to be a cause for concern for Whole Foods. This is because when Whole Foods was forced to sell Wild Oats after FTC showed little trust in the acquisition, the former's CEO had expressed concerns regarding the likelihood of Wild Oats being acquired by its rivals and the potential threat to the leading position of Whole Foods as a result.
Kroger and Safeway Incorporated are offering their own brands of natural and organic food. Kroger operates through its Simple Truth line of natural and organic products, while Safeway sells organic food under its own Open Nature brand. Both companies have seen boosted sales in 2013 due to their organic food range. Target has also tried to grab a chunk of this increasingly lucrative market through its portfolio of 120 products that feature 17 well-known organic brands. These brands will be sold exclusively at Target stores for at least the first six months. Hence, Wal-Mart's lower price approach will have an impact on almost all of the grocers and retailers that offer a range of organic food brands. According to analysts, Wal-Mart's price cut may put other conventional food sellers in a position to respond by cutting their own prices in order to remain competitive.
Expansion in India: Will It be Fruitful?
As of March 20th, 2014, Wal-Mart operated 11,302 stores under 71 banners in 27 countries and e-commerce websites in 10 countries. Wal-Mart has already opened 20 wholesale stores in India and plans to open another 50 stores in the region. However the store opening process will span over a period of 4-5 years, and the company aims to launch wholesale e-commerce operations in the country by this summer. Note that previously, the company had decided not to operate in India through its own retail stores. However the pace of opening stores in the country is still not that aggressive, as 50 stores over a period of 5 years demonstrates 10 stores per year. Through its wholesale stores, Wal-Mart serves small shopkeepers rather than consumers directly, because it has no retail stores in India.
Globally, Wal-Mart operates through a more retail business model, as out of its total 5,992 stores only 6% are wholesale stores. The rest of the 94% outlets are retail, but India is the only country with no Wal-Mart retail outlet. This may be because India allows full foreign ownership of wholesale stores but restricts foreign retailers from selling goods directly to consumers through online channels. Wal-Mart is waiting for the new government to take charge after the completion of the national elections next month, and then it will apply to operate through retail stores in India. However, according to Reuters, the political party that is expected to be India's potentially leading party after the elections has claimed it will bar foreign supermarkets as per its manifesto.
India offers a very lucrative retail market because it has a huge population, and its retail market is worth around $500 billion. According to IMF, India's economy is forecasted to grow at a rate 5.4% in 2014 and 6.4% in 2015. India's e-commerce sector is booming and driven largely by its youth and their increasing use of the internet.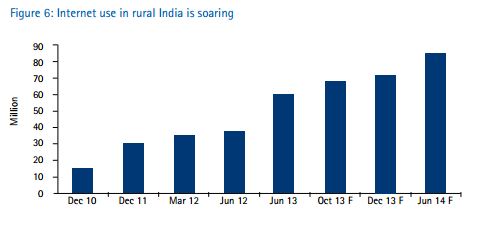 Source: India In 2014
Brick and mortar companies like Reliance retail are actively seeking ways to compete with big rivals like Amazon (NASDAQ:AMZN) and eBay (NASDAQ:EBAY) for a share of India's fast growing online retail market. India is a lucrative market but Wal-Mart's future as a retailer will be uncertain until the new political government is formed in India and we can hear a clear stance from them on foreign retailers who are operating or want to operate in India through physical stores or online. Until then, we cannot ascertain Wal-Mart's future prospects in India.
Bottom Line
Wal-Mart's aggressive price-cutting strategy accompanied with its cost-cutting moves seems to be boding well for the company. This way, the company will be giving its competitors a tough time without letting its margins erode. Moreover customer traffic to Wal-Mart stores will also see a boost given Wal-Mart's consumer-oriented moves. Moreover, the company's expansion into a populous country like India will also bolster its top and bottom lines if it is successful in receiving approval to operate as a retailer in the region. In short, I believe Wal-Mart knows how to maintain in-store customer traffic and demand for its wide offerings. Hence, it will soon rekindle its spark, and this will also bode well for its stock. Wal-Mart's stock is trading at a trailing P/E of 15 times and forward P/E of 13 times compared to industry average of 20.60 and is an attractive stock at an attractive valuation. Therefore, I would rate this stock as a Buy.
Disclosure: I have no positions in any stocks mentioned, and no plans to initiate any positions within the next 72 hours.
Business relationship disclosure: The article has been written by a Gemstone Equity Research research analyst. Gemstone Equity Research is not receiving compensation for it (other than from Seeking Alpha). Gemstone Equity Research has no business relationship with any company whose stock is mentioned in this article.