The improving economy is seeing an increase in trucks on the road as manufacturers put more stock in transit to wholesale and retail outlets. This is translating into profits for the trucking industry as they increase the road miles and also improve efficiencies. Investors can expect to see continued improvements in shareholder value due to a shortage of supply (trucks) and an increase in demand (due to the improving economy).
Comparison
Over the past 12 months the SPDR S&P Transportation ETF (NYSEARCA:XTN) has gained around 40% while the iShares Transportation Average (BATS:IYT) is up around 30%. While there has been an improvement in the truckers, not all have been equally profitable.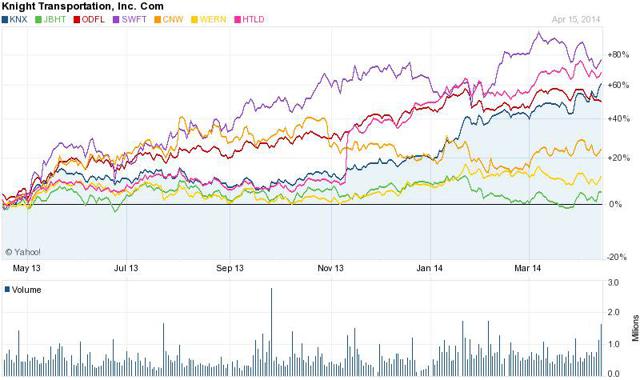 (Source: Yahoo! Finance)
Swift Transportation Company (SWFT), Heartland Express, Inc. (NASDAQ:HTLD), Knight Transportation Inc. (NYSE:KNX), and Old Dominion Freight Line Inc. (NASDAQ:ODFL) have all performed above their peers over the past year. Con-way Inc. (NYSE:CNW), Werner Enterprises Inc. (NASDAQ:WERN), and JB Hunt Transport Services Inc. (NASDAQ:JBHT) have all fluctuated, but pretty much remained flat over the past year.
Like other industries during the turn down, there has been some consolidation in the trucking sector. KNX has been attempting to acquire USA Trucks (NASDAQ:USAK) over the past year through a hostile take over. SWFT recently added a refrigeration arm to their business with the acquisition of Central Refrigerated Transportation. Several other companies have been able to scoop up the smaller fish, and there will likely be other companies that become targets in the future, especially as the economy continues to improve.
Economic Indicators
Longbow Research recently upgraded several trucking companies in response to improving fundamentals. Additionally, Baird Equity Research listed several items that are creating a "squeeze" in the trucking sector. New hours-of-service rules enacted by the Transportation Department last July, which restrict hours commercial drivers can be on the job have cut down on number of shipments they can make. The Polar Vortex crippled transportation during the winter, leading to an increase in demand and a shortage of supply. Underinvestment in the sector has also led to a decrease in supply while the economy has improved, leading to an imbalance there too. In the report, the company stated the following:
We expect 2%-3% year over year truckload pricing growth in 2014 (above our initial 1%-2% YoY estimate) and the positive pricing momentum to continue in 2Q14 given seasonal demand improvement and the potential for 'pent-up' demand in the spring months."
Recent government published economic indicators are signaling a continued improvement in the economy as well, which will favorably benefit the trucking industry:

(Source: Census website)
Shorts
While the shorts are pretty much even across the board, there are two companies that have a higher level of short interest: SWFT and USAK.

(Source: data compiled from shortsqueeze.com)
I previously wrote about USAK and the attempt by KNX to execute a hostile takeover of the company. During the attempt, KNX acquired close to 11% of outstanding shares and offered a price of $9 per share. This caused a subsequent rise in the price as USAK felt it undervalued the company and fought back against KNX. Based on the short interest, 14% and almost 26 days to cover at the current daily trading volume, it would appear the market also believes the price will fall. In spite of that, the price still sits at over $17.
SWFT also has close to a 20% short interest. The company has a significant amount of long term debt ($1.2 billion), but has been able to make its payments so far. SWFT was the top company in terms of price appreciation over the past year, so shorts likely expect a pull back: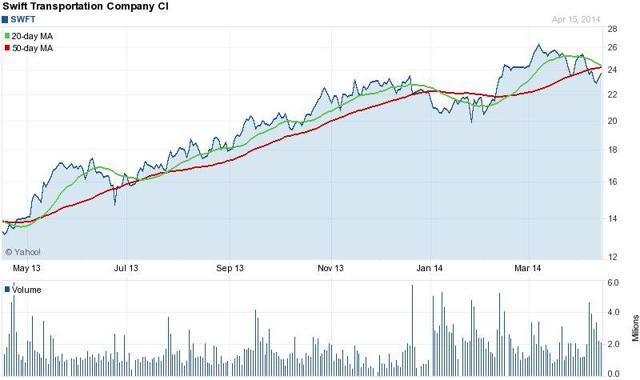 Conclusion
In spite of the rise in share price for the various companies and high market cap, the industry has yet to gain traction with Seeking Alpha followers:

I believe that going forward, the trucking industry as a whole will see significant gains as the economy continues to improve. The SPDR S&P Transportation ETF (XTN) has gained around 40% while the iShares Transportation Average (IYT) is up around 30% for the last 12 months. I believe that HTLD, KNX, and ODFL will continue to provide Alpha for investors and rise above their competition.
Disclosure: I have no positions in any stocks mentioned, and no plans to initiate any positions within the next 72 hours. I wrote this article myself, and it expresses my own opinions. I am not receiving compensation for it (other than from Seeking Alpha). I have no business relationship with any company whose stock is mentioned in this article.