Platinum Group Metals, Ltd. (NYSEMKT:PLG)
PLG is a development and exploration company operating in South Africa, and searches for platinum, palladium, rhodium, gold, copper, nickel, iridium and osmium ores. The company owns also two claims in Canada: Labrador and Thunder Bay North.
PLG primarily holds a 74% working interest in the Project 1 platinum mine located in the Western Bushveld Igneous complex region of South Africa, called the Western Bushveld Joint Venture, in short WBJV. This joint venture has been the Company's flagship asset since its initial acquisition in 2004.
In January 2011, the company exercised its right to increase WBJV interest to 74% for $59 million, and in May 2012, the mining right was granted. The company trades on the NYSE market (Amex).
Excerpts from the PLG website:
The WBJV is a shallow, high grade deposit making it an attractive asset in virtually any market or pricing environment. Formal construction of the WBJV Project 1 platinum mine began in 2010 with first production scheduled for 2015.

The Western Bushveld Joint Venture (WBJV) is comprised of Project 1 and Project 3. The majority of exploration and development Activities have been focused on Project 1.

The current focus for exploration is the Waterberg discovery on the North Limb of the Bushveld Complex consisting of the Waterberg Joint Venture Project with JOGMEC (Japan Oil and Gas Mineral Exploration Corporation) a state owned company and the Waterberg Extension Project.
Platinum Group Metals Ltd. Is based in Vancouver, BC, Canada and Johannesburg, South Africa. The company was formed in 2000.
1,350 persons are actually involved in this underground project with 1,300 persons effectively on the site now.
Per the last financial document, PLG has 500,121,409 shares basic and diluted outstanding. From the latest annual report (2013):
The current inferred resource on the Waterberg JV Project of 17.5 million ounces (167 million tonnes grading 3.26 grams per tonne of 0.98 g/t platinum, 1.97 g/t palladium and 0.32 g/t gold, Ken Lomberg QP, Sept 3, 2013) is defined by 130,000 meters of drilling completed to date.
Map location taken from PLG website: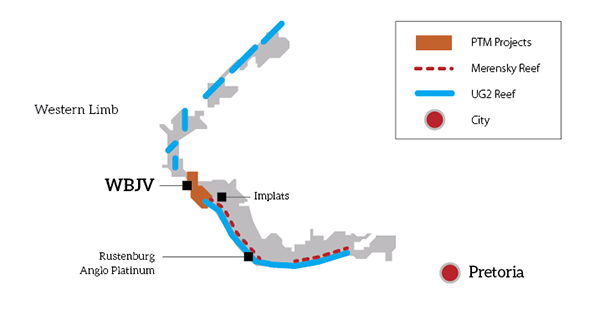 Ownership background:
Platinum Group Metals holds a 49.9% effective interest in the Waterberg Joint Venture with JOGMEC holding 37% and the balance being owned by a private empowerment company in South Africa.
Platinum Group Metals Ltd holds an 87% effective interest in 487 square kilometers of Prospecting Permits outside of the Waterberg Joint Venture. The extension of the F zone and the N-1 intercepts reported in March 4, 2014 are all on the 87% owned Waterberg Extension Property.
WBJV Project 1: Production numbers' snapshot.
I will mention simply the project 1, because the project 3 will start only when the project 1 is finalized.
A) Current resources in the project 1.
Reef
Resource category
Tonnes (Million)
Grade g/t
Pt %
Pd %
Rh %
Au %

Oz

(Million) *4E

*MR
Measured
6.603
8.38
64
27
4
5
1.779
MR
Indicated
11.183
7.25
64
27
4
5
2.607
MR
Inferred
0.154
8.96
64
27
4
5
0.044
*UG2
Measured
7.464
4.26
63
26
10
1
1.022
UG2
Indicated
19.209
4.46
63
26
10
1
2.754
UG2
Inferred
0.022
3.91
63
26
10
1
0.003
B) Reserve in the Waterberg project 1.
Reserve

4E

g/t

Tonnes

(Million)

Content

Moz 4E

MR
Proven
5.61
6.677
1.205
MR
Probable
5.44
11.333
1.983
Total
2P
5.51
18.010
3.188
UG2
Proven
3.37
5.087
0.551
UG2
Probable
3.41
8.449
0.927
Total
2P
3.40
13.536
1.478
* MR = Merensky reef
* UG2 = Upper Group 2 Chromitite Seam
* 4E = Four Metals Pt, Pd, Rh, Au Equivalent
C) Future mine, main characteristics.
Production of 275 KozEq*/year. The four primary metals are: Platinum, palladium, rhodium and gold; and by-products are nickel, copper, iridium and osmium.
53 meters at a grade of 5.26 g/t containing platinum, palladium and gold.
Estimated recovery for platinum, palladium and gold is between 83% to 88%.
Mine production target 2015.
Mining right approved on April 4, 2012.
Mine life expectancy is 20 years.
Mechanized operations versus conventional mining methods will bring more efficiency, productivity and safety.
* KozEq = Thousand ounces equivalent
Platinum Group Metals Ltd., recent chronological financial events.
The company was forced to restructure its financing for Waterberg project 1 during the last quarter 2013 after a surprised decision by Wesizwe Platinum on October 18, 2013.
... Platinum Group representatives were informed by a representative of Africa Wide Mineral Prospecting and Exploration (PTY) Ltd ("Africa Wide") that Africa Wide, a subsidiary of Wesizwe Platinum Ltd. ("Wesizwe"), would not be funding a 213 million Rand (approximately US $ 21.8 million) cash call for their 26% share of a 6 month forward budget for the Project. There was no indication from Wesizwe or Africa Wide until late today in Johannesburg that they would not fund their pro-rata share of the Project. The cash call to Africa Wide for the Project had been timed to coincide with the final expenditure of funds held in escrow by Maseve for Africa Wide.
This unexpected decision triggered a chain of financial events for PLG, which managed to get a stronger cash position covering the whole completion of WBJV project 1 until 2015; and get rid of Wesizwe Platinum, in the same time, that proved to be unreliable. It was not an easy task, and the rapid response from PLG is proving how valuable Waterburg project really is.
R. Michael Jones, CEO, announced that the restructure was completed in December, 2013, in its letter to shareholders:
At the time of writing in December 2013, we have successfully restructured our project finance plans for the WBJV Project 1 platinum mine held by our 74%+ owned operating company, Maseve Investments 11 Pty Ltd. ("Maseve").
The Company accepted a C$175 million "bought deal" equity financing, in December 2013. Through a public offering of 148.5 million shares at C$ 1.18 ($165 million).
The Company entered into a revised project loan mandate for $195 million. The new mandate letter requires a syndicate of lead arrangers to use commercially reasonable efforts to arrange the project loan facility, and is subject to a number of conditions precedent. This is due to be completed around mid-2014.
On January 10, 2014, the company reported the Q1 2014 results. In this release PLG gives further indication regarding the $195 million project loan.
On November 11, 2013, the Company announced a new mandate letter with Barclays Bank PLC, Absa Corporate and Investment Bank, a division of Absa Bank Limited, Caterpillar Financial SARL and Societe Generale Corporate & Investment Banking who have agreed to use commercially reasonable efforts to arrange a new project loan facility for up to U.S. $195 million to continue development of the Project 1 platinum mine. The new mandate letter will build upon previous technical and legal due diligence, and is subject to the finalization of a facility agreement, among other conditions.
On February 14, 2014 the Company announced that it received a positive, independent Preliminary Economic Assessment ("PEA") for the Waterberg JV Project. The PEA recommends that the project advance to the pre-feasibility stage of development. Details of the PEA include:
Steady-state production of 655,000 Oz per year of platinum, palladium and gold, "3E";
A two-year construction period planned in 2016 to 2018;
NPV at $509 million;
Peak funding $809 million;
Cash cost estimated $438 (including by-products).
Including the state royalty and an allocation for head office overheads the operating costs are estimated to be 626USD per 3E ounce excluding Cu, Ni credits and 438 USD per 3E ounce including Cu and Ni as credits, all at 10 Rand/USD.
On April 11, 2014. The Company reported the Q2 2014 results, with a 2014 outlook. The Company's cash position on February 28, 2014 was $203 million. The Company received net proceeds of $165 million on December 31, 2013 pursuant to the closing of a bought deal financing.
Outlook for 2014:
To build the WBJV Project 1 platinum mine safely and in accordance with the planned schedule and budget;
To close the planned U.S. $195 million new project loan facility, or complete an alternate financing for Project 1, in order to secure all the funding required for the completion of Project 1, including mill completion, underground development and the establishment of sustained operations;
The completion of a pre-feasibility study on the initial Waterberg JV Project deposit during calendar 2014 or early 2015;
To continue exploration and definition drilling on the Waterberg JV Project and Waterberg Extension Project with eight or more drill rigs during 2014;
To complete an updated independent resource estimate for the Waterberg JV project and complete an initial independent resource estimate for the Waterberg Extension Project; and
To maintain and develop our strong relationship with JOGMEC and the new partner expected in June 2014 as a result of the current tender process for the transfer of JOGMEC's interest in the Waterberg Joint Venture.
PLG is in a development phase and the financial results present fewer interests due to the lack of revenues. The most important item will be the funding required to bring the "project 1" into production.
On March 4, 2014, the Company announced additional drilling results for the Waterberg Extension Project. A new thick platinum and palladium mineralization was found, 15 kms north of the Waterberg deposit.
Discussion and recommendation.
PLG is a development-stage PGM company that presents a good potential for a long-term investment. However, it is not an investment without significant risks.
What are the issues that PLG will have to overcome before being able to achieve production of the Waterberg project 1?
I see two main and important issues that should be discussed here:
1) The financial uncertainty going into production in 2015.
PLG is not producing the revenues yet, and it is dependent on equity financing to survive this development phase. Nearly all development-stage companies like PLG, are using their own shares as currency to be able to get the financing needed to bring the project to its complexion. It is often done by a public offering of a certain amount of the company's shares, at a fixed price per share. The last PLG public offering was done on December 31, 2013, for an amount of 148.5 million shares at C$1.10.
The immediate consequence of this financing is an obvious dilution of the shareholder's equity. The outstanding shares have reached now around 501 million, and will probably increase substantially before the company can pretend to survive on its own production. We can call it a "necessary evil," and the important question is what residual asset value will be left for shareholders when the project is finally completed?
Financing is an issue for investors, and will be an issue until the Waterberg project is operational. However, it is not an overwhelming task for PLG due to the nature and quality of the project.
It is important to notice that PLG has a strong institutional shareholders support that has already helped the company to raise over C$355 million in equity in 2013 ($325 million). Michael Jones, CEO, said at the last company presentation:
We have advanced the WBJV Project 1 through Phase 1 development of initial decline access into the underground and are now well under way with Phase 2 of facilities and further underground development and access.
Two reasons why financing has been secured, until now:
The mine offers a unique growth opportunity which will allow the company to finance the project to its completion in 2015/2016. The mine will be mechanized, which will improve its safety, efficiency and productivity. At 275k OzEq of platinum, palladium and gold, and a mine life of 20 years, the Waterberg project is a premium asset in South Africa.
The mine is a shallow deposit with good grades and thickness. Furthermore, the recent discoveries of the Waterberg extension project have a non-negligible impact on PLG, which owns 87% (extension part).
In 2014, the company has successfully restructured its project finance plans for the Waterberg Project 1 platinum mine; held by their 74% owned operating company, Maseve Investments 11 Pty Ltd. PLG has entered into a revised project loan mandate for U.S. $195 million; and in December, 2013, the company accepted a C$175 million "bought deal" equity financing. These changes were necessitated by the surprised decision by Wesizwe Platinum on October 18, 2013. The company had $203 million cash on February 28, 2014.
Kris Begic, Vice President of Corporate Development for Platinum Group Metals Ltd., says that the company expects to close the $195 million project finance facility by the second half of this year.
2) The geopolitical, infrastructure and labor issues in South Africa.
It is not a secret that the geopolitical situation in South Africa is delicate and presents some additional risks to investors. PLG is facing up many problems that it would not have confronted if the Waterberg project was located in Canada. Labor, political and infrastructure issues have been going on, and the Waterberg community was not immune.
The labor cost issue in the platinum mine sector is one of the most important. The South Africa's Association of Mineworkers Construction Union (AMCU) and the National Union of Mineworkers are involved with important strikes going on for about 3 months now which slowed significantly production in the platinum belt. PLG will have 2,700 employees during the 20+ years of the mine life, and this issue is quite significant.
After Nelson Mandela's death and the weakening popularity of the governing party called the African National Congress (ANC), we are entering another era in South Africa with major uncertainties. The mining sector can be challenged by an increased risk of a potential nationalization or a sudden added taxation. These threats cannot be ignored in any investment research approach.
South Africa has an acute infrastructure problem. Although an estimated $38 billion will be spent the next 15 years on the SA infrastructure plan, I am wondering if it is really possible to achieve this ambitious goal? And the world community remains to be convinced, at the moment.
Despite these issues South Africa is still offering some appealing interests for investors. Deloitte in its "state of mining in South Africa" wrote:
Whilst the South African mining industry faces somewhat of a stormy future, it has weathered storms before and will need to harness all the available innovation and resilience in order to once again become a mining destination of choice.
I believe PLG presents a good opportunity with its Waterberg project and despite a "stormy" situation in South Africa could be a good investment from a long investor's perspective at a reasonable price per share now.
Here is PLG, 1-year chart: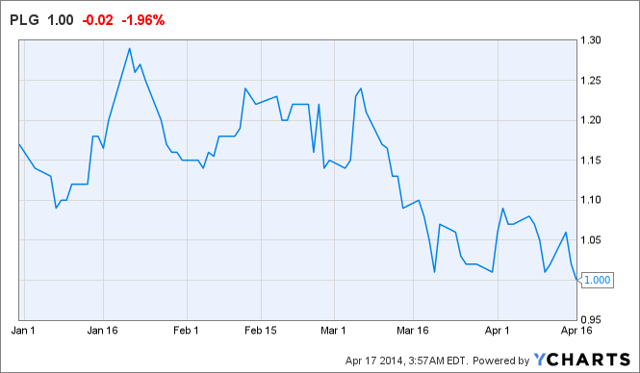 Disclosure: I have no positions in any stocks mentioned, but may initiate a long position in PLG over the next 72 hours. I wrote this article myself, and it expresses my own opinions. I am not receiving compensation for it (other than from Seeking Alpha). I have no business relationship with any company whose stock is mentioned in this article.
Additional disclosure: I have been trading PLG for over a year but I think it may present some long opportunity right now if financing is completed successfully.