The type of companies that Warren Buffett likes to invest in, those with solid cash flow generating businesses with large and deep moats around them, are becoming a thing of the past because of technology. Business leaders are beginning to learn that technology is the great equalizer and can quickly shift the landscape in an industry with entrenched players. That is what we are focusing on today and we use two hot tech companies to highlight how that business changes so quickly but also look at an industry many have viewed as somewhat insulated, not because of technology, but the scale needed to get into it.
The economic data today has been pretty good compared to the estimates but we are beginning to assign less weight to the continuing claims numbers as they do not reflect the true state of the unemployed in the country.
Chart of the Day:
While the continuing claims number means little to us at this point as millions were dumped off of the official roster at the beginning of the year, the initial claims still hold their weight in our opinion. The economy is not great and will certainly have to pickup, but if we can continue at this rate of initial claims while also keeping job growth at current rates for a while then we will see a material pick-up in the economy.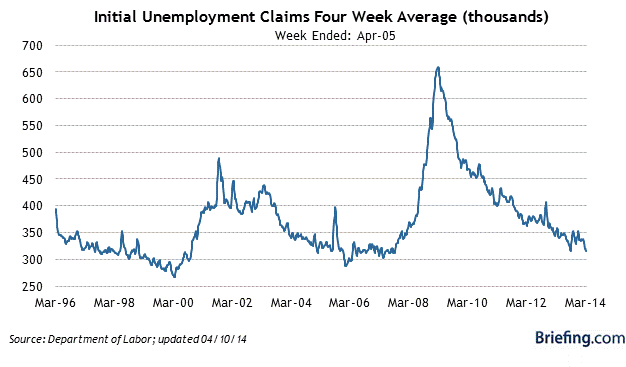 Source: Briefing
We have economic news today, and it is as follows:
Initial Claims (8:30 a.m. EST): Est: 312k Act: 304k
Continuing Claims (8:30 a.m. EST): Est: 2800k Act: 2739k
Philadelphia Fed (10:00 a.m. EST): Est: 8.6 Act: 16.6
Natural Gas Inventories (10:30 a.m. EST): Est: N/A Act: 24 bcf
Asian markets finished mixed today:
All Ordinaries -- up 0.63%
Shanghai Composite -- down 0.30%
Nikkei 225 -- down 0.00%
NZSE 50 -- up 0.25%
Seoul Composite -- down 0.01%
In Europe, markets are trading higher this morning:
CAC 40 -- up 0.46%
DAX -- up 0.72%
FTSE 100 -- up 0.53%
OSE -- down 0.07%
Money Transfer Shift In Power?
The Western Union Company (NYSE:WU) and MoneyGram International (NYSE:MGI) have always dominated the money transfer market. In recent years new technology has allowed a myriad of new entrants to the market and also enabled numerous banks to offer transfer services via their online bank offerings. Our view on this crowding was that it targeted the wrong audience, as the key demographic for those transferring money was not iPhone users nor those with bank accounts already, but rather those lower income families sending money back home to loved ones either across the country or abroad.
That is why today's news regarding Wal-Mart (NYSE:WMT) entering the business is quite interesting. Their target demographic fits in perfectly with those who use this type of service and with the company's footprint across the United States they can offer deliver to most major metropolitan areas, and likely a short distance away from whoever the funds are being sent to. Yes, this will drive up some costs for Wal-Mart as they will have to keep more cash on the premises but it should also help drive traffic. Further, we could also see a scenario where Wal-Mart offers the money transfer services for free if those receiving the funds accept a Wal-Mart gift card.
MoneyGram is taking a hit today on the news, but until Wal-Mart can open up the service to its Mexican unit or other international stores we suspect that the damage will not result in a mortal wound.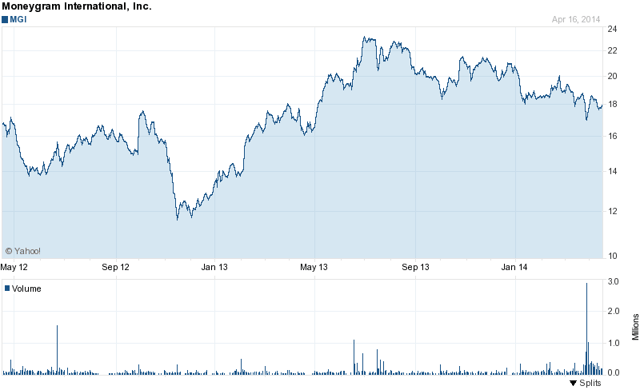 Source: Yahoo Finance
As one would expect, both Western Union and MoneyGram are trading lower. MoneyGram, the current transfer partner of Wal-Mart, will remain in the company's stores and will send money to locations other than Wal-Mart stores and amounts over $900.
Twitter Strikes Back
In an effort to keep up with the competition, Twitter (NYSE:TWTR) announced that they would be launching app install ads, one of Facebook's (NASDAQ:FB) key ad revenue generators. It makes sense for Twitter, a company which is trying to show that even with its smaller user base that it can compete with those companies possessing more users such as Facebook with its 1 billion+, as it owns MoPub and is looking for ways to better integrate ads into its platform and even take it to others'.
Although many Twitter accounts do not interact with other users they are still active users in that they check their account and use them as news feeds. That may affect advertising revenues and ad revenue related growth down the road but these app install ads are pretty straightforward and so long as Twitter allows marketers to target their audience, both on Twitter and other sites, then this seems like a slam dunk.
Disclosure: I have no positions in any stocks mentioned, and no plans to initiate any positions within the next 72 hours. I wrote this article myself, and it expresses my own opinions. I am not receiving compensation for it (other than from Seeking Alpha). I have no business relationship with any company whose stock is mentioned in this article.