While equities experience high volatility from a confluence of several dollar-negative events of the past few weeks - most notably due to the unprecedented financial events involving global trade since Bretton Woods - we feel it's time again to remind investors of the precious metals space and one of our favorite junior miner of gold and silver, in particular, SilverCrest Mines (NYSEMKT:SVLC).
In a previous SA article, entitled, SilverCrest Mines - Junior Mining Buy Of 2014, we estimated SVLC could earn between $0.13 and $0.17 per share for fiscal 2014. That projection is based on an average sales price of $1,400 per ounce and $24 per ounce for gold and silver, respectively.
In our article, w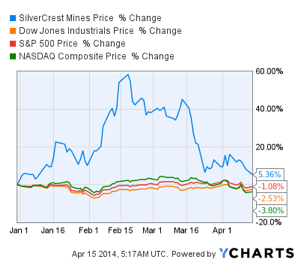 e also estimated that the result of such earnings potential could take SVLC to a price of $3.88, a more than a double from today's $1.69. We predicated the $3.88 target price upon an average taken of multiple scenarios, which included a combination of potential spot bullion prices and a P/E ratio expansion.
Though it's impossible to predict future sentiment in the precious metals mining sector, we believe that the possibility of a rapid turnaround in sentiment toward the beleaguered junior mining sector could be in the offing sometime this year due to geopolitical events that most likely will affect the value of the US dollar.
If we are correct, rapidly rising gold and silver prices significantly above $1,500 and $25, respectively, will most likely change SVLC's 2014 earnings growth estimates, expand forward P/E ratios and lower PEG ratios substantially, justifying the possibility of a SVLC stock P/E multiple of at least 20-times and an all-time record high of more than $3.20 per share price.
In the interim, we see the possibility of a rather intense short-covering rally in the silver and gold markets above $1,400 and $22, providing the additional buyers needed for an assault on the psychologically-important $1,500 gold price and $25 silver price.
Buttressing our case for a potential all-time high for SVLC this year can be evidenced by the stock's price action during calendar year 2011.
On Apr. 10, 2012, SilverCrest reported fiscal 2011 earnings of $8.4MM, or $0.11 per share, on revenue of $41.8MM. As early as only six months prior to the report, on Oct. 4, 2011, SVLC had touched $1.00 as investors anticipated glowing Q4 earnings. Five months later, on Feb. 29, the stock had soared to $3.19, a more than 200% move within five months upon optimism of firm precious metals prices and relatively low all-in costs at the company's St. Elena project.
Given SVLC's historical performance, our earnings-per-share estimate range of $0.13 and $0.17 for fiscal 2014 could easily take SVLC to new all-time highs above $3.20. And that estimate includes the 7.5% EBITDA tax levied on SilverCrest and other mining enterprises as part of Mexico's new tax overhaul scheme.
Our telephone call to SilverCrest was promptly returned yesterday by the President and COO of SilverCrest, Eric Fier, who said that high-level staff members of the new Mexican government of President Enrique Peña Nieto assured him that the new tax on the mining industry was not a part of a political plan for a wider redistribution of wealth scheme down the road, as was the case in Venezuela during the nationalization of the country's oil supply, for example, but was instead part of an tax policy overhaul of Mexico.
Fier told us, that prior to the new tax scheme, only 16% of Mexico's population had contributed any tax to Mexico City, placing too much tax burden on too small of a portion of the nation's citizenry. The new tax scheme seeks to broaden the base of Mexico's tax structure, which includes a "trickle down" provision that would see tax revenue fund infrastructure projects at the municipality level.
After our phone conversation with Fier, we're confident that Mexico will most likely remain as one of the most mining-friendly jurisdictions of the world for the foreseeable future.
Why Do We Think SVLC May Rally Strongly in 2014?
THE NEW PETRO-RUBLE SYSTEM
Our urgency to recommend due diligence on SVLC has been prompted by the ongoing geopolitical events in Ukraine. What appeared at first glance as a swift and reasonably uneventful annexation of Crimea has escalated into a more complicated matter regarding the political future of the rest of Ukraine, as well as the dangerous implications for the U.S. dollar.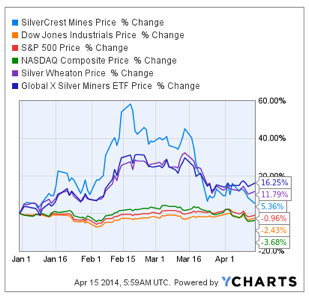 For those not familiar with the role of the dollar in U.S foreign policy may want to read one the best executive summaries on the subject at the Harvard International Review (HIR) website.
In short, HIR claims that as the U.S. dollar plays a lesser role in international trade, the value of the U.S. dollar against other currencies, commodities and precious metals diminishes. Therefore, prices of any asset quoted in U.S. dollar's rise inversely to the currency's weakness, taking gold and silver stocks even higher still (as a percentage) due to the leverage to spot bullion that producing miners offer investors.
According to the chart, above, SVLC outperformed smartly compared with the Global X Silver Miners ETF (NYSEARCA:SIL) and the more-followed mining company, Silver Wheaton (SLW), during the bullion rally of January and February. Of all the junior mining companies, SVLC is among only a handful of stocks that reach our threshold of consideration, of which include competent and proven management, jurisdiction, production levels and replacement rates. See SilverCrest Mines - Junior Mining Buy Of 2014
Also see our analysis of another well-run and producing junior, McEwen Mining, MUX: McEwen Mining: Best Performing Stock Of Any Junior Producer
CITATIONS TO OUR ANALYSIS
Among the top three most influential radio broadcasters of the world, Voice of Russia (VOR), reported on Apr. 4 that Russia and Iran are in the process of finalizing agreements to bypass the U.S. dollar as the medium of exchange to settle trade between the two countries.
"[T]he 'sanctions war' between Washington and Moscow gave an impetus to the long-awaited scheme to launch the petroruble and switch all Russian energy exports away from the US currency," the VOR stated.
"The main supporters of this plan are Sergey Glaziev, the economic aide of the Russian President and Igor Sechin, the CEO of Rosneft, the biggest Russian oil company and a close ally of Vladimir Putin," VOR added. "Both have been very vocal in their quest to replace the dollar with the Russian ruble. Now, several top Russian officials are pushing the plan forward."
The VOR went on to quote Valentina Matviyenko, the speaker of Russia's upper house of parliament (equivalent to the U.S. Senate), who inflamed the already-heated situation in the Ukraine to rhetoric not heard much even by Washington standards.

"Some 'hot headed' decision-makers have already forgotten that the global economic crisis of 2008 - which is still taking its toll on the world - started with a collapse of certain credit institutions in the US, Great Britain and other countries," she said. "This is why we believe that any hostile financial actions are a double-edged sword and even the slightest error will send the boomerang back to the aborigines."
The article added that Reuters had reported that Russia is negotiating a "goods-for-oil swaps transaction" with Iran. Under the preliminary agreement, Russia's oil energy company, Rosneft, will buy 500,000 barrels of Iranian oil per day ($18 billion per year) to sell in the global market. "Such a move will boost the chances of the 'petro-ruble' and will hurt the petro-dollar," according to VOR.
Other analysis of the dollar-negative implications due to tensions rising between Russia (along with other BRICS nations, Brazil, India, China and South Africa) and the West can be found here, here, here and here.
Former Assistant Secretary of Treasury, Paul Craig Roberts, believes that the implication of Russia's facilitation of a new petro-ruble system will offer Washington only two unpleasant choices.
"One of two things is likely: Either the US dollar will be abandoned and collapse in value, thus ending Washington's superpower status and Washington's threat to world peace, or Washington will lead its puppets into military conflict with Russia and China," Roberts told King World News. "The outcome of such a war would be far more devastating than the collapse of the US dollar."
Conclusion
The five-year-long effort by central banks to support the U.S. dollar post-Lehman will most likely be trumped by much larger and meaningful geopolitical forces that now weigh more heavily on the world's premiere reserve currency. Without the cooperation of Russia, China, India, Iran, Germany and other significantly large oil producing and consuming nations (Germany) to support the petrodollar system, gold and silver prices could eventually move to new highs as the U.S. dollar reaches new lows in the coming months and years.
We feel that the equities markets and precious metals will reach an inflection point in 2014, reversing the recent trend of higher equities prices and lower precious metals prices.
Though the precious metals mining sector, in general, will rise as the prices of gold and silver rally, SVLC has recently demonstrated a meaningful outperforming of nearly all of the more-widely-held and more-visible peers during a sector rally.
Investors who wish to diversify holding of precious metals miners can purchase any number of ETF's, but those traders seeking a higher alpha may be well served owning precious metals miners that are "in production," such SVLC. Our recommendation for due diligence on SVLC is primarily predicated upon the stock's performance during rallies in bullion prices and the underlying fundamentals of the company. See SilverCrest Mines - Junior Mining Buy Of 2014.
Disclosure: I have no positions in any stocks mentioned, but may initiate a long position in SVLC, MUX over the next 72 hours. I wrote this article myself, and it expresses my own opinions. I am not receiving compensation for it (other than from Seeking Alpha). I have no business relationship with any company whose stock is mentioned in this article.