Alcoa's (NYSE:AA) share price increased 3% in a single day after the company released its first quarter results. The company experienced a 49% increase in its stock value over the year. Alcoa lost $178 million in the first three months of 2014 but some astounding upside had investors pushing the stock up. We will be looking at all of these details in this article. We will also determine the upside that promised to deliver premium returns to Alcoa.
First Quarter, 2014
Source: Presentation
Alcoa's revenue declined by 6% to $5.5 billion as a result of capacity reductions in primary metals combined with an 8% decline in year-over-year realized aluminum prices. Alcoa's value-add businesses such as engineered products and solutions "EPS" drove 58% of the first quarter revenues. Cost of goods sold as a percentage of sales decreased 70 bps to 82.4% last quarter in support of efforts that allowed the company to bring $250 million in year-over-year productivity gains, alongside its $850 million annual target driven by process improvements and procurement savings.
Overhead costs were down both on a sequential and a quarterly basis. The final result was a net loss that was mainly attributed to special items. Included in the net loss of $178 million was an after-tax charge of $276 million, or $0.25 per share, associated with smelter and rolling mill capacity reductions. The company announced curtailments and closures last quarter in Massena, Brazil and Australia as part of the process.
Excluding these special items the net income would have come at $0.09 per share; that is more than double the adjusted earnings from the previous quarter but 18% less than the same period a year ago. Let's take a closer look at these special items.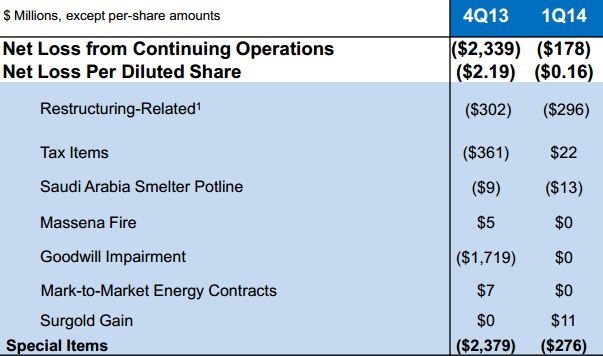 Source: Presentation
A charge of $28 million was related to the write-off of a cost associated with the cancelled Baie-Comeau modernization project. Discrete and special tax items received a benefit of $22 million. The restart of one pot line at the Saudi JV smelter brought a $13 million that was a onetime negative impact. Lastly, a favourable impact of the non-controlling interest gain of $11 million on the sale of Surgold reduced the total special item expense for the company.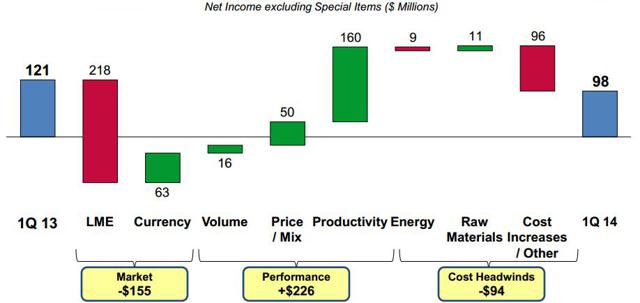 Source: Presentation
From another perspective we can see that Alcoa's performance was related more to market factors than its own wrongdoings (see graph above). The impact of the London Metal Exchange (LME) was a significant headwind; due to a 15-day lag prices were down $310 per metric ton. This was partially offset by a stronger Australian dollar and Brazilian real. With regards to productivity, the company eventually delivered $160 million of after-tax or $250 million pre-tax productivity gains.
Volumes grew as a result of aerospace growth in both EPS and Global Rolled Products (GRP), greater aluminum wheel demand, and an increase in alumina shipments. Higher premiums in both regional and casthouse together with a stronger alumina index pricing year-over-year were positive contributors to the healthy price mix impact that brought a $50 million increase. This performance was partially offset by pricing pressures in the packaging market. Cost increases were brought by inflationary pressure on labour and transportation, weather-related cost increases, and Saudi Arabia start-up costs
Readers should now be able to see why the share price rose even in the presence of negative results. These restructuring efforts are going to be profitable in the upcoming years. How? Let's take a look.
ERP Segment
Alcoa introduced the world's lightest heavy-duty truck wheel. It calls the product Ultra ONE and it is based on the company's youngest but sturdiest aluminum wheel alloy named MagnaForce. The advantage of the wheel is that it weighs 47% less than comparable steel wheels and can help save 1,400 pounds per rig for increased payload and better gas mileage. Presently, over 150 fleets have selected 67,000 Ultra ONE wheels since they were introduced.
For its European demand, Alcoa is investing $13 million in Hungary in its wheel plant that will deliver a bigger supply of Dura Bright surface treated wheels. Compared to the present production level, the supply should double by early 2015 pushing Alcoa to realize its three-year goal EPS of generating $1.2 billion in incremental revenue by 2016.
GRP Segment
This department is the company's mid-stream business. The company is investing $40 million in Brazil to increase the supply of specialty foils for aseptic and flexible packaging. To further improve the profitability of the rolling mill business Alcoa is also closing its two rolling mills in Australia by the end of this year. This is an optimal decision since the mills serve the Australian and Asian can sheet markets that have been impacted by excess capacity.
For North American demand of automotive sheet, Alcoa is carrying out a $300 million expansion plan at its Iowa facility that is now fully operational. Also, the rolling mill at the Maaden-Alcoa joint venture is expected to produce the first auto coil in the fourth quarter of this year. It is projected that the added capacity will grow auto sheet revenues six fold from 2013 to over $1.3 billion in 2018.
Bottom Line
Alcoa is expecting global demand for aluminum to increase by 7% in 2014. Some of this growth will be driven by strong demand in the aerospace market. The company's optimization through expanding production in growing markets while closing saturated market plants is a good way to run factories that are efficient and fully utilized. These prospects lead to the conclusion that Alcoa is a good investment for now and if everything goes right it will deliver good returns. Therefore, it gets a buy rating.
Disclosure: I have no positions in any stocks mentioned, and no plans to initiate any positions within the next 72 hours. I wrote this article myself, and it expresses my own opinions. I am not receiving compensation for it (other than from Seeking Alpha). I have no business relationship with any company whose stock is mentioned in this article.