While the investing herd is busy shorting overvalued tech stock - yes, the same tech stocks it was BUYING a month ago - I've got a better idea for us contrary-minded folks.
I say we short crude oil instead. The hedge fund boys sure LOVE that black goo these days!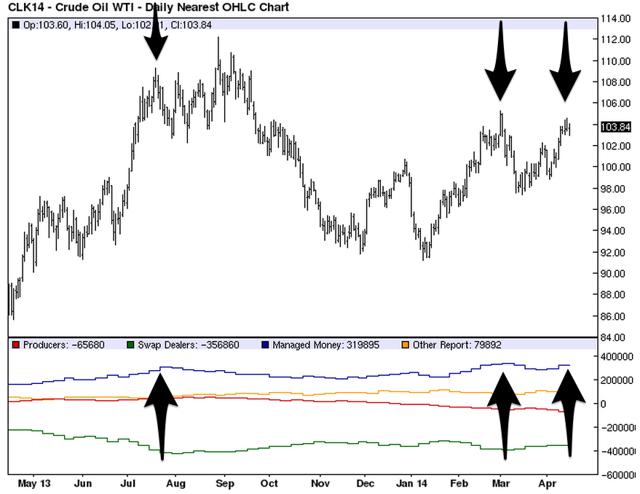 These days, money managers tend to fall in love with crude oil just as it's forming a near-term top. (Barchart.com)
Last month, they held record long bets on crude oil, too. And on cue, crude declined to four-week lows! But, luckily for us, oil prices have bounced back, and so have those wild gunslinger bets! From Bloomberg:
A drop in OPEC production came just as refineries began looking for supply, helping boost bullish speculative bets on crude last week by the most since July.
Yes, the hot money boys are on the crude trade again. And with the goo up against some price resistance, their extreme level of bullishness caught my eye.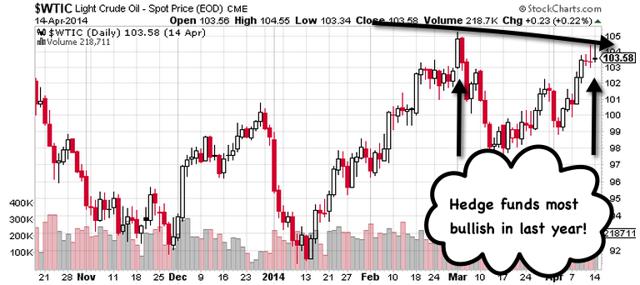 A breakout or "lower high"? Money manager enthusiasm makes the latter more likely.
As we've discussed before, hedge fund managers may only run a relatively small percentage of the assets under management, but they're by far the most active. As a result, their constant weekly, daily and even hourly trading sends asset prices soaring and crashing.
This is a relatively new dynamic to the markets over the last 10 to 15 years. It's also one that we can exploit quite profitably.
And we have a great opportunity to take the "other side" of one of the most popular commodity trades on the planet right now. After all…
U.S. Production is at Multi-Decade Highs
I don't know about you, but I usually prefer to place my long bets when supply is going down, rather than skyrocketing!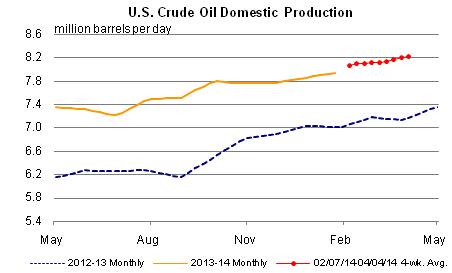 U.S. crude oil production is growing at its fastest ever. (SOURCE: EIA)
Just a few months ago, our editors were debating whether we'd ever see $100+ crude oil again. Now, traders are already considering it a foregone conclusion.
BUT - the U.S. has plenty of crude in existing stocks, too!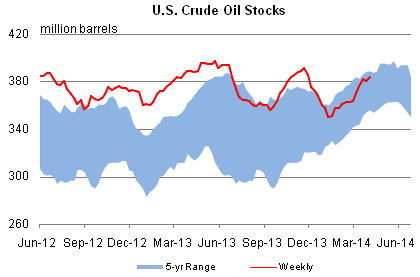 And, we have more oil than we normally have this time of year.
Look, the peak oil guys were either wrong, or early. We haven't seen oil above the $115 mark in almost six years. It turns out that there's a lot of oil we can get out of the ground at these prices. We also haven't seen prices above $105 per barrel since last fall, because production is booming.
Yes, the Ukrainian crisis has everyone scared about oil prices, and yes, OPEC's yapping has some traders all worked up. But when you step back and look at the cold hard facts, you can see that crude prices are more likely to drop than rise from here
That's enough to get me intrigued. But having all the "hot money" lined up on the long side has me itching to "go contrarian" and short their suddenly beloved black goo!
Targeting Minimum Risk for Maximum Reward
The great thing about this setup is that we can participate with very low risk.
I recommend placing your stop around the $106 mark for crude oil. This was the price it failed to hit the last time the hedge funds were this bullish.
Crude is trading just $2 below this price today.
But it could easily drop $10 - down to $92 per barrel - in pretty short order. Risking just $2 for the chance to make $10 is an excellent move.
You can be a successful trader if only half - or even less - of your trades are winners. The secret is to make sure your winners are bigger - preferably much bigger - than your losers.
In this case we're taking the "other side" of an extremely crowded trade, and we have evidence that shows they are likely to be wrong, too. And there's a convenient way to make this trade with ETFs, too. Here's how:
Buy the PowerShares DB Crude Oil Short ETN (SZO). It's trading for about $36.50 today.
Then, set your stop-loss at $35.00 per share. A breach of this level would mean that oil is actually breaking out to the upside. So we'd sell here, and get on with our trading lives.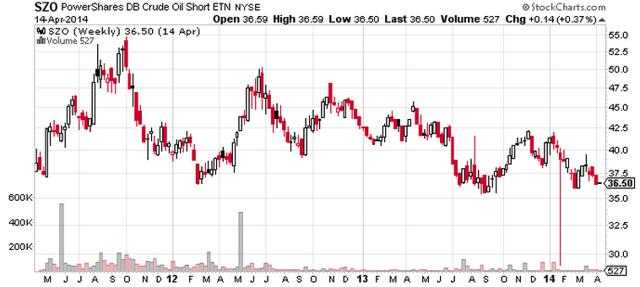 A stop at $35 gives you a great risk vs. reward setup.
We're only risking $1.50 per share, and our upside is four to five times as much.
Then you can either sell SZO when it approaches $42.50 or we can make a decision at that time, depending on how our hedge fund homeboys are positioned.
Either way, I like our odds and I like our chances.
Disclosure: I have no positions in any stocks mentioned, and no plans to initiate any positions within the next 72 hours.
Business relationship disclosure: I am a freelance writer for ContrarianProfits.com.