Samsung released its Galaxy S5 smartphone last week to a quiet reception. The release followed reports of a disappointing Q4 for 2013, when profits actually fell. The street was abuzz with the conclusion that the iPhone 5S, with its enormous popularity, had dealt Samsung a death blow.
The facts suggest otherwise. Samsung sales of mobile phone continue to set records each quarter, with Q4 2013 sales of 119 million units more than double its closest competitor - the iPhone - which sold 50 million units in the period.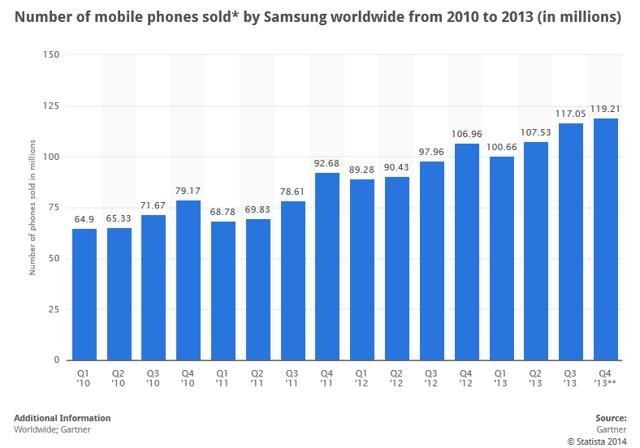 *sold means sold to end-users
The Galaxy S5 sales figures are not out yet, but early reports suggest the device is outselling its predecessor, the Galaxy S4, by a wide margin.
That is good news for Samsung, whose Galaxy S4 made a valiant effort, but came up short in trying to outsell the iPhone 5 when it was released, just as the Galaxy S3 had fallen short of the iPhone 4S a year earlier.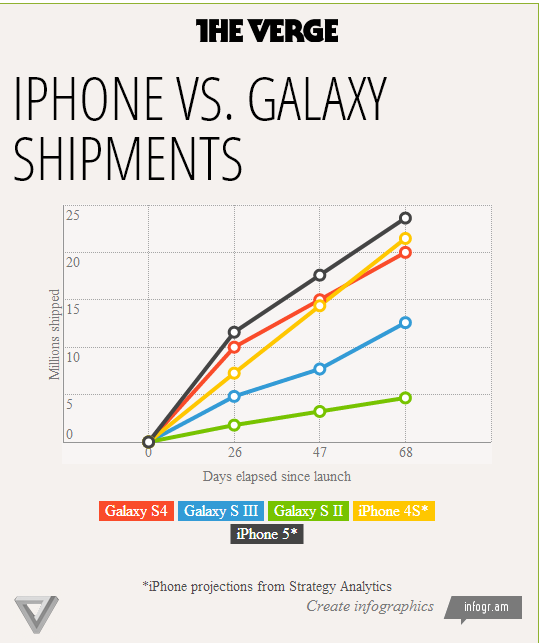 Of course, Samsung had more arrows in its quiver than just its high-end Galaxy smartphones as it moved to execute a plan to become the world's largest supplier of smartphones, a feat it has now accomplished. The writing was on the wall as early as the fall of 2012, when it became clear that the Samsung Galaxy was within striking distance of taking over the pole position as the device of choice for the $500-plus segment of the smartphone market. By the end of 2012, Samsung had emerged as the clear leader in the industry.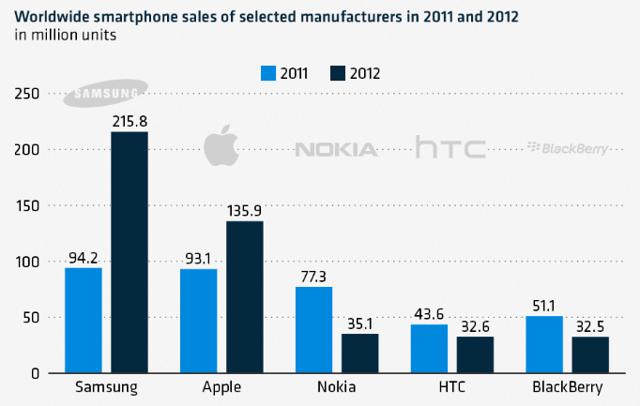 Led by Samsung, Android devices have taken the market by storm, with only Windows OS phones making any headway against the Android dominance, albeit from a tiny base.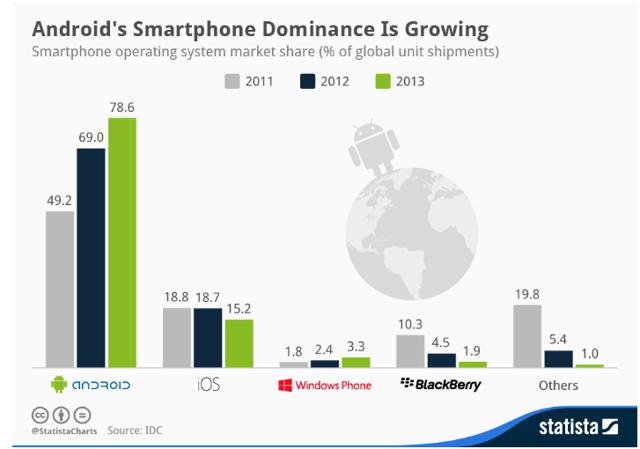 A somewhat similar pattern is emerging in the tablet market, where a plethora of Android devices are rapidly taking share, with Windows tablets gaining ground on what was once an iPad stronghold.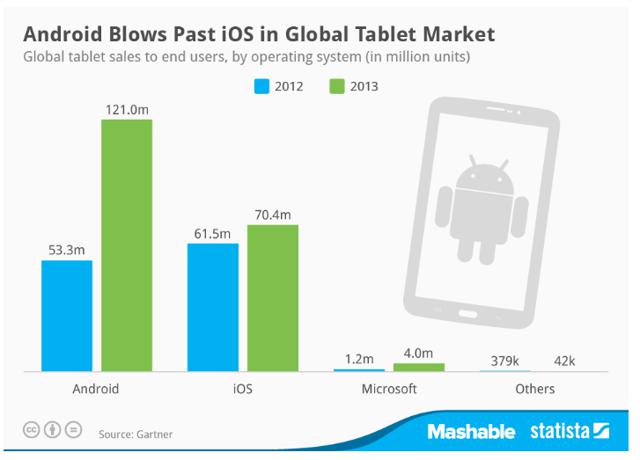 A big winner in this exciting market seems to be Google (NASDAQ:GOOG) (NASDAQ:GOOGL), with its advertising revenues continuing to show rapid growth, in part arising from the growth of mobile search.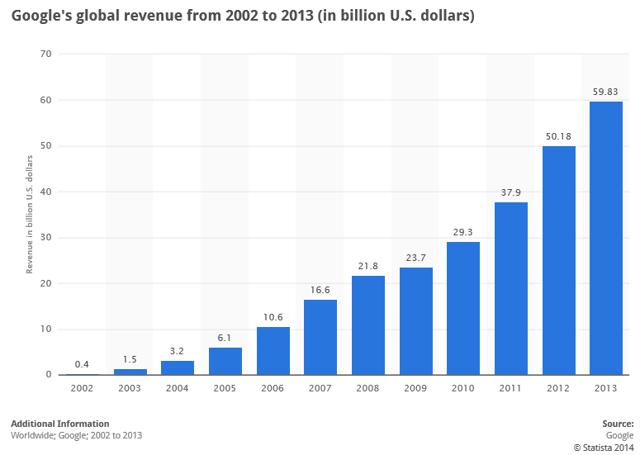 With its open source approach to Android and cross-platform approach to its applications, Google mobile products reach more than nine out of ten users worldwide.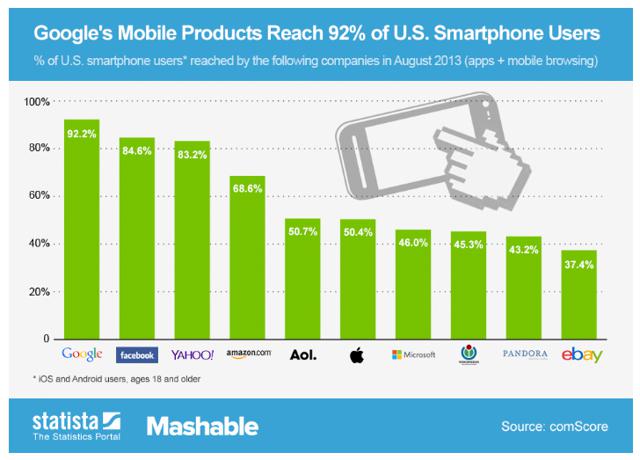 Google has obviously benefited from the success Samsung has enjoyed in the mobile space.
But Samsung seems to want to leave Google, or at a minimum, reduce its exposure in its products. The recent change in the user interface of Samsung devices is an example where Google apps are still present on the device, but no longer front and center.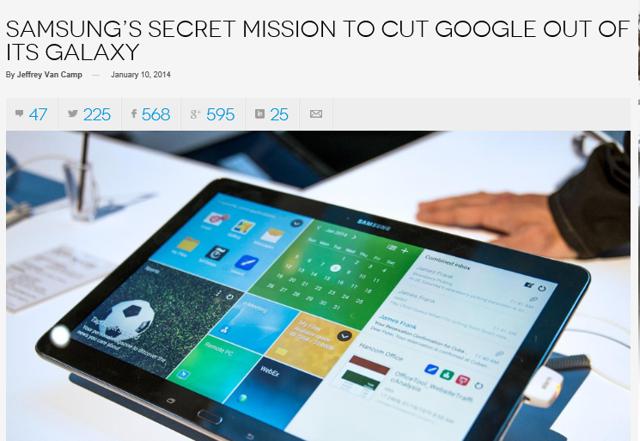 Source: Digital Trends January 10, 2014
At the same time, Samsung continues to forge ahead with its Tizen initiative, which, while not ready to go mainstream, remains its fail-safe option, should it need to divorce itself from Android completely.
The developing rift between Google and Android, if there is one, may substantially alter the competitive dynamics in smartphones and tablets, and open the door for other Android OS competitors cropping up in Asian markets to move out front, while potentially offering Windows OS phone greater opportunity to take a meaningful role in the evolving market.
I particularly like Lenovo's (OTCPK:LNVGY) chances in this race. Its recent acquisition of Motorola from Google was timely, with the new Motorola G device gaining rapid acceptance, and the development of a wide range of Intel (NASDAQ:INTC) and Qualcomm (NASDAQ:QCOM)-powered tablets and two-in-ones, combined with lower-end models using MediaTek and Allwinner chips gives Lenovo a Samsung-like offering across most price points in fast-growing Asian markets. Lenovo is the world's largest vendor of personal computers, where the industry decline may be bottoming. Lenovo also has a small but growing share of the smartphone and tablet market, where success could bring substantial growth in sales and profits.

Source: Lenovo earnings presentation
At about 16 times earnings, Lenovo stock is relatively cheap and may be the best way to play the shifting tides in this dynamic industry.
Disclosure: I have no positions in any stocks mentioned, and no plans to initiate any positions within the next 72 hours. I wrote this article myself, and it expresses my own opinions. I am not receiving compensation for it (other than from Seeking Alpha). I have no business relationship with any company whose stock is mentioned in this article.