While General Electric (NYSE:GE) had a bad run earlier in the year, declining 10% in late January, the stock now seems to be regaining its footing, up 5% over the past month. The company is in the midst of a major restructuring, downsizing its GE Capital segment and refocusing on its core industrial segments. As a result, 2014 will see modest earnings growth, but a stronger overall General Electric.
Q1 2014 Overview: Industrial strength galore
Overall, General Electric had a decent quarter. Operating EPS came in at $0.33, down 15% from last year. However, when excluding the one-time gain related to the NBCU divestiture, EPS grew by 9%.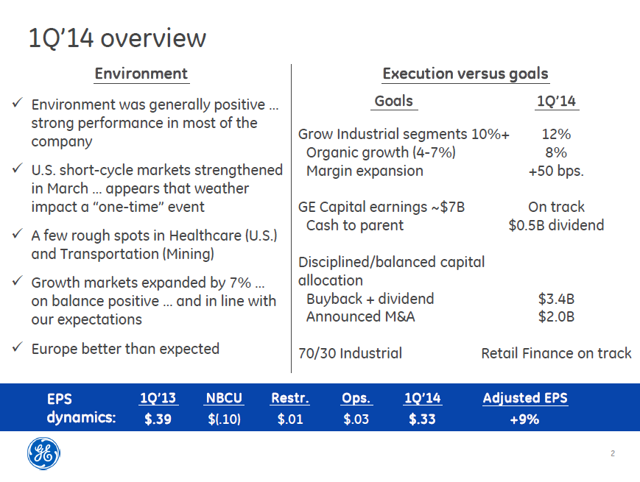 However, where General Electric really shines is in its industrial segments. These segments posted an overall growth rate of 12%, above the projected 10%. Organic industrial growth came in at 8%, beating guidance of 4 to 7%. These gains are largely a result of a 50 basis points margin improvement to 13.4%.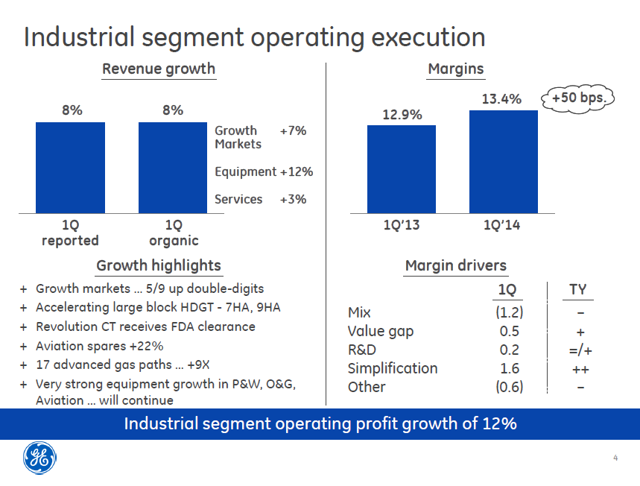 Among the specific sectors, Oil & Gas was the standout, with a 27% revenue and 37% earnings growth. Revenue growth was sparked by strong demand for equipment, with 13% growth in 4 out of the 5 business areas. Earnings growth outpaced revenue growth largely due to margin expansion, up 80 basis points to 10.40% on the back of cost cuts.
Power & Water also posted impressive 14% revenue and 24% earnings growth. This growth was primarily in alternative energy areas, with renewables up 41% and Thermal up 10%. Margins for the sector also improved, up 120 basis points to 16.1%.
Other areas of industrial growth include Aviation, with revenues up 14% and profits up 19%. Orders were down, however, this was mainly due to tough comparisons. Engine shipments provided the backbone for the quarter, up 14%.
Among the industrial laggards were Healthcare, Transportation, Energy Management, and Appliances, with lower volumes mostly to blame.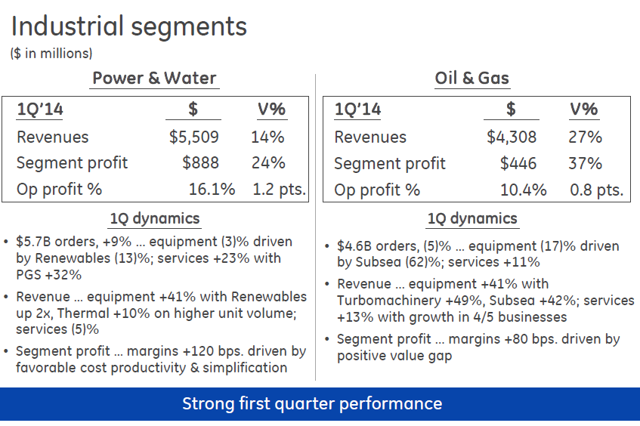 GE Capital continues to shrink
Somewhat hampering this quarter was GE Capital. Revenues were down 8%, almost entirely due to a smaller portfolio size. However, operating income and segment earnings both saw flatline growth. GE Capital also paid its parent a $500 million dividend this quarter.
Investors should expect GE Capital's contribution to General Electric overall earnings to fall further, with the IPO of Synchrony Financial (NYSE:SYF) fast approaching. Indeed, according to Reuters, the commercial real estate segment may be shrunken, with the company exploring asset sales and existing minority equity stakes in buildings. This segment represents between 10% to 15% of the overall GE Capital portfolio, though is a much smaller percentage of profits.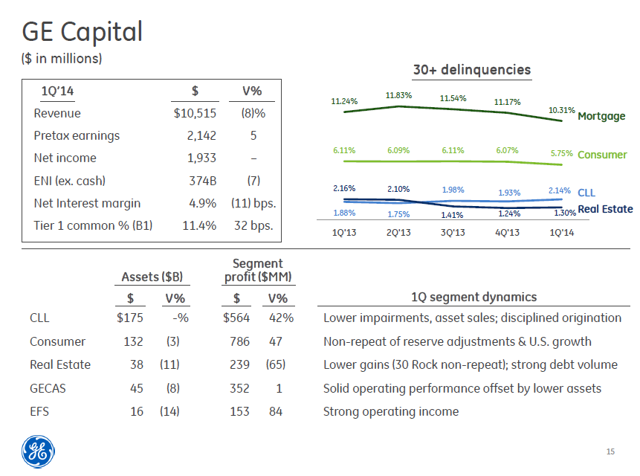 Dividends, share buybacks, and payout ratio
During the quarter, General Electric returned $3.4 billion to shareholders via $2.2 billion of dividends and $1.2 billion of stock buybacks. The company has noted that it is targeting to reduce its share count to between 9.0 to 9.5 billion by 2015, or 5 to 10% lower than the current 10.06 billion shares outstanding. Using GAAP earnings of $3.0 billion, General Electric's dividend payout ratio was 73%. However, when adjusting for one-time items, the payout ratio drops to a more modest 65%, implying future upside.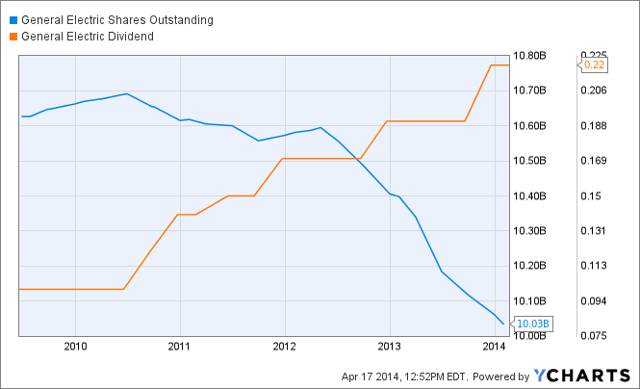 GE Shares Outstanding data by YCharts
Conclusion
While there is some slight turmoil related to a possible CEO change coming sooner than expected, General Electric is running on all cylinders. The company also appears to be well on track to reach its goal of a 70/30 split between industrial and GE Capital earnings. As noted by Cramer on CNBC, GE is at "the beginning of its industrial breakout."
With a 3.30% yield and a double-digit dividend growth rate over the last 5 years, General Electric is clearly a stock worth considering. The valuation is also modest, with a forward 2015 PE of under 15.00x.
Disclaimer: The opinions in this article are for informational purposes only and should not be construed as a recommendation to buy or sell the stocks mentioned. Please do your own due diligence before making any investment decision.
Disclosure: I am long GE. I wrote this article myself, and it expresses my own opinions. I am not receiving compensation for it (other than from Seeking Alpha). I have no business relationship with any company whose stock is mentioned in this article.