Introduction
The purpose of this article is to review my investing progress in the first quarter of 2014, which marks the beginning of my third full year as a dividend growth investor. I follow a value-oriented dividend growth investing strategy that involves buying the stocks of companies that consistently pay and grow their dividends, but only when those stocks can be purchased at attractive valuations. I strive to achieve two investing goals with this strategy:
My primary goal is to build a sustainable and rising dividend income stream.
My secondary goal is to achieve a satisfactory total return on my investments.
These two goals are not mutually exclusive and I think both can be achieved with a well-executed dividend growth investing strategy. In this article, I will provide an update on my progress toward achieving these goals since my 2013 full-year review, presenting real results from a real portfolio involving real money. Before I do, I want to address an important issue of considerable relevance.
Total Return And Dividend Growth Investing
In recent articles on Seeking Alpha, it has been argued that total return is all that matters during the accumulation phase for a young investor such as myself (I am 32 years old). The argument is that total return should be maximized during the accumulation phase, thereby providing a sizable amount of money to be reinvested in dividend growth stocks for the distribution phase. I have identified at least four questionable assumptions tied to this argument.
First, it assumes that dividend growth investing is not a viable way to maximize total return. This is inconsistent with evidence (see figure below) that dividend growers and initiators generate superior total returns with less volatility than other types of stocks.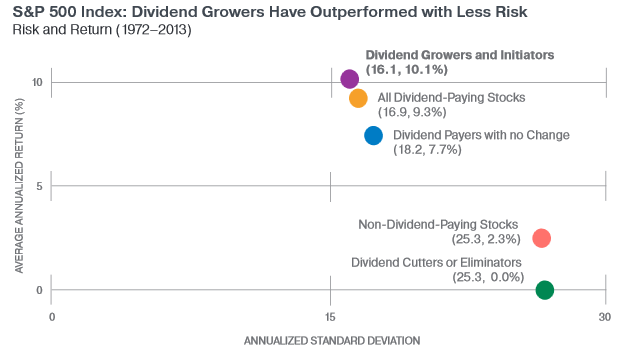 Source: Oppenheimer Funds (data from Ned Davis Research)
Second, it assumes no (or negligible) tax consequences or transaction fees from selling all the stocks of a total return portfolio and reinvesting the proceeds in dividend growth stocks. Young investors planning for early retirement (yes, they do exist) are likely investing some of their money in taxable accounts because of the age restrictions imposed on withdrawals from most tax-advantaged accounts. I doubt that the substantial tax burden associated with selling off a portfolio, even if it occurs over a few years, would be attractive to an investor at retirement time. To be fair, dividend growth investing has tax consequences, too, but taxes are paid along the way instead of in a giant lump sum. In addition, if a dividend growth portfolio is already in place at retirement time, then no transaction fees have to be incurred by selling stocks.
Third, it assumes favorable market conditions when the shift from accumulation to distribution occurs. Imagine a scenario in which the shift occurs when the market is at an all-time high. The investor will benefit when he sells his total return portfolio because he will have more money to reinvest. However, he may have great difficulty finding attractively valued dividend growth stocks in which to reinvest that money, and no investor wants to be stuck buying overvalued stocks. Imagine an alternative scenario in which the shift occurs when the market has crashed. Dividend growth stocks will be available at attractive valuations, but the investor will be selling stocks from his total return portfolio at unfavorable prices. In contrast, an investor who has been dividend growth investing all along will be minimally affected under both scenarios. He does not have to sell or replace any stocks from his portfolio at retirement time, so he is not in a situation where he has to either buy high (first scenario) or sell low (second scenario).
Fourth, it assumes that investors can seamlessly transition between investing strategies. Someone who does well at total return investing may not fare as well at dividend growth investing (or vice versa) because the strategies may involve different knowledge and tactics. Moreover, the prospect of shifting investment strategies at retirement time may not appeal to many investors. An advantage of starting dividend growth investing at a young age is that an investor can educate himself about it over several years, so that by the time he retires, he is very familiar with the strategy and has ample experience executing it. In addition, he has had time to become familiar with the companies in his portfolio, with years of ownership giving him a historical perspective from which to evaluate business conditions and growth prospects. The potential importance of this kind of experience should not be disregarded.
The preceding comments are not intended to settle the debate about total return and dividend growth investing. I continue to believe that dividend growth investing is a suitable strategy, even for young investors such as myself. Might I be sacrificing some total return? Perhaps, but the answer to that question depends on how well I would be able to execute a strategy other than dividend growth investing. On that note, I will now turn to a review of my portfolio (which I affectionately call my dividend growth machine) for the first quarter of 2014.
Input To The Machine
New capital represents the input to my dividend growth machine and allows me to buy stocks. The figure below shows quarterly contributions of new capital to my investment accounts since 2012: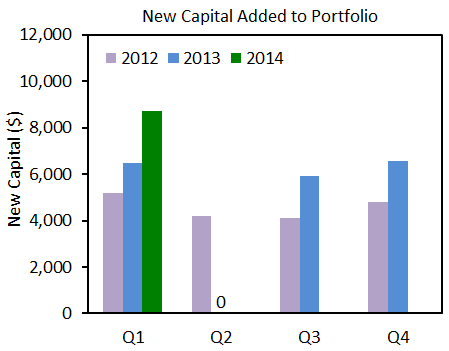 I contributed a total of $8,725 in new capital in Q1 2014, which is a 34% increase over Q1 2013. The increase was driven by the higher salary from the new job I started in August 2013. Due to some seasonality in how I am paid (most of my salary is paid out over a 9-month academic year), contributions of new capital will likely be a bit lower in the summer months. My Roth IRA is already maxed out for 2014, so new capital will go into my taxable account for the rest of the year.
Parts Of The Machine
Dividend growth stocks represent the parts of my dividend growth machine. The table below shows the composition of my portfolio at the beginning and end of Q1 2014, with holdings in my Roth IRA denoted by [R] and various changes highlighted.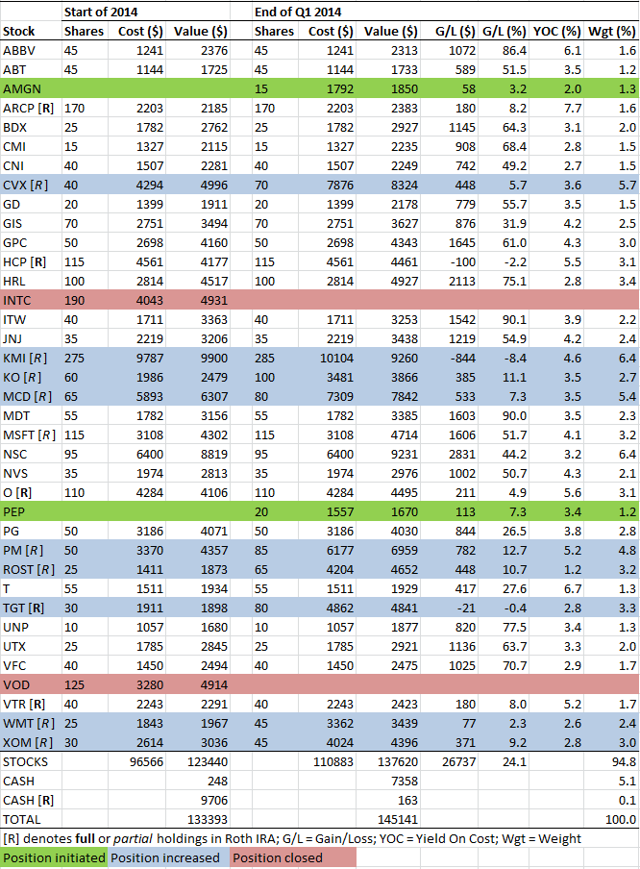 A breakdown of all transactions is provided in the following table: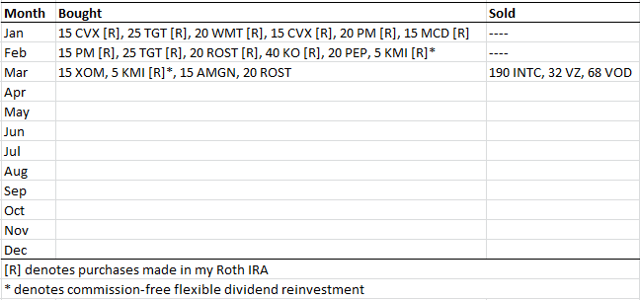 Positions closed:
I decided to close my position in Intel (NASDAQ:INTC) when the latest dividend declaration resulted in eight consecutive quarters without a dividend increase. I admire the company's technology and I think better business execution could lead to stronger operating results, but the combination of uncertainty about future dividend growth and continued weakness in earnings led me to conclude that Intel was no longer a well-functioning part of my dividend growth machine. I ended up with a 12% annualized return over the time I held the stock.
I sold all of my shares of Vodafone Group (NASDAQ:VOD) and Verizon Communications (NYSE:VZ), the latter being received as part of the Verizon Wireless deal. When I reflected on the stocks after the deal, I realized that I did not want to own either of them in their current forms. Vodafone no longer had its crown jewel and management seemed anxious to quickly spend its windfall on acquisitions. It became unclear to me what Vodafone will look like once the shopping spree is over and, more importantly, what kind of dividend growth I could expect going forward. In the case of Verizon, I realized I had little desire to own a slow dividend grower with a massive debt burden, especially given the overlap with AT&T (NYSE:T) in my portfolio. Thus, both positions were closed for an overall 22% annualized return since my first Vodafone purchase.
Positions initiated:
In February I started a position in PepsiCo (NASDAQ:PEP) when the beverage and snack maker was trading at an attractive valuation. The company's operating performance has been steady and I view the recent 15% dividend increase as a positive sign from management, extending the dividend growth streak to 42 consecutive years. I think the stock complements my position in Coca-Cola (NYSE:KO) and provides me with a little more diversification in the consumer staples sector.
In March I started a position in Amgen (NASDAQ:AMGN), one of the largest biotechnology companies in the world. Biotech stocks have been sold off since mid-February, but I think many investors fail to appreciate the distinction between (1) unprofitable and speculative small-cap companies, and (2) profitable and stable large-cap companies, such as Amgen. From a value investing perspective, I consider its stock to be attractively valued relative to its sector and the rest of the market. From a dividend growth investing perspective, the company is on track to become a Dividend Challenger soon, with four consecutive years of solid dividend increases augmented by a strong share buyback program.
Positions increased:
The oil majors have been trading at reasonable valuations for much of 2014. As a result, I increased my holdings of Chevron (NYSE:CVX) and ExxonMobil (NYSE:XOM), both of which are Dividend Champions. I also bought more shares of beaten-down Kinder Morgan, Inc. (NYSE:KMI) for my Roth IRA using my brokerage's commission-free flexible dividend reinvestment program.
Retailers have been attractively valued in recent months, leading me to buy more shares of Target (NYSE:TGT) and Wal-Mart Stores (NYSE:WMT), both of which are also Dividend Champions. Target has suffered from its credit card data breach and Canadian expansion pains, whereas Wal-Mart has been subject to concerns about slowing growth. However, I am not concerned about either company's long-term business prospects. I also bought more shares of Ross Stores (NASDAQ:ROST), an off-price apparel retailer that I think has many years of double-digit earnings and dividend growth ahead of it. I always watch for when its stock falls into fair value territory, giving me an opportunity to increase my position.
In summary, in the first quarter I made a total of 16 purchases and 3 sales. It is actually unusual for me to have that many sales in a single quarter (for comparison, I had just one sale in all of 2013 and no sales in 2012). However, I do not have any other sales planned for 2014, so my portfolio's turnover rate should remain very low. On a related note, I try to keep transaction fees to no more than about 0.5% of my total cost; for 2014, the ratio is currently 0.39%.
Besides adding parts to my machine, I want to make sure all the parts are running smoothly. I monitor the operating results of my companies, but I also stay on the lookout for my favorite announcements: dividend increases! Thus far in 2014 there have been dividend increases for 19 of the 35 stocks in my portfolio, with mean and median increases of 12.3% and 7.9%, respectively. I am fairly confident that all of the other stocks in my portfolio will increase their dividends by the end of this year.
Output Of The Machine
Dividends and capital gains represent the output of my dividend growth machine, all of which is selectively reinvested when sufficient funds are available. As mentioned earlier, my primary investing goal is to build a sustainable and rising dividend income stream. The figure below shows the total dividends I received during Q1 2014, along with the quarterly totals in 2012 and 2013 for comparison.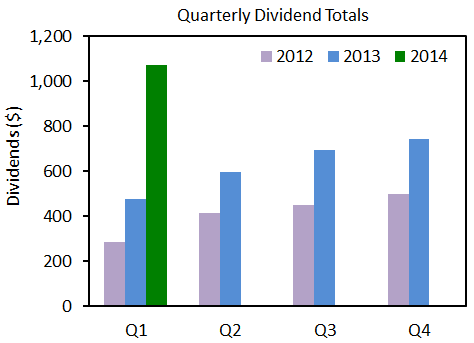 Note: To simplify year-over-year comparisons, the figure excludes the special dividend of $616 that I received in February from Vodafone as part of the Verizon Wireless deal.
My dividend total more than doubled from the same quarter a year ago. I will now regularly receive dividends in excess of $1,000 every quarter. Three factors are primarily responsible for the dramatic boost in dividend income. First, I invested considerable amounts of new capital for much of 2013 (except for Q2), resulting in a progressive increase in dividends from the start to the end of the year. Second, last November I rolled over the retirement plans associated with my former employer into my Roth IRA. I had to pay taxes on the rollover money (which I did from savings I had set aside), but it provided a little over $25,000 in cash for new investment. Third, my higher job salary has allowed me to save more money than in the past, enabling me to contribute more new capital for investment, as noted earlier. Together, the last two sources of money resulted in more stock purchases in Q4 2013 and Q1 2014 than usual, accelerating the growth of my dividend income stream. At the end of Q1 2014, my forward 12-month dividend total was $4,274, which is a 9.2% increase from the end of 2013.
My secondary investing goal is to achieve a satisfactory total return. The portfolio table (see above) shows that my portfolio's value increased by 8.8% during the first quarter, from $133,393 to $145,141. The increase mostly reflects new capital additions, with smaller and approximately equal-sized contributions from capital gains and dividends. The figure below shows end-of-month portfolio values since the start of 2012. To provide more transparency, the figure also includes the cumulative amount of new capital added to my portfolio, thereby allowing one to get a better sense of the portfolio's gains over time.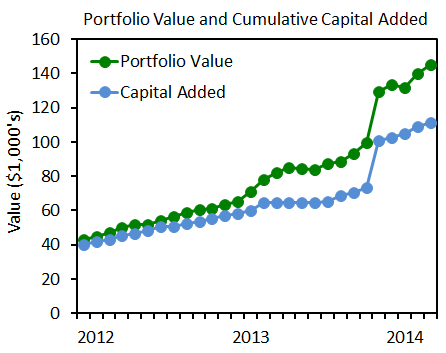 Note that the sharp jump in November 2013 reflects the rollover money going into my Roth IRA. Overall, I am satisfied with my total return thus far in 2014.
For the sake of completeness, I will also summarize the investments outside of my dividend growth machine. I participate in two retirement plans with my new employer. The first is a 403b defined contribution retirement plan to which my employer makes contributions equal to 10% of my annual pre-tax salary. The second is a 401a mandatory retirement plan to which I am required to contribute 4% of my annual pre-tax salary (these contributions are automatically deducted from my paychecks). The investment options for both plans are extremely limited and individual stocks cannot be purchased, much to my dismay. Consequently, I have allocated 100% of all contributions to the Vanguard Institutional Index Fund (MUTF:VINIX), which tracks the S&P 500 index and has an expense ratio of 0.04%. The combined value of both plans was $9,276 at the end of Q1 2014.
Outlook For Q2 2014
In what should come as no surprise to readers familiar with me, I expect no major changes to my investing activity or strategy during the second quarter. I will continue investing new capital on a regular basis, reinvesting dividends, and monitoring my companies for relevant news. Attractively valued dividend growth stocks are difficult but not impossible to find at the moment. For example, in April I have already purchased additional shares of Amgen and Ross Stores, and I started a position in J. M. Smucker (NYSE:SJM). Given that I have been on hiatus from investment blogging since February (due to my new job absorbing much of my time), I will be utilizing Seeking Alpha's StockTalks to report portfolio changes when they happen. If you would like to track those posts, please consider "following" me here.
Disclosure: I am long ABBV, ABT, AMGN, ARCP, BDX, CMI, CNI, CVX, GD, GIS, GPC, HCP, HRL, ITW, JNJ, KMI, KO, MCD, MDT, MSFT, NSC, NVS, O, PEP, PG, PM, ROST, SJM, T, TGT, UNP, UTX, VFC, VTR, WMT, XOM. I wrote this article myself, and it expresses my own opinions. I am not receiving compensation for it (other than from Seeking Alpha). I have no business relationship with any company whose stock is mentioned in this article.