Share price of Coca-Cola Company (NYSE:KO) has experienced flattish performance over the past 12 months, underperforming a 17% return for S&P 500 Index. I recommend income investors to buy the shares now as price downside appears to be very limited at the current valuation while upside is expected to be driven by continued dividend growth.
KO has long been a strong cash flow generator. The company has managed to maintain its operating cash flow ("OCF") margin at above 20% over the past 5 years. On a trailing 12-month basis up to Q1 2014, the OCF margin rose to 24.0% from a range of 20%-22% during 2011-2013. Looking forward, I expect the healthy cash generation to persist due to recent recovery in KO's fundamentals. The declining volume trend appears to have stabilized since the end of 2013 as the metric was up 2% in Q1 2014, which was largely driven by strong volume growth (7%) in Asia Pacific and exceeds consensus estimate of approximately 1.5%. Management has expressed their confidence in achieving 3-4% volume growth over a near term. I believe this target would be helped by increase in marketing spending (in the remainder of 2014) aiming to enhance brand awareness and normalized weather condition.
I have performed a cash flow projection to gauge KO's capacity for dividend growth and share repurchase over the next few years. My analysis started with consensus revenue estimates, which predict the top line to reach $51.1B by 2016, representing a CAGR of 2.9% between 2013 and 2016. Based on historical trend for the OCF margin, I assumed a constant 22.5% margin through 2016. In my view, this assumption is somewhat conservative as it is below the trailing 12-month level as of Q1 2014 (24.0%) and consensus estimates predict a 1% EBITDA margin expansion between 2014 and 2016 (the OCF margin has been tracking closely to the EBITDA margin over the past 5 years, thus an increase in EBITDA margin should translate into higher OCF margin). For capex, I assumed a 2% annual growth rate through 2016. In terms of annual dividend payment, I used an 8.5% annual growth rate through 2016, which is close to the actual CAGR of 9.0% since 2011. Based on all these assumptions, KO would still have $2.0-$2.5B cash surplus after paying out dividend in each of the forecast year, indicating that an annual dividend growth of 7-9% is very secure in the next few years and the company can still repurchase shares worth $1-$2B in each year in the absence of large acquisitions (see chart below).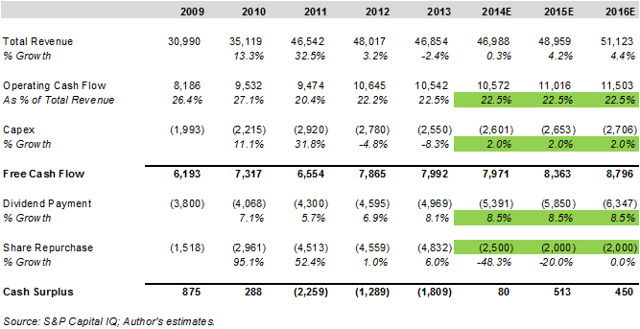 Having the solid dividend growth prospects (~8%) in mind, I was able to roughly quantify KO's risk/reward profile. The chart below shows that KO's dividend yield rarely exceeded 3.0% in the past 10 years.

The only exceptions were during the financial crisis in 2009-2010 and from February 2014 till now, and there has been a technical ceiling at 3.0% (there were multiple times when the yield reached the ceiling but was not able to break through). As such, assuming a ceiling dividend yield at 3.5% (should draw significant investor interests at this level) and supposing that annualized dividend increases by 8.0% from the current $1.22 per share to $1.32 per share by March 2015, the share price in March 2015 corresponding to the 3.5% dividend yield would be $37, representing just a 7% downside from the current $40 level. By factoring in the current dividend yield of 3.0%, the net investment loss through March 2015 would be reduced to just 4%. In fact, there has been a technical price support at around $37 since early 2012 as the share price has touched the support level for 4 times but did not fall below (see chart below).

Assuming a 2.8% dividend yield (which is consistent with its 10-year historical average) and the same 8.0% dividend growth rate, the share price in about one year would be $47, representing a 16% upside, or 19% if factoring in the 3% dividend income through the 1-year (approximately) holding period. The gain/loss tradeoff at 19%/4% definitely warrants a buy rating.
On the valuation front, KO now trades at 18.0x consensus estimated 2015 EPS, which is at 24% premium over the same multiple of S&P 500 Index (see chart below). The current relative valuation level appears to be reasonable to me given KO's improved fundamentals (e.g. volume trend) and that the valuation gap is in line with its 12-month historical average at 21%. It is noted that the maximum valuation gap was 36% in the past 12 months.

Further, based on Gordon growth dividend discount model and a cost of equity at 9.0% (CAPM model would suggest a even lower cost of equity given KO's low 5-year beta of 0.48), the current share price of $40 implies a perpetual dividend growth rate of less than 6%, which is somewhat pessimistic based on my dividend growth expectation (8%) (see chart below).

In conclusion, KO has an ample liquidity capacity to support healthy dividend growth and share buyback. Given that the shares are still trading near its bottom price at about $37 and the potential upside far exceeds the downside risk, income investors are recommended to buy the shares now.
All charts are created by the author, and data used in the article and the charts is sourced from S&P Capital IQ, unless otherwise specified
Disclosure: I am long KO. I wrote this article myself, and it expresses my own opinions. I am not receiving compensation for it (other than from Seeking Alpha). I have no business relationship with any company whose stock is mentioned in this article.